Ten years ago, we would not have seen the types of clubs we have today.

New golf companies are really stepping up their game offering products at half the price when compared to major established brands. The best part is that they don't compromise the quality by selling them at lower prices. In fact, many times the products brought forward by the underdogs rival those of bigger businesses.
For the past few years, one product that has been rising in popularity is the Bombtech Grenade Driver. The founder of Bombtech, Tyler Sullivan, took a leap and created a driver that really stands out on the golf course.
Just as the name states, there is not anything subtle about this club. You have to be prepared for the ongoing questions that other golfers will ask about your lime green grenade driver. This driver really stands out, so if you're worried about people constantly asking you about it, we suggest you keep looking.
Bill's Grenade Driver by Bombtech Review - Link
The moment I laid eyes on this driver, I noticed that it wasn't anything like a traditional club. With a name like the Bombtech Grenade Driver, that's to be expected.
Let's start with the design of this club. It is different, to say the least. Just like everything else, some people will love it and some people will hate it.
You'll first notice the sleek matte black crown with a useful "Grenade 2" alignment notch. Next is the lime green motif, which offers a nice contrast. You can bet this will stand out amongst a crowd of generic looking clubs!
Some might consider the graphics of the club to be over the top. Of course, it depends on your personal preference. The graphics and texts are engraved on the bottom of the club head. Some people wouldn't consider this to look high-end, making it an option they wouldn't necessarily go for.
The shaft also has the "Grenade 2" graphic and has a shattering look to it. It's obvious that this club is aimed for younger crowds that want something that looks a bit cooler as opposed to the traditional driver look. If this happens to be the case, the Bombtech Grenade 2 delivers on this promise.
Was given these as a gift. They've made my game better and even took a point off my handicap! - Product Reviewer
Performance
I wanted to test out this driver and compare this small brand with bigger golfing companies. In the end, I was very impressed with the results. This driver offers amazing aerodynamics and high spin numbers.
It's quite light and overall feels very good when swinging. You'll notice that balls pop right off the club, delivering a high-pitched sound. This 10.5-degree club also offers a relatively high ball flight.
A group of engineering students from the University of Vermont wanted to create an aerodynamic design to reduce drag and break up airflow. They studied the original Grenade and then compared it to the new one. The Grenade 2 showed a 50% increase in aerodynamics when compared to the original version.
There is also a video on the Bombtech official site where you can view both driver heads in a wind chamber. It is very clear that the new Grenade driver is less shaky than the original version. The testing didn't show a big jump when it came to club head speed.
A few other specs to keep in mind include:
Size is 450cc
Loft of 10.5 degrees
Length is 45.75"

Bombtech Proprietary Shaft
What about adjustability? You will not find any adjustability on the Bombtech Grenade 2.0, which is a downfall for some players.
Pros & Cons
PROS
Lightweight feel
Highly affordable

Low 10.5-degree loft is great for fast swingers
50% more aerodynamic than the original Grenade model

CONS
Flashy modern design might turn off traditionalists
Not adjustable
My Final Thoughts on The Grenade Driver 3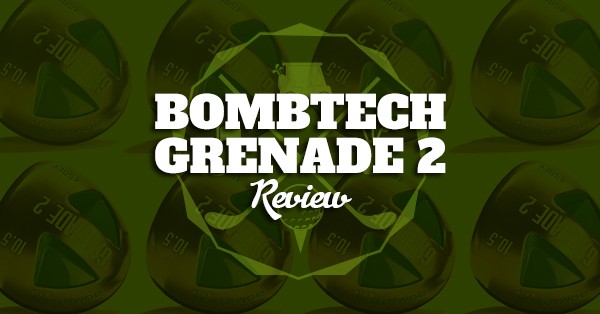 Overall, I'm very impressed with Grenade golf clubs, and this new Bombtech driver doesn't fall behind. It offers very nice performance and can be obtained at a great price. It's great for individuals that don't want to spend too much on a driver but want something that stands out and offer great distance.
I'd be hesitant to recommend this driver to a traditionalist, someone who needs adjustability, or wants a name brand. If you like to blend in, then this is not the club for you.
There are so many options on the market when it comes to golf drivers. The Grenade Driver offers amazing performance. When compared to major manufacturers, it offers a great value for your money. I'm very impressed with the improvements compared to the original Bombtech driver and would highly recommend it.
The only downfall would be the design. It's not ideal for golfers who enjoy the traditional look of clubs. Instead, it attracts younger crowds, and its lack of adjustability makes it a suitable option for beginners.
We wish you the best of luck when shopping for your driver, and if you decide to give this one a try, let us know how you like it!
Golf Driver Buyers Guide
If you're new to buying drivers, then you'll want to read this section! Here are some of the things you need to know before you buy:
Your Skill Level
Are you a beginner, or have you been in the game for several years now? Dedicated players will find that they need to upgrade their drivers as their swing progresses. No matter the level that you're at, you need to find a driver that works with your swing, keeps you on plane, and helps correct quirks.

If you don't know what components suit you best, consider seeking the help of an experienced golf instructor. They will be able to analyze your swing and make some recommendations. Another great way to see what works for you is trying out rental clubs or even your friends' clubs before investing in your own.
Head Size
Club heads are measured by volume - the largest one that is approved by the USGA weights 460cc while the smaller ones are about 420cc and 440cc. The larger options have bigger faces. The weight usually falls into the lower back of the club head, which increases momentum and helps launch the ball up into the air.

Then you have clubs with smaller heads. These are lighter around the perimeter creating more consistent ball launches. This option is preferred by skilled players since they enjoy the increased maneuverability.
Head Shape
Next element you want to consider is the head shape. You can obtain a driver with square or round club heads. Which one is best? This depends on what you feel most comfortable swinging. A round option will be easier to use for beginners since they are very clunky.

Square club heads, on the other hand, have decreased in popularity because many golfers don't like the design or dull sound it makes on impact. The one advantage that we'll admit the square club has over rounder ones is that they have larger clubfaces which leave little room for error.
Shaft
When it comes to the shaft, you have 3 options: titanium, steel, and graphite. If you're looking for the least expensive option, consider the heavier steel shaft. For high handicappers, I suggest purchasing a driver with a titanium or graphite shaft since their lighter weight translates to higher clubhead speed.
Drivers Loft
Drivers have the lowest loft of any club at 10 to 20 degrees, and they also hit the farthest of any club. Research shows that these low angles drive the ball farther because of the lift force generated by spin and the speed of your swing, improving your follow through is great too.
If your average swing is less than 100 mph, consider going with a driver that offers at least 12 degrees of loft. If you swing considerably faster, go with a diver with less loft, but never less than around 10 degrees.
Checkout Some of out other reviews here:
Related Posts for Bombtech Golf Grenade Buyers