Unlike other sports, golf is a game that can only be played on a proper golf course. And whether or not you are a regular golf player, finding a suitable golf course nearby your place is what every golfer desires. You can go there anytime you want, play a game or two, and then come back.
Since golf is a type of game that requires regular practice in order to master it, knowing about all the golf courses in your area can be of real help. Some golf courses charge a membership fee and in return, they give you access to their golf course where you can play all you want.
But, if you are someone who does not play golf that frequently, paying a huge amount in the name of membership charges does not make much sense. Therefore, let's learn about some golf courses that you can go to without having to pay a lot.
Do you reside in Northern or West Virginia? If you do, this is the perfect and complete guide for you. This article contains information about the best golf courses in Northern and West Virginia that are available for the public. Learn all about them and get your golf kits ready. Your search for a suitable golf course in the area might just be over now!

Top 10 Best Golf Courses in Northern and West Virginia for Public: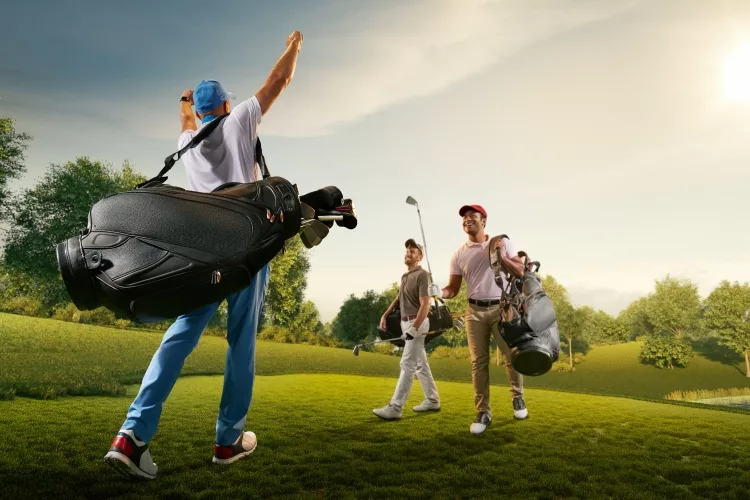 1. 1757 Golf Club - Link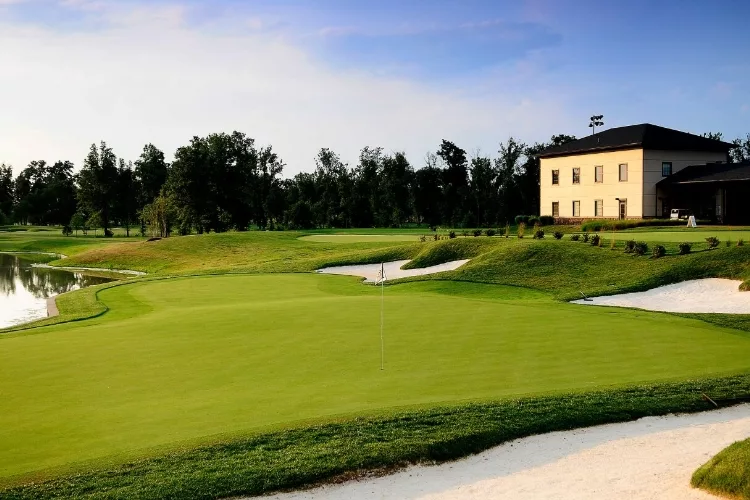 If you have been living in the vicinity for a long time, you might already be familiar with this golf course. It was inaugurated back in 2009 in Dulles. It has been open to the public since then. It has an ideal location where you can have quality time and enjoy peace of mind.
As I said above, it's a familiar place in Dulles. Therefore, you can meet and gather with many other golf lovers. If you enjoy competition, you can pair up for a match even. There are food and drink booths along with bag drop and welcome tables for the golfers to enjoy.
This golf club offers an amazing membership to its members. I know I previously mentioned how paying a membership fee doesn't make sense when you are not a frequent player. But this is a different case. If you sign yourself up as a member of this club, you do not become bound for the long term. Instead, you can cancel during the months you are not active and resume the membership when you think you will be able to give golf some time of yours. Just pay for the months you are active and cancel otherwise!
The 1757 Golf Club also hosts multiple events throughout the year. You can check in with their event calendar on their website and learn about upcoming tournaments or events hosted by them. You can also get their permission for organizing an event of your own.
2. Algonkian Regional Park Golf Course - Link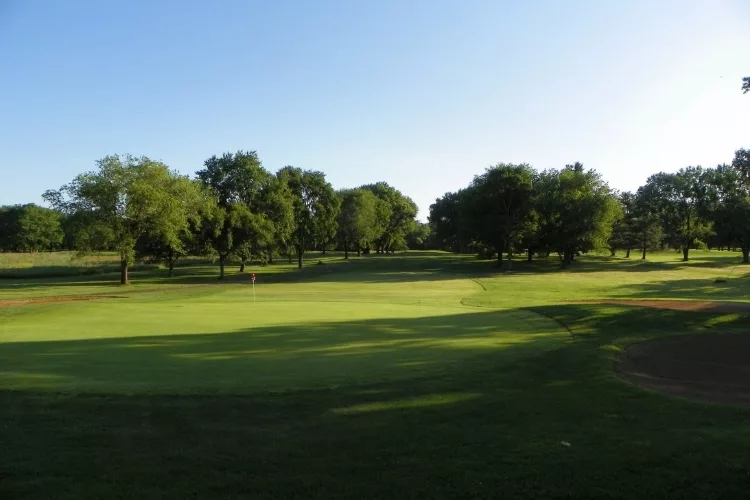 This is another one of the most famous golf courses in Northern and West Virginia. One of the many reasons for its immense popularity is its size. The golf course spreads over an area of more than 7000 yards, just imagine how big it would be! It is a perfect place for expert and professional golf players. Number 16 and number 6 are the most signature holes of this golf course.
The administration at Algonkian Regional Park Golf Course makes its members strictly follow a set of rules. To name a few: only golfers and accompanying spectators can visit the golf course and every player is supposed to have at least six clubs in their golf kit. There are several other rules laid by the management and the administration ensures the rules are being implemented strictly.
Now if I talk about memberships, this golf course offers several packages to its regular members. You can get a customized package that will suit your needs. The good part is that this club even has separate packages for young players who are below 17 and for senior players as well. The senior players are golfers aged more than 55.
One of the many things that I like about this golf club is its rental service. Some people play golf just for a hobby and only once in a blue moon. Other times they would only like to try for the sake of curiosity. It's too bad that they need to invest in golf equipment even if they are just giving it a try. But at this golf club, you can get amenities like clubs, power carts, and pull carts on rent at a reasonable price!
3. Meadows Farm Golf Course - Link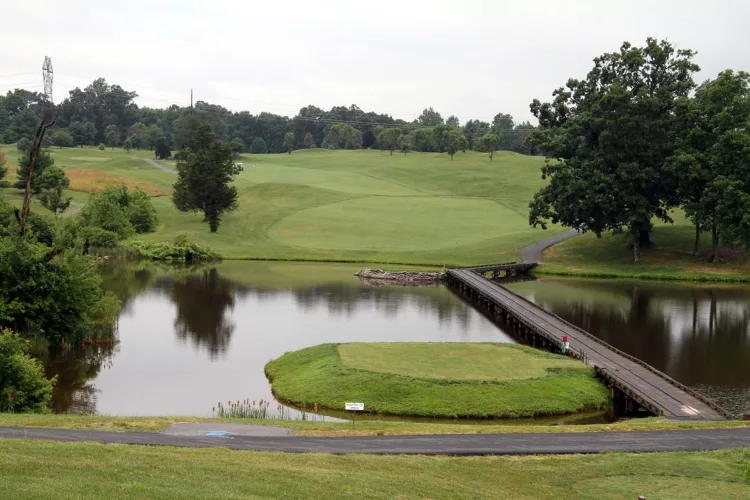 The next one on the list is the Meadows Farm Golf Course. It covers an area of approximately 180 acres. It's the perfect site for both, professional and beginner golf players. In addition to that, you can opt for any of the four leagues offered by the golf course according to your preference and schedule. Every league has its separate time and structure.
The four leagues offered are as follows:
Sunday League
Tuesday League
Wednesday League
Thursday League
Furthermore, you can also enroll your child in the junior golf camp offered by this golf club. At the camp, professional golfers will teach your child how to play the game and make them an expert in no time. The golf club also has an inn for its members. You can stay there for a couple of nights and enjoy the ambiance if you would like some time away from home.
4. Belle Haven Country Club
This is probably the oldest club in the region and was established in 1920. Over time the club has gone through many updates and improvements. Initially, the club only had 9 holes but now it also offers 18 holes. Along with a golf course, the Belle Haven Country Club also offers several other facilities.
The club is also known for organizing multiple tournaments. These tournaments are awaited by golf players throughout the year. The first famous tournament is the Four-Ball tournament. It is organized every year in the first week of May. The tournament was first held in 1949 and it has been a legacy of this golf club since then. This tournament is a golden opportunity for many beginner golfers to get some exposure.
The Belle Haven Country Club also organizes another event which goes by the name of Patriot Day Golf Classic. This tournament is held in honor of the victims of the 9/11 tragedy. Donations and registrations made by individuals across the region raise enough funds for this event to happen.
In addition to that, you can also avail yourself of several golf outing facilities at this country club. For instance, you can seek guidance and assistance from golf experts at the club in order to improve your game. Apart from that, you can host events here too. The management offers multiple packages for that purpose. Although, you need to get in touch with someone from the administration to seek permission for booking the club and making the event possible.
5. Brambleton Regional Park Golf Course
This is also one of the biggest golf courses in the region. It covers an area of approximately 6800 yards. The Brambleton Regional Park Golf Course is situated in Ashburn and is an ideal location to play golf. Its lush greenery and peaceful ambiance make it one of the best golf clubs in the Northern and West Virginia region.
The golf course also has some amazing membership packages for its frequent visitors. There are several packages offered by the facility so that the requirements of every golf player are fully accommodated. They offer special packages for golfers under the age of 17 and over the age of 55.
Even though this is not necessary, you can still book tee times scheduled before your game. You can get in touch with any member of the administration at the Brambleton Regional Park Golf Course and they will guide you if booking a tee time is essential for you. During the peak season, you may want to book your tee time beforehand as otherwise, you might not get a spot.
In addition to all of this, the golf club also organizes tournaments and offers outing packages. Multiple things can be included in these packages for example tournament scoring, greens fee, cart riding, and cart signage. The charges for these packages vary according to the season and the day of the week. On weekends and during the peak season, the charges might be a little high. Rest of the time they are quite affordable.
6. Bristow Manor Golf Club - Link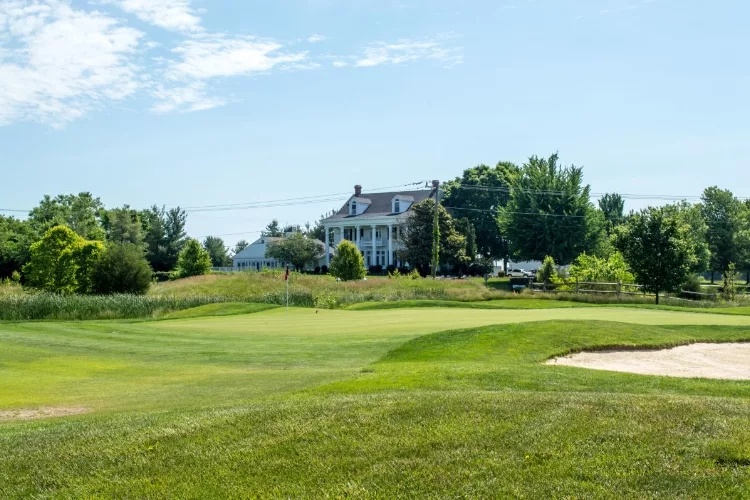 The scenic view at the Bristow Manor Golf Club is what makes it unique. It is an incredibly peaceful place situated in the countryside. This golf club was featured in the Golf Digest for three consecutive years for being among the 100 top places for playing golf. The golf course is vast and beautiful. Besides that, the club is also known for organizing multiple events.
The course provides the facility of booking golf carts in order to reach the greens in the course. But, the management has laid down a couple of rules in the name of cart policy. A single player cannot have the entire cart to himself, he will have to share it with either other single players or a threesome player. Similarly, twosome players will get one cart only whereas two golf carts would be given to foursome players.
If I discuss memberships, the Bristow Manor Golf Club has different membership packages with multiple benefits. There two most common options are the full membership and the weekday membership. Both these memberships are annual, however, the weekday membership is only valid from Monday to Friday. In addition to that, they also have a package for junior golfers. All players under the age of 18 can avail of this offer.
You can also organize your events at the golf course. With the permission of the management, multiple things can be done. You can avail customized packages and personalize everything according to your own preference.
7. Pleasant Valley Golf Course - Link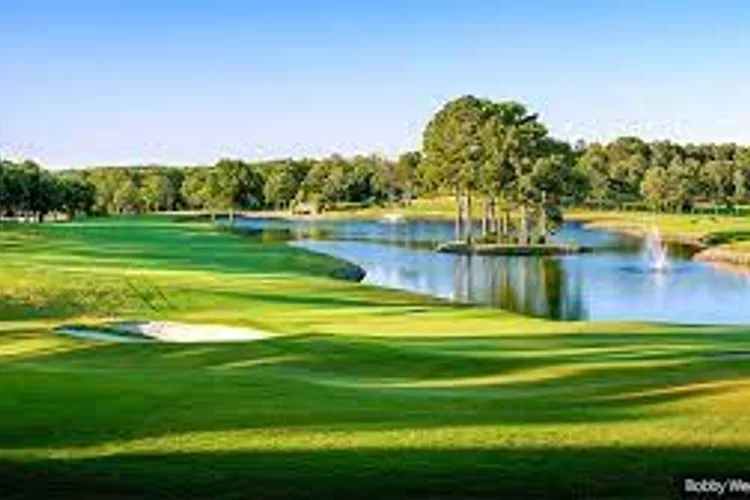 Away from the residencies, and in the middle of an exceptionally beautiful location. Can you think of a better place to play golf? I bet you can't. You will find the Pleasant Valley Golf Course at a beautiful site in Chantilly. This golf club is the organizer of several events, outings, tournaments, competitions, and championships.
Golf carts are provided by the club itself to travel to the greens of the course. However, on busy days, that service might be overbooked so you may have to look out for that in advance.
In addition to that, as it is necessary to book a tee time for this golf course, they offer the facility of booking it online through their website. You can sign up at the website in order to book online but since a lot of people are not comfortable with getting registered on random websites, you can book your tee time in a conventional way.
As I have already mentioned how the Pleasant Valley Golf Course is the host of multiple events, I forgot to mention that you can also organize an outing of your own. Although, you do need to seek permission from the administration for that.
The staff at this golf course provides exceptional and super cooperative service to the guests. Also, you can even organize your own tournaments and leave out the details on their official website. Isn't that amazing?
The golf club also offers multiple options for memberships. They have several packages designed as per the requirements of various golf players. They offer memberships on a monthly as well as annually basis, which are available for both, family and individuals. Besides that, they also have a few other packages such as the junior, weekday, founding, young adult, and charter memberships. Each membership package has a different structure!
8. Bull Run Golf Club
The Bull Run Golf Club has been in the picture since 1998. It is a huge 18-hole golf course that spreads over a land of more than 450 acres. This is perhaps the largest golf course in Northern and West Virginia.
The location of this golf club is again ideal in terms of greenery and scenic beauty. You can enjoy a fun game along with spending some quality and peaceful time at the club. The Bull Run Golf Club is preferred by both, casual and professional players.
There is no better spot for outings and tournaments other than the Bull Run Golf Club. The greens here are flawless which makes it perfect for a professional game of golf. Besides that, the staff at the club is highly cooperative and professional. They are ready to help you out through everything. If you wish to learn about the tournaments held at the Bull Run Golf Club, you need to visit their website and fill up a form that is available there.
The Bull Run Golf Club provides several membership packages. Every package has a different structure and offers different benefits. The annual membership provides discounted rates for guests and also allows the members the pre-booking of a 14-day tee time reservation.
Now that I have brought up a tee time, you can book your spot in advance for a week. You can book it online as well as offline as the club offers both facilities. In case of any cancellation or change in schedule, members are supposed to bring that in the knowledge of the management at least 24 hours prior to the booking time. Furthermore, you may also extend your tee time for up to 13 months.
9. Prince William Golf Course - Link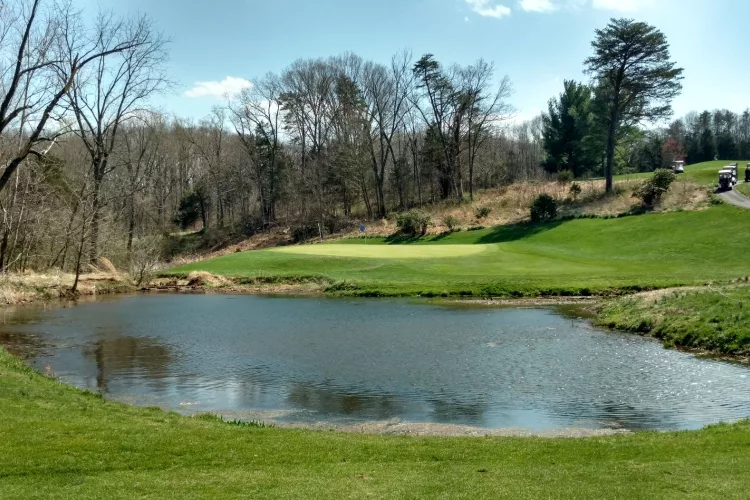 Next up on the list is the Prince William Golf Course. This golf course was inaugurated 50 years ago and it is still considered to be one of the most famous places in the Northern and Western Virginia region for playing golf.
The golf course is mesmerizing due to its historic nature and beautiful setting. The wide fairways also contribute to the reason why this golf course is considered to be beautiful. Some golfers require golf carts to cover the distance needed to reach some greens but many people also prefer to walk and enjoy the scenery.
The course knolls are gentle but the course has a few irregularities. Although, this does not matter as much. The golf course is perfect for professional players as it requires advanced skills for several holes.
This is the perfect golf club for players who love to frequently participate in games and tournaments. The club provides multiple leagues that the members could host or join. Different leagues are for different types of players to ensure a healthy and fair competition.
The Prince William Golf Course is also great if you are looking to spend some quality time with your family. They have special offers for families such as they allow free games for children daily after 4 PM. This means you can enjoy a game at the course with your family and also get one of your children to play with you completely free of cost. Although you might have to pay some rates for more than one kid.
10. Raspberry Falls Golf Course
And lastly, we have the Raspberry Falls Golf Course. It is situated in Leesburg in Northern Virginia. Golfing at this golf course will have you feeling like you are playing golf in the British Iles. It has a set of wonderful features such as the terrain, streams, walls, and bunkers are all exceptional.
In order to book tee times, you will have to sign up on their website if you wish to do it online. You will have an option to pay online through your card. However, as some people are not comfortable with the idea of online booking, the facility of offline booking is available as well. To reserve a tee time slot offline, you will have to pay the due amount upon arrival at the venue.
For hosting outings or tournaments, you first need to approve it from the administration. Once that is done, you will be required to fill a form that is available on their official website. There you will have to provide all the details regarding the event such as the date, number of players, time, format, and etcetera. As the form is submitted and reviewed by the management, they will reach out to you themselves for further discussion.
If you are a beginner and need to practice in order to improve your game performance, you need to avail the practice facilities offered by the club. They have dedicated an area of 50 yards for this purpose where you can play short games and learn how to master golf.
Moving on, let's address some frequently asked questions related to golf courses.
Public Golf Course Frequently Asked Questions (FAQs):
Do I need to follow a certain dress code?
This depends on the policies of the golf course. While some golf courses don't imply any such restrictions, others have a strict policy for them.
What is the general dress code in a golf course?
Generally, people wear collared shirts to the golf course and pair them up with golf shorts or slacks.
Why is tee time necessary?
It determines the time when the first shot of the match would be played. This allows people to track the progress of the games they are interested in.
How to use a golf cart?
When using golf carts, you should be cautious. Golf courses have separate paths for golf carts and you need to stick to them. Otherwise, you may end up damaging the wheels of the cart. Make sure to thoroughly go through the cart policy of the golf club you decide to play in.
Conclusion for Best Public Golf Courses In Northern & West Virginia

Northern and West Virginia can be considered as a golf hub. Therefore, it should be easy for you to find a suitable golf course near your residence. And I have also listed ten of the best golf clubs in the region. This may have helped narrow down your choices. So, get yourself a membership of one of these golf courses and start enjoying the game. The best public golf courses in Northern and West Virginia are perfect for you to take your friends or family too. Give them the chance of a lifetime by taking them out on the course with you, playing 18 holes together! If they're not into golfing yet, maybe this is their chance to find something new that they love just as much as you do. You'll have so many great memories from these amazing courses - it's time to start making some today!