What used to be just a basic type of golf club has become so much more. Wedges are all about the stamping and finishes, the grinds and the lofts, the grooves and the CGs. To an old-school golfer like me, these additions, as well as the higher price, can seem overwhelming at first. It can be hard to decipher what makes a quality wedge.

Here, I'm reviewing one of the more popular wedges on the market to bring you crucial buying information before you try it for yourself. Out of all the options on the market, it's fair to say that Bombtech Wedges are a great choice. The simple and cleanly designed wedge has top ball-spinning power, and its low price makes it even more attractive.
Let's get further into the details with my Bombtech wedges review so you can decide if it's the right pick for you. It did make my best clubs list as well.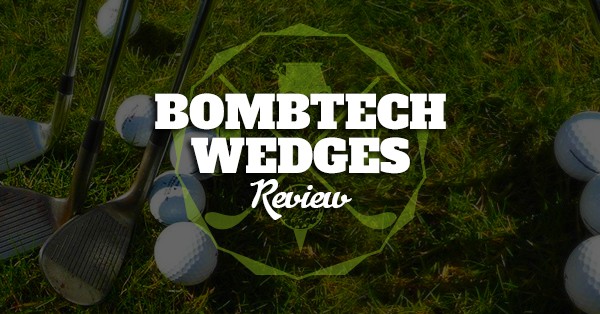 Bill's Bombtech Wedge Review - Link
Bombtech got its start as a driver company, with their dual-pocket designs making golfers happy everywhere. From there, the company naturally progressed into producing hybrids and fairway woods, then on to putters, and now finally -- wedges.
In comparison to the technology of some of Bombtech's other products, their wedges don't necessarily compete. However, on a wedge, sometimes a clean, straightforward design makes for the best performance.
Bombtech's wedges don't feature dual pockets. They are simple wedges with the Grenade logo featured on the polished chrome loft of the sole and the back of the toe. On the CNC milled face, the dulled look provides a nice contrast to the rest of the body.
These are awesome wedges and I was expecting a lot from them and they delivered. You can't beat the price for such high quality clubs. - Product Reviewer
Using the Bombtech Wedge
This wedge can be put to play to fill in yardage gaps or to help with low-running chips. It brings a sense of comfort on long shots. You can count on it to clear a large amount of distance when you need it to.
When first getting used to it, it might be a good idea to spend some time at the range or on the practice green to hit low-runners and long shots. After a while, you should be able to find nice spin in your ball and a good control over the wedge.
Rather than seeing your practice balls get sucked at the back of the green or rolling off to the side, you should see a shot that's controlled. This is exactly what you want to see from a good wedge.
The Body
This sleek and simple club stands out among some of the blinged-out options on the market, but it doesn't disappoint with its body.

The club is large, which can be helpful to those of us who have a less-than-optimal short game. The material used here feels of very high quality (definitely up in the ranks with Mizuno or Cleveland wedges). The large face is especially prominent on Bombtech's 60-degree club, where you'll see grooves made of top-quality steel. If you're going for a snazzy wedge that communicates clear confidence in your game, this large head really goes a long way.

When you get up to the grip, you'll encounter what I reason to be the weakest part of the body. It doesn't feel like the most luxurious material, but it is a comfortable cord and I don't think it will hinder anyone's performance.
Playing Performance
On the topic of the club's performance, I'll tell you how it worked for me on the green.
As a golfer, I can't say I've always been confident in hitting high-degree wedges. As these clubs were being used for this Bombtech wedge review, however, I noticed something change. After a few weeks playing with these, I became much more comfortable hitting these kinds of shots as well as flop shots. (I'm not the only one who noticed this improvement, either!)
To determine the playing quality of wedge clubs, you're looking for an easy hit and a good, fast, ball spin. Bombtech's Grenade wedges satisfy both requirements quite well.
The control feels very pure and strong. It feels as if it's coming from only the player, not the tool. This may be in part to the quality of steel or the newness of the club. The steel and large face work together to add some significant weight to the club. This will hinder your abilities to control, you may want to consider that. The heaviness does seem to work well for shots from the sand, as it lets you hit downwards on the sand and hit the golf ball upwards.
Especially considering the great price of these, they are a great value to improve your game.
PROS
Performance Proficiency: The grooves on the face of this wedge are designed to amplify the turn or spin of your ball as you hit it. The perfect outline helps the player hit shots that stay put on the green.
Made to Last: Users have shared that they are made to last, with quality treated steel and other materials that are still going strong with them.
Luxurious Feeling: These heavily weighted clubs and soft cord grip create a simple-swing club that feels premium at a price that's not.
Range of Use: With the pack of 52, 56, and 60-degree options, you can hit everything from short grass to tall grass, sand traps to approach shots, high lofts to low lofts, and much more! That diversity is useful for anyone's golf game.
Standout Style: This bundle, with its classic-looking wedges have a non-ostentatious look that still oozes confidence and skill.
CONS
Grip Quality: I'm unsure whether these grips are of the same high-quality that the body is made up of. Some seem to love the grasp it allows while some can feel the difference in quality.
Grass Is Always Greener: There's always someone with the mentality that the grass is always greener on the other side, so it's only fair that we mention that this is not by any means the highest-quality set you could get. For someone who wants a top name, a detailed design, or greater esteem in their wedges, I'm sure there are options out there that would better please them.
Who They're For
In order to be a low handicap golfer, having a strong short game is key. I'm sure that there are other big brand names that can beat the quality of performance of this set. But considering the value and the price they are still a great choice.

The fact of the matter is that most golfers out there have a handicap that's greater than 10. For everyone that falls into this category, these wedges are just the kind of thing you're looking for. It provides enough control and spin to shoot at least your regular number, if not improve it.

The biggest advantage here speaks to the value-oriented customer. In choosing these clubs, you will save a lot of money. This was enough to sell out the first batch of clubs incredibly quickly, and they continue to be popular today.
What Others Think
Some of the things that users have loved and shared in other Bombtech wedges reviews include:
Great quality, leading them to purchase more Bombtech products
It's a great deal for what you pay
Great for high loft and short distance chipping

Impressive look and feel
Saved some strokes in a game
Great for beginner or average player
Very forgiving with great distance
Great solid contact and pop
Unbeatable for the price
Final Words for Bombtech Golf Wedge Buyers
Bombtech, while not quite a company of the same caliber as Callaway or Taylormade, is a legitimate producer of clubs that have some play behind their price. Even with the low tag, I get the feeling that I will have these in my golf bag for at least a few years while I work on my swing and follow-through. The faith I have in these products comes primarily from their reputation, popularity, and the personal benefits I've experienced using them to write this Bombtech wedge review.
You can read my full wedge review guide here.
In all honesty, it wouldn't be a shock if Bombtech soon raises the prices of these awesome wedges. If you feel like these will meet your needs, I suggest you secure your set as soon as possible.
Love Bombtech? Then you'll love my Bombtech grenade driver review
Checkout Some of out other reviews here:
Related Posts for Bombtech Golf Wedge Buyers