It is a common misconception that simply learning the rules of golf is enough to learn how to play the game. While adhering to the rules, avoiding the penalties, and practicing regularly are some key steps on the journey of becoming a great golfer, there is a lot more to that.
As you might have figured by the title, knowing how to organize a golf bag is also an important prerequisite of golf. But what does organizing a bag has to do with becoming a good golf player? It is your bag and it should not make a difference however you decide to organize it. Besides, who is going to use it apart from you?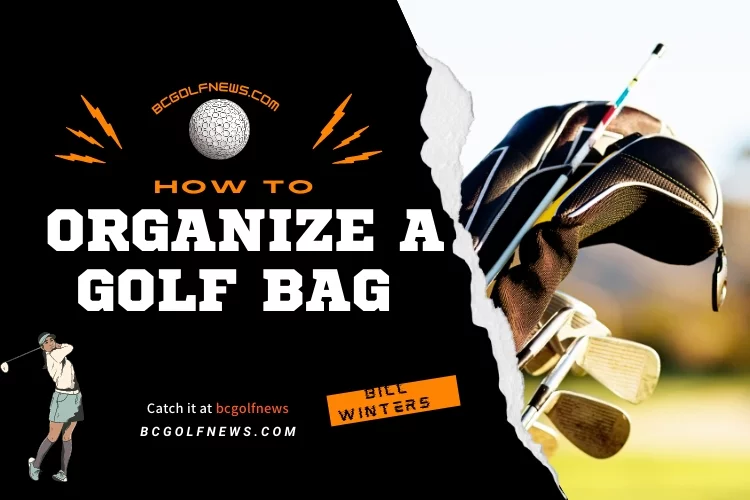 All your concerns are genuine, we give you that. However, let's not forget a lot of other golf-related things did not seem to make sense at first. But now we see why so much emphasis was put upon doing them right.
It is the same case with golf bags. Learning the accurate method of organizing one is an essential part of being a professional in golf. Here is why it is so important: If your golf equipment is not properly organized in your bag, you are going to require time to look through the stuff when searching for something specific.
For instance, it is your turn to hit the ball and you turn towards your golf bag to grab the suitable golf club for your shot. But since you didn't bother to organize it properly, you have no idea where the one you need right now is lying. So you will have to look through all of them to find the one.
As a result, you will end up consuming more time on the hole. This will increase your pace of play. And we all know that a slow pace of play is not the ideal trait of a good golf player. To prevent these minor mishaps from affecting your pace of play and game performance, one should know how to keep their golf equipment inside their golf bag in an accurate manner.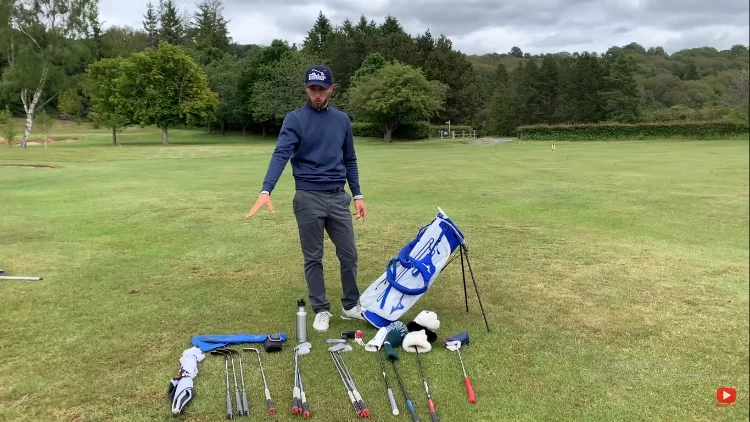 You don't need to look elsewhere as in this article we will be discussing the methods of perfectly organizing a golf bag! Stay with us till the end to acquire a new skill today!
But before we begin, let's talk about the two major types of golf bags!
Types of Golf Bags:
There are two types of golf bags:
1. Stand Bag
This golf bag is carried by the player himself.
2. Cart Bag
Whereas, this one is held by the golf cart in which the player rides to the course.
It doesn't matter which one you carry as both are equal to each other in terms of functionality. None can be regarded as better than the other one. It is all a matter of the user's preference. Some people prefer to carry a stand bag while others feel more comfortable with a golf bag.
There are ways to organize them both. Without any further ado, let's find out how to organize these golf bags!
How to Organize a Golf Bag:
Following the steps mentioned below will help you neatly decently organize your golf bag. While you may find hundreds of other methods on the internet, we believe this is the most effective one as it is used by a large proportion of professional golfers!
Step 1: Emptying the Contents of the Golf Bag
You can skip this step if your golf bag is not filled with stuff from your last game. It is for the procrastinators! The initial step in organizing your golf bag is to remove everything from the bag first.
We suggest you empty the contents of your bag because if it is filled with stuff you didn't even remember, it is going to be difficult organizing all the things.
Step 2: Gather Your Equipment
Next up, you should have all your golf equipment in one place. This includes your golf clubs, golf balls, irons, and drivers. Anything and everything that you are going to need on the golf course should be piled up in one place. This saves you the hassle of running to find an item every time.
First, collect them all at the same place and then begin putting them in your golf bag. This is the best strategy when it comes to organizing a golf bag quickly!
Step 3: Check the Weather Conditions
Checking the weather forecast a day before the game is very important. It helps you analyze your game strategies and also what equipment you should take along and what should you leave behind.
For instance, if the forecaster predicts rain, you should carry a raincoat along. However, you would have not carried it if it did not predict any showers.
Step 4: Arranging Your Golf Clubs
The golf clubs should be arranged in order of their type and number. Golf bags usually come with four different compartments for the clubs. There are two compartments in the middle and one on both, front and back.
The back compartment of the golf bag will be the closest to you. The clubs should be put in an order that the tallest will go in the front compartment, whereas the shorter ones will go in the middle and the back compartment as per their size.
Keeping them in this way will help you identify all of the club heads clearly as when you turn around, all of them will waterfall in front of you! Here it is also important to highlight that the rule of golf says you cannot carry more than 14 clubs to the game. Therefore, beware of that and carry only the most essential ones!
Step 5: Storing the Irons and Woods
Note that the back compartment contains the irons 1 to 3 and the ball retriever. Most players don't carry a ball retriever along and that's fine too. The middle and the short irons go in the center compartment. The 4 to 6 ones are on the left and the 7 to 9 ones to the right. The front compartment is reserved for wedges and putters.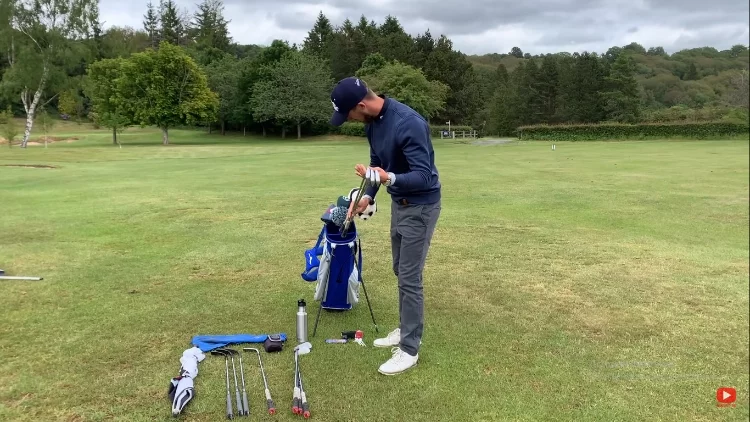 Check-in with your golf bag's configuration. If it has a separate pocket for the putters, put the putter inside it. Otherwise, it should only be kept in the front section along with the wedges.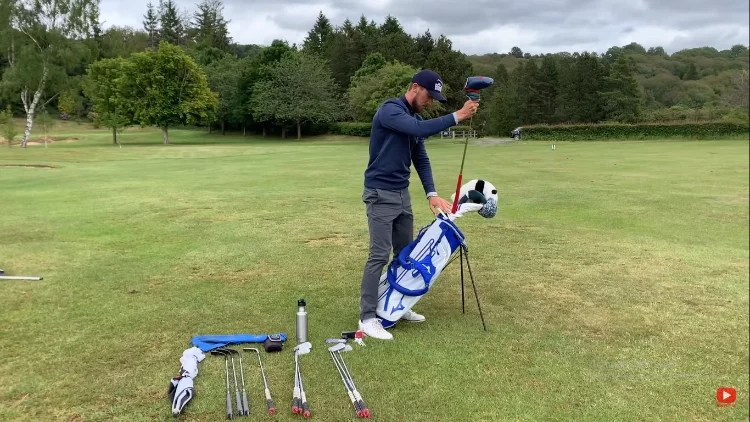 Step 6: Storing More Frequently Used Items
Since these items are used more frequently, they should be kept somewhere with quick access. The ideal position would be to store them in the front top pockets. Golf balls, ball markers, tees, and repair tools for divots are all examples of such items.
Storing them in the nearest sleeves will help you grab them quickly when you need them. Thus, not leaving an impact on your pace of play.
Step 7: Storing Less Frequently Used Items
As these items come into use very occasionally, you are supposed to put them in the back pockets. These pockets are not quickly accessible thus you should avoid putting essential stuff in them.
Things such as lotions, facewash, insect repellent, sunglasses, and first aid kits are prime examples of what should be kept inside these pockets.
Step 8: Storing an Umbrella
You can skip this step if you checked the weather conditions ahead of the game and there is no rain. However, we suggest you keep an umbrella even if the weather is simply cloudy. Most bags come with a separate compartment for an umbrella.
You can keep it in the side pocket of the bag. It is specifically designed for umbrellas as it is uncovered from top and bottom. This allows the water to drain if the umbrella had been wet. The bottom of the pocket has a loop where the tip of the umbrella goes. It helps keep it in place safely!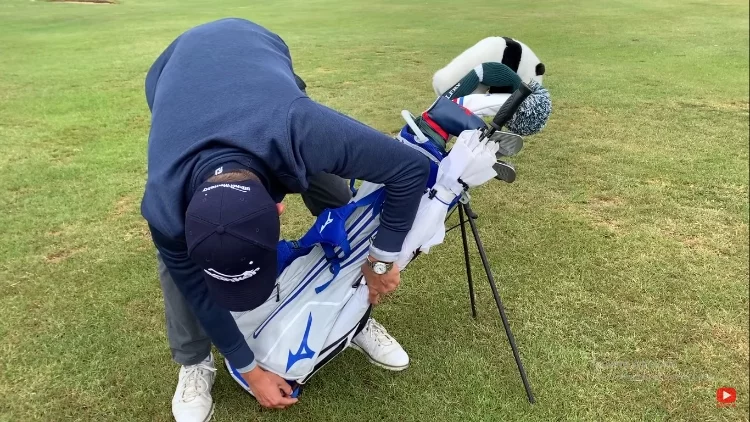 Step 9: Storing Your Valuables
Taking care of your belongings is a huge responsibility while playing golf. The modern golf bags usually come with a specific pocket made for storing valuables such as mobile, keys, wallet, watch, etcetera.
These pockets are deep inside the bag, secured with a zipper, and lined with a waterproof material to keep moisture out of the pocket if the bag gets wet. If your bag comes with such a space, don't take it for granted!
Store your valuables in that pocket and play golf free of any worries!
Conclusion on How to Organize a Golf Bag
Organizing a golf bag is not an extract of rocket science. It is a simple and easy task that can be done within minutes. If done right, it can help you save a lot of time on the golf course which will consequently increase your pace of play!