One critical factor that affects peak performance in golfing is comfort. Golf pants like every other golfing fabric play an integral part in your golf games.
Not surprisingly, there are lots of brands that have gained popularity over the years as golf pant manufacturers. Golf pants have changed tremendously in terms of features, design, fit, material, and even technology.
Now, you can't see anyone wearing any random pair of pants that could end up affecting their comfort while lining up a shot.
This is not limited to just golf pants. Every piece of apparel from tops to polo shirts to socks has evolved significantly in the golfing world.
With the different golf pants made from unique cutting edge fabric, selecting the best one for you can be daunting. In this write-up, we have prepared everything you need to know about golf pants so you can stay stylish and comfortable the next time you hit the courses. We have also provided detailed information on some of the best golf pants on the market so you can make an informed buying decision!
Editor's Recommendation: Top Golf Pants 2023
Top 7 Best Golf Pants Reviews 2023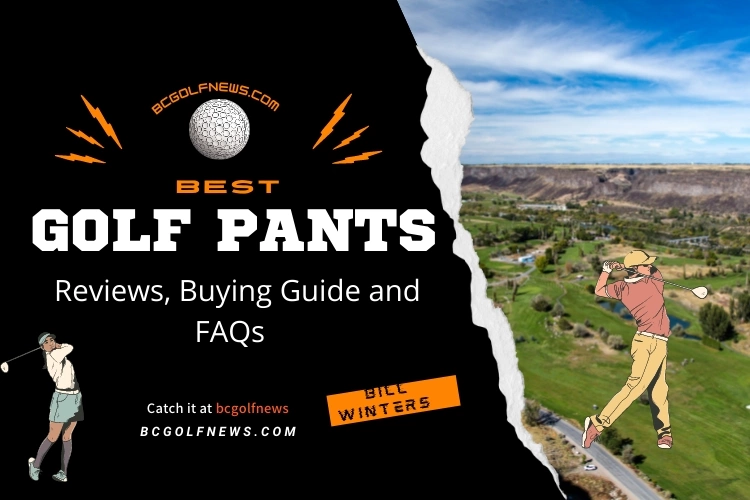 1. Amazon Essentials Men's Slim-Fit Stretch Golf Pant - Link
The Amazon Essentials Men's Slim-Fit Stretch Golf Pant is made from 98% polyester and 2 % spandex. The material is imported and it is available in several different colors.
One of the things we love about these golf pants is that you can wash them in a machine. This makes it relatively easy to clean the pants after golfing.
Another important feature to note is that it is fitted through the hip and thigh. It is also fitted with a tapered leg and is designed to sit just below the waist.
The pants have a gentle stretch and have moisture-wicking capabilities for when you play in the sun. It comes with a smooth wrinkle-free blend and has set-in rear pockets for holding small items such as keys.
Considering these pants are directly from Amazon's brand of clothing apparel, the quality means it offers great value for money.
Pros
Soft feel
Stretchy and is available ins various sizes
No logo or branding on the pants so you can wear them anywhere
Suitable for use as office wear
Cheaply made golf pants
The waist and length of the pants are great i.e. not too baggy
Cons
Depending on the size you purchase, the crotch and thigh feels too tight
Although it is stretchy, the material is not stretchy enough to accommodate lots of movements
They are not true golf pants

2. Eddie Bauer Men's Guide Pro Lined Pants - Link
These Men's Guide Pro Lined Pants by Eddie Bauer are available in different size options and colors. It features a zipper closure which makes it a great fit while playing golf. The closure also means it is relatively easy to put on the pants.
It is suitable to wash in a washing machine.
One feature that stands out about this Eddie Bauer Men's Guide Pro Lined Pants is that it features a StormRepel DWR finish. The importance of this is that it wicks up any moisture so that you always remain dry.
The pants also come with FreeShade UPF 50+ lining. This lining ensures that you receive maximum protection from the sun. The pant also comes with a flexion two-way stretch fabric. The fabric ensures you have maximum mobility and freedom to perform necessary movements. There are also two cargo pockets at the sides of the pants that come with a zip so the items you store in the pockets are secure.
The Eddie Bauer Guide Pro Lined Pants are not just suitable for use as golfing pants. You can also wear pants while going on snowshoeing trips, cross-town excursions, etc.
The fabric used in making the pant is a blend of durable nylon and spandex. It also features polyester stretch fleece lining that protects against harsh winds.
Pros
Multipurpose golf pants
The pants are fitted but allow complete mobility
It comes with cargo pockets that have pockets to secure items you place in them.
It is water-resistant and also feature sun protection lining
Features fleece lining for protection against the wind and cold weather
Cons
Users complain of the size is smaller than what they ordered.
TIP: If this happens, you should ask for a replacement immediately.

3. Royal & Awesome Golf Pants Men, Crazy Patterned Mens Golf Pants - Link
These are not pants that you can wear anywhere. Just as the name indicates, Royal & Awesome Men's Golf Pants come with crazy patterns. They are exclusive pants and are imported.
The pants are a fine blend of 97% cotton and 3% spandex. This means you can machine wash without the danger of damaging the fabric. The pants come with a pitch mark repairer that you can also use as a bottle opener.
If you are looking for funky golf apparel to spice up your golfing experience, you can't go wrong with these pants from Royal and Awesome brand.
Golf trousers are not the only apparel Royal & Awesome make. The brand also produces other apparel such as shirts, hats, polos, etc.
Pros
Attention-grabbing golf pants
Suitable to wear as casual work pants
Pants come with a magnetic marker as well as a golf divot repair tool
Cons
Very baggy; you might have to get a tailor to get it fitted
Not all the colors these pants are available in are bright. For instance, the bright royal blue color of these pants is a bit darker than you would expect
Funky as the pants are, they are quite pricey
Users complain the size shrunk by about 2 inches after washing for the first time
NOTE: Shrinking of the pants is not a common issue with these Royal and Awesome Golf Pants.

4. Amazon Essentials Men's Classic-Fit Stretch Golf Pant - Link
Amazon Essentials is amazon's clothing brand among other things. The brand also produces home appliances, toys, and anything you might need at home.
This Men's Classic-Fit Stretch Golf Pant is just one of many other lines of Golf Pant that Amazon Essential produces.
This pant is 2% Spandex and 98% Polyester. The fabric is imported and you can wash it with a machine.
Like most Amazon Essentials Golf Pant, irrespective of the line, this one is also roomy around the hip and thigh so you can have better mobility and comfort. The pant sits comfortably at the waist and allows for gentle stretches.
It also comes with two set-in pockets at the back. The overall quality of the pant is great, it features moisture-wicking material that is smooth and wrinkle-free.
One drawback to keep in mind before buying these pants is that it does not come with flex in the waist. And while it is marketed as stretchy by the brand, it is not very flexible as one might think.
Pros
Suitable for machine wash
Comfy and roomy around the waist and thigh
Comes with set-in back pockets
Made from material that has good moisture-wicking capabilities
The quality of the material is great
Affordable golfing pants
Cons
One of the biggest downsides of this is that it is branded so you can't use it as a work pant
The pants are tighter in the thigh and crotch than advertised
The material used for making the pants is thick which makes them suitable for cold climates but bad for warmer ones.
The sizes are slightly larger than expected

5. Adidas Men's Ultimate Classic Golf Pant - Link
Adidas is not a brand that needs any introduction in the world of sports. The brand has consistently delivered quality sporting gear and equipment over the years.
The Adidas Men's Ultimate Classic golf pants display all the professionality and quality one can expect from a brand such as Adidas. The pants are lightweight and provide a great fit with fantastic durability.
One of the features we particularly love about the golf pants is the silicone gripper. This gripper is fixed together with the waistband. The silicone gripper makes it possible to keep your shirt in place while taking swings on the golf course.
Also, the pants are made from a blend of Polyester, Elastane, and Nylon; with nylon making up 55% of the material composition. This means you can expect moisture-wicking features from the pants, especially on hot sunny days.
The pants also come with UPF 50+ UV protection to keep your skin safe from the harmful sun rays.
Like most golf pants, it stretches gently and easily and features front and set-in back pockets. There is even a belt loop if you think you need to support the pant with a belt.
The fit is great and it offers a comfortable, loose, and snug way to golf.
Pros
Available in some colors and features belt closure
Comes with silicone gripper tape to keep your shirt in at all time
Made from 34% Polyester which gives it water resistance capabilities and moisture wick features
The pants feature UPF 50+ UV protection
Flexible, durable, and lightweight golf pants
Cons
The biggest drawback of these golf pants is that it does not hold a crease well
The pants wrinkle very quickly
The sizes available shows it is only suitable for skinny golfers

6. Under Armour Men's Showdown Golf Pants - Link
Another golf pants that catches the eye is the Under Armour Men's Showdown Golf Pants. The pants are made from a blend of Elastane, Nylon, and Polyester. The material is imported and the brand markets the pants as being manufactured for straight leg fit.
The pants are lightweight and the material composition makes them stretchy. The fit delivers total comfort to your crotch and is tight especially while taking swings on the golf course.
The fabric of the pants means you can enjoy your golf game without having to worry about sweat since it pretty much dries quickly when the material touches it.
One of the selling points of this golf pant is that it comes with a stretch-engineered waistband that offers amazing comfort and better mobility to golfers. It also features a four-pocket design and a flat front.
As impressive as the quality and design of the pants are, it does not feature enough polyester to make them suitable for corporate use. That said, it looks nice enough that you can still wear it in a casual business environment.
Pros
Straight fit as advertised and features a modern design that is not baggy
Lightweight for comfortable use in a warm climate
Pants are wrinkle-free and suitable to wear all day long
Available in various sizes and colors depending on the appearance you want to pull off while golfing
Cons
Despite the great overall quality, the pants come with a very light stripes design that you will only notice if you examine the pants closely

7. PGA TOUR Men's Flat Front Golf Pant - Link

What better way to round off the review list than with these amazing golf pants by PGA TOUR.
The golf pants are made from 100% polyester and feature a button closure. Suitable to wash in a machine and features built-in moisture-wicking technology that helps keep perspiration away. This makes for dry and comfortable all-day wear.
The pants, like most golf pants, allow mechanical stretching due to the weave of the fabric. This allows for even greater comfort and total dynamic movement while golfing.
Although it comes with a button closure, it features an expandable waistband. The good thing about this is you can expect great flexibility and comforts while wearing these golf pants. The pants also feature a hidden elastic waistband that can contract or expand (up to 4 inches) in any direction you want.
The pants come with a sun protection finish which prevents UV rays from penetrating thereby protecting your covered skin from the sun.
The pants hold and maintain their smoothness well even after regular or machine wash
Pros
Top-quality golf pants made for maximums comfort and functionality
Features an expandable waistband that improves the comfort and flexibility while wearing it
Comes with moisture-wicking technology that helps keep you dry all day long
Does not wrinkle easily
Machine washable
Comes with a sun protection finish
Cons
Button closure means you do not have an option to support the waist with a belt if it does not properly fit.
Best Golf Pant Buying Guide: what to consider before buying golf pants?
Although we can go on and on about the best golf pant on the market, without knowing how to choose the right one for you, there is a pretty big chance you might end up not liking what you pick. In which case, you might have to ask for a refund which could take a lot of time to process depending on the brand you bought your golf pant from.
Fortunately, all that stress can be avoided with the right information. In this section, we will discuss everything you need to consider when buying golf pants.
1. Size
One of the most important things to consider before buying golf pants is the size. This is a lot easier to do when you are buying from a physical clothing store or boutique since you get the chance to try it on. However, when buying from an online store, you have to consider some factors. For instance, the size of your leg and waist will help you determine the right fit for you before placing an order.
Most brands often indicate that customers should order the exact size they wear. This is because there are brands that have some discrepancies in their size. For such brands, you will quickly notice that the size you ordered is either too small or too big for you.
NOTE: That said, most people often add a few inches to their sizes. This gives room for adjustment should the pants come smaller than it is supposed to. Of course, you can always also return the pants to get a refund if the size you order does not correlate with what you received. The only drawback is that this tends to take a lot of time.
2. Material
The next thing you want to consider is the material the golf pants are made of. Most golf pants are made from a blend of polyester and nylon. However, some brands tend to add other fabrics to the composition to give their pants a unique look.
That said, you must know what you are looking for. For instance, a golf pant that comes with a significantly high percentage of nylon fabric will be a lot more stretchy than one that contains a lot more polyester material.
You should keep in mind that the type of material the golf pant is made from also influences its overalls appearance after washing. That is, will the pants stay wrinkleless even after regular washing.
NOTE: One of the things that categorize a pair of golf pants as being good is their ability to stretch. This is especially true since golfing requires golfers to take different unique stances and positions.
3. Color
Though not as important as the two factors mentioned above, the color of pants you wear can also affect your overall golfing experience. Nearly all golf pants come in multiple colors so you can choose which is best for you. Some even come in funky designs and patterns if you are looking to golf in style.
As a result, you need to find the right color for you.
4. Pricing
Budget is very important when it comes to making financial decisions such as buying gear or equipment.
Since there are different models and brands of golf pants, there are clear and distinct differences between the prices. While they all offer the same features, there is no denying that the quality of each golf pant different from one to the other.
Before you select any golf pants to buy, ensure the pants fit your budget. Also, make sure you are not overpaying for the pant.
We have selected and reviewed some of the best value-for-money golf pants on the market for you!
5. Closure Type
Each golf pant comes with a way for you to secure the pants in place once you wear them. The two most popular closure type is the button closure and the belt closure.
Each of them offers a different experience. They also come with specific drawbacks. For instance, golf pants with belt closure mean you have to use a belt every time you want to wear them.
NOTE: Some unique golf pants come with both closure types so you can use any one that fits your preference.
Golf Pant FAQs - Link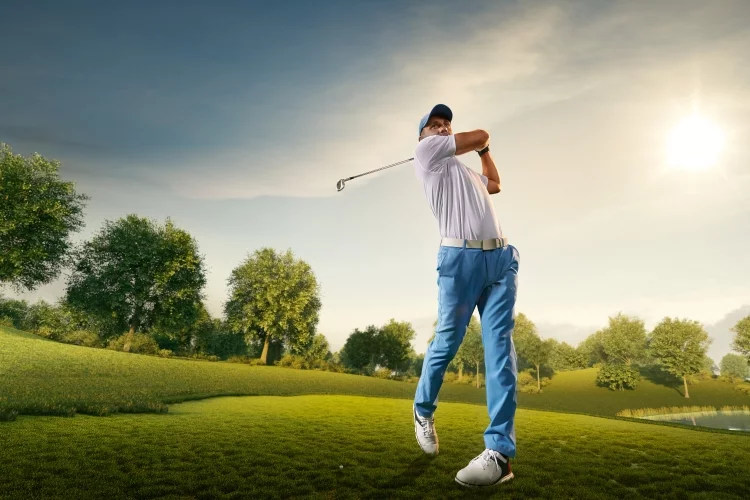 1. What Is Special About Golf Pants?
As the name implies, Golf Pants are specifically intended for use when going to golf. The material they are made from is thin and allows for a more athletic fit. They are roomy enough to allow you to swing your golf club without feeling restricted but are not quite baggy. This allows for freer movement.
2. What Kind of Pants Are Good for Golf?
In case you do not intend to buy golf pants, you can always substitute golf pants with regular linen or cotton pant. In a cold climate, you can always wear wool or khaki pants. However, you should keep in mind that you might not have free-flowing movement in such types of pants.
NOTE: Regardless of the kind of pants you go for, avoid wearing jeans while going to golf.
3. Why Are Golf Pants So Comfortable?
Golf Pants feel very athletic when worn and allow for fluid and flexible movement so you can take the proper stances while golfing. Regular khaki shorts does not allow this since they are not thin nor as breathable as golfing pants are. s
Conclusion for Golf Pant Buyers - Link
Is it important to invest in golf pants before going golfing? Absolutely! You want to keep all your focus on the course and golf balls without having to worry about how tight the pants you wear are. The same goes for basically every attire you wear to the golf course.
Due to how important this is, we have compiled a list of some of the best golf pants on the market for you. We have also prepared a guide to help you select the right one for you.