What many people don't know is that putters and wedges are responsible for a lot of the shots that golfers make. Putting together an effective wedge setup that allows you to maximize the number of shots that you make is tricky.

Pitching wedges are a subset of irons with high lofts, and are designed to launch the ball high into the air. To compare types: pitching wedges range from 46 to 48 degrees, whereas gap wedges range from 50 to 53. Sand wedges range from 54 to 58 degrees, and lob wedges range from 60 to 64.
Each of these types offers unique benefits that can make or break your golfing experience. Depending on your preferences and the type of shot you're trying to make, you may choose one type versus another.
Buying wedges strategically takes more than matching it to an iron set. And, the various types of wedges (pitching, lob, sand, etc.) all have different roles. Most people settle for the option that comes with their iron sets.
Editors' Picks for Top Pitching Wedges 2023
Trying out different wedges, even ones that don't come with your iron sets, could lead to you achieving higher scores. This article will help you understand the ins and outs of buying specialized pitching wedges. We've reviewed our top product picks, and included a guide for what to look for and further information at the end.
Let's launch in with our reviews:
Top Picks Pitching Wedges
Image
Product
Features

Founders Club PW

Founders Club PW-

Most Cost Effective Pick:

Gives value for your money



Reduced turf drag
Reduced vibration on mis-hits
Affordable

Cleveland Golf CBX 2 Wedge, 52 degrees Right Hand, Steel, Tour Satin, Large

Cleveland Golf PW -

Overall Best Pick:

The dream wedge.



Tight shot dispersion
Increased forgiveness
Good turf interaction

MAZEL Golf Pitching & Chipper Wedge,Right Handed,35,45,55 Degree Available For Men & Women (Right, Stainless Steel (Green Head), S, 45)

MAZEL Golf PW - Best Value Pick: A well-rounded choice

High-performance grip
Wide sole
Lower center a gravity
Top 5 Best Pitching Wedges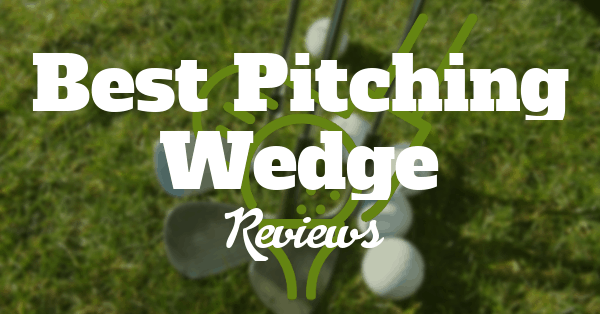 Best Overall: Cleveland Golf Pitching Wedge - Link
The Cleveland CBX edge features a clean and classic shape that is reminiscent of other tour wedges that Cleveland has released throughout the years.
This advanced model is forgiving for the cavity back player. Opting for a cavity design instead of a blade design made it possible to reposition 70+ grams of weight to the perimeter.
Another feature of the CBX is the Dual V-Sole that uses a V shape on the sole from the front to the back. This makes for great turf interaction. The heel-to-toe V shape with a wider toe makes for more forgiveness.
Thanks to ClevelandaTMs Feel Balancing Technology, you get an improved feel and a tighter shot dispersion on full shots.
Product Specifications
Shaft Material: Steel or Graphite
Orientation: left or right-handed
Length: 35"-35.5"
Flex: Wedge
PROS
Tight shot dispersion
Increased forgiveness
Good turf interaction
CONS
Some people report having not enough feedback
Check latest price

Best Value: MAZEL Golf Pitching Wedge - Link
This wedge helps you improve your short game by eliminating fat and thin chips shots from the fringe and around the green.

The heavier club head and low center of gravity make it easy to get the ball airborne. Its wide sole makes sand shots much easier and allows you to swing like a putter.
Thanks to the high-performance rubber grip, this wedge has an excellent hand feel, increased shock absorption, and better ball speed control. This wedge is legal for tournament play.
Product Specifications
Shaft Material: Stainless steel (different colored heads)
Orientation: left or right-handed
Length: 35"
Flex: Regular
PROS
Lower center a gravity
Wide sole
High-performance rubber grip
Legal for tournament play
CONS
Requires practice to get used to
Check latest price

Best Budget: Founders Club Pitching Wedge - Link
This model by Founders Club uses a CNC machine milled, flat face with machine cut grooves. This wedge has 40% more groove volume than previous models. This makes for increased friction between the clubface and the ball.
The 255 Spin Milled Wedge allows you to get a consistent high spin, especially in tall grass or wet weather conditions.
Thanks to Founders' Vibration Dampening Core, this wedge removes unnecessary vibration on mis-hits without preventing you from getting feedback from the club.
Founders' 255 Bounce Grid gives you a medium bounce. As a result, this wedge performs well in most conditions.
Its sole design focuses on reduced turf drag, versatility, and forgiveness.
Product Specifications
Shaft Material: Steel
Orientation: right-handed
Flex: Regular
PROS
Reduced turf drag
Ideal for wet weather conditions
Reduced vibration on mis-hits
Affordable
CONS
Not much online information about it

Somewhere In Between Options
Square Strike Pitching Wedge - Link
Thanks to its beveled leading edge and wide sole that prevents digging, it's near-on impossible to hit fat with this wedge. When you buy this wedge, you won't have to deal with chip and chunked pitch shots that lead to wasted strokes.
It has a heavy and durable feel that makes you feel more confident than you might be when using thin wedges that rotate and dig.
This model also has less rotation, which makes it easier and more consistent to maintain clean contact.
The putter-like length, putter-like lie angle, 68 degrees, and anti-rotational weight gives you increased control when using this wedge. All you need to use is a simple putter-stroke for maximum swing and control.
You can use this chipping wedge to chip it close from various lies. You'll find that this wedge is more effective for chipping than using a 7-iron.
Since this wedge sits at a shorter length, both women and men have an easy time controlling this wedge. At 330 grams, this club head glides gracefully through most types of turn and prevents you from having to exert a lot of hand and wrist energy.
Another benefit of this model is that it comes with a 1-year warranty that protects against defects.
Product Specifications
Shaft Material: Stainless steel
Orientation: left or right-handed
Length: 35.5"
Flex: Wedge
PROS
Smooth gliding
Durable
Great control
1 year warranty
CONS
High price
Some people dislike the design
Check latest price

Titleist Vokey Pitching Wedge - Link
Thanks to the exceptional feel from the progressive center of gravity location, you can achieve a precise distance and optimal trajectory control.
This versatile wedge is designed to fit most swing types and course conditions. Due to the 100% inspected TX4 grooves with a new parallel face texture, you get a sharper and more consistent groove edge.
Product Specifications
Shaft Material: Gold Steel
Orientation: Left or Right-handed
Length: 35.75 inches
Flex: Regular
PROS
Better shot versatility
Better spin
More consistent groove edge

Pitching Wedge FAQs
When should you use a pitching wedge?
A pitching wedge should be used for shots between fifteen and sixty yards. It is used to loft the ball into the air with added elevation rather than a line drive shot. Wedges can be used to hit over trees, water, and other potential obstacles.
What degree is a pitching wedge?
Pitching wedges typically range from 46 to 64 degrees. There are several subsets of this range that offer different benefits. Depending on what type of shot you're planning to make and the conditions you are playing in, different degrees will have a different effect.
What is a standard pitching wedge loft?
The degree of a standard pitching wedge is 46 to 48 degrees. It is designed for full shots when the 9-iron would make for a shot that's too long. Distance tends to vary between golfers, but amateurs can usually hit the pitching wedge from 80 to 110 yards.
Pitching Wedge Buying Guides
Things to Look For
You can read our full buyers guide for wedges here.
Loft: Loft is the angle of the clubhead relative to the shaft of the club. When the angle increases, the loft of the club increases as well. Higher-lofted clubs like pitching wedges make it easier to lift the ball into the air. A higher lofted club also makes it easier to play in different conditions like locations with tall grass.
Shaft Material: There are two basic types of shafts: graphite and steel. Most clubs are made using one of these types. Knowing the differences between the two types is crucial if you plan on switching shafts.
Steel shafts are significantly heavier and more durable. They are also typically less expensive. They are usually made from carbon steel, but some are made with stainless steel. They start at around 120 grams. Players benefit from this shaft material because lateral or torque twisting found in graphite shafts doesn't happen in steel. Steel shafts give players more control and place more focus on accuracy rather than distance. This type of shaft is recommended for players with normal swing speeds.
Graphite shafts are much lighter than and less durable than steel shafts. But, they are also cheaper than steel shafts. They typically weigh between 50 and 85 grams. Since graphite is super light-weight, you can achieve a faster swing speed. This can backfire and lead to decreased control because of the flex generated by the swing. Graphite shafts are more popular amongst women golfers and seniors who aren't able to produce as fast of a swing speed.
Types of Wedges
Pitching wedge: Most golf clubs come with a pitching wedge (a club with 46-48 degrees of loft to the clubface. They are designed to make contact with the underside of a golf ball so players can hit shots between distances of 110 and 125 yards. Professional golfers may hit their pitching wedge up to 25 yards further than that, but both experience levels are trying to get the ball high into the air so they can guide the ball toward a putting green and get as close to the hole as possible. Inexperienced golfers should have an understanding of how far they can hit a pitching wedge with accuracy so they can figure out what situations might call for a different type of wedge.
Sand wedge: Sand wedges first gained popularity in 1930 because they allowed golfers to hit a ball out of the sand. Now, these clubs are most commonly used to hit the ball from high grass. The loft on sand wedges typically sits at between 54 and 58 degrees. Golfers typically opt for sand wedges when they are expecting to make a shot between 80 and 100 yards that must be shot into the air as quickly as possible.
Lob wedge: Lob wedges are the newest form of wedge. Golfers who have a lot of experience under their belt use lob wedges when they are close to the green, and need to hit the ball so that it reaches height and lands on the green while maximizing spin. The loft of this type of wedge is between 59 and 65 degrees. Because the leading edge of the club is thinner, this type is an excellent choice when you have to clear a hazard. Golfers can take a full swing and still hit a lob wedge that doesn't surpass 60-70 yards.
Gap wedge: Gap wedges sit somewhere between pitching and sand wedges in terms of what they offer. This type has a loft between 50 and 54 degrees. Its main use is to hit the ball between 90 to 110 yards. Instead of having to choose between a pitching wedge or a sand wedge, golfers can choose the gap which can go the distance while allowing you to maintain a relaxed swing.
If you're looking to try something "new age", then I recommend the BombTech Wedges.
Final Thoughts
If you're new to golfing, you might be confused by the different types of wedges on the market, and what they're used for. A lot of this confusion comes from the fact that there are several types of wedges.
Each type has different degrees of lofts. This is the primary thing that separates each type from the others and gives them unique selling points.
The degree of loft on the club affects the trajectory of the ball when you strike correctly. The higher the degree, the higher that the ball will go into the air.
As covered by our reviews, our best overall pitching wedge is the Cleveland Golf Pitching Wedge. This is for a few reasons, but one of the primary benefits of this model is the Founders' Vibration Dampening Core. This cleverly removes unnecessary vibration on mis-hits without preventing you from getting feedback from the club.
Although this is our overall pick, all the other clubs we reviewed are great options as well. They all offer their own unique features that make for a great playing experience. We hope you found this guide on the best pitching wedges helpful - check out some of our other golfing guides to up your game.
Related Posts for Pitching Wedge Buyers

Buy on Walmart
Cleveland Golf RTX Zipcore TS 56 Mid RH, Silver - Walmart Link
Callaway Golf Mack Daddy 5 JAWS Wedge - Walmart Link
Titleist SM8 Wedge, Men, Nickel Black, 54.12 - Walmart Link
TaylorMade Golf MG2 Chrome Wedge SB52.09/Lh S - Walmart Link
Callaway Mack Daddy CB Wedge (Right, Steel, Wedge Flex, 60 Degrees) , Silver - Walmart Link
WILSON Golf Staff Staff Model Golf Wedge - Men's Right Hand, 52 Degrees, Steel (WGW970520) - Walmart Link
PING Glide 3.0 SS Gap Wedge 52 12 (Steel Z-Z115) Golf Club - Walmart Link
Buy on eBay
Cleveland Golf RTX Zipcore TS 56 Mid RH, Silver - eBay Link
Callaway Golf Mack Daddy 5 JAWS Wedge - eBay Link
Titleist SM8 Wedge, Men, Nickel Black, 54.12 - eBay Link
TaylorMade Golf MG2 Chrome Wedge SB52.09/Lh S - eBay Link
Callaway Mack Daddy CB Wedge (Right, Steel, Wedge Flex, 60 Degrees) , Silver - eBay Link
WILSON Golf Staff Staff Model Golf Wedge - Men's Right Hand, 52 Degrees, Steel (WGW970520) - eBay Link
PING Glide 3.0 SS Gap Wedge 52 12 (Steel Z-Z115) Golf Club - eBay Link