Mid-handicap golfers sit in a vague, sometimes ill-defined space in the sport. They're a notch above a beginner but a couple of steps down from becoming full-fledged intermediates. If you're new to the sport, the mid-handicap phase is one of the most exciting ones you will pass through as a golfer, even though there are no hard and fast rules that tell you how or when you're out of it.
Mid-handicap golfers want value, accessibility, and premium materials in their golf clubs. They want drivers that won't snap after a hundred balls, even though they bought it from the bargain bin. Mid-handicap players are at a point in their journey where they're trying to decide whether to take the sport more seriously or make it a weekend activity.
Most players in this league already have a set of clubs at home, but they've outgrown them after playing for a while, and it's making their confidence suffer after a few bad rounds. When they look down at the ball to make their final calculations before striking, they don't love the club they're using anymore. A bad workman blames his tools, but a professional knows when it's time for a replacement.
If you're one of these people, you have to listen to your inner golfer. Here are the best golf clubs for mid-handicappers that are dependable, easy to use, and will last you a long time.
Top Mid-Handicap Irons by Editors' Picks
Top 5 Best Mid-Handicap Irons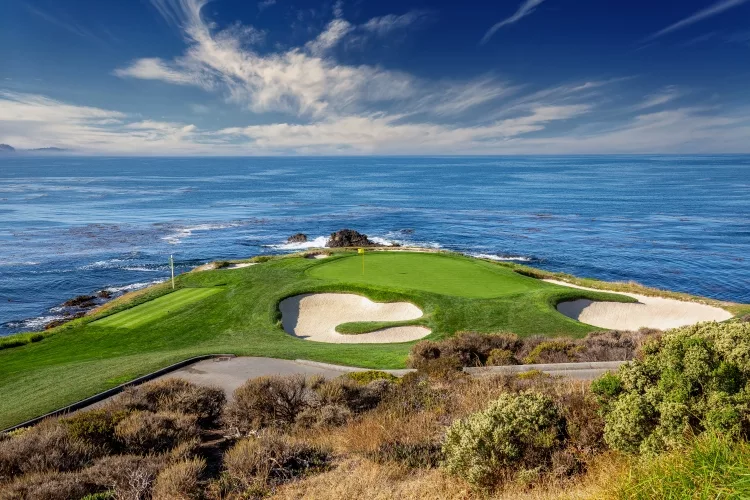 The Best Overall: TaylorMade Golf P790 Iron Set - Link
The TaylorMade Golf P790 has long been making a name for itself as the best all-around performer in the mid-handicap arena. Featuring low spin and excellent ball speed in every strike, the P790 is not only making the TaylorMade brand famous but raising the overall bar for its competitors. It features a top line with a medium thickness along with an average offset, so you can use it to train for months without outgrowing it.
The P790 has a very snappy feel to it. When you use it to strike a premium ball, it will produce a crisp, very satisfying snap, thanks to the lightweight urethane inside its head. It has clear hand feedback that lets you know if you've taken a shot successfully or missed. Among the performance irons of 2019, the P790 is one of the most forgiving without compensating by slowing the ball down when you get a hit.
Pieces in Set
You can purchase the P790 in a five, four, and three pitching wedge combination, as well as a four and five-pitch and approach wedge combination. For the five-PW bundle, you get:
One 5-iron
One 6-iron
One 7-iron
One 8-iron
One 9-iron
One pitching wedge
Flex
Regular
Stiff
Extra stiff
Shaft Material
Orientation
TaylorMade Golf P790 Iron Set Pros
A unique urethane foam configuration inside its heads gives it one of the best snaps you'll ever hear among mid-handicap clubs
The 2019 model has thinner metal on the face and a larger COR area to improve accuracy
Features low profile tungsten weights that will give you a higher launch
TaylorMade Golf P790 Iron Set Cons
Many people who order through third-party vendors report receiving incomplete clubs
Steep price

Best Value Option: Callaway Golf Men's Rogue Irons Set - Link
In a recent company report, Callaway said it expects to make about 50% of its total iron sales for this year from the Rogue Irons alone. It's not hard to see why, as the Callaway Golf Men's Rogue Set is one of the most forward-thinking, durable, and stylish sets of clubs you can get out there, all for an excellent price.
Similar to the TaylorMade P790, the Rogue Irons have urethane foam inside their club heads. However, Callaway's implementation is a little different.
Instead of putting in a flat, solid layer, you can find urethane microspheres that contain thousands of air pockets in strategic locations inside the irons. These microspheres dampen vibration and sound while improving their snappiness and hand-feel.
Pieces in Set
The Rogue Set is available in 4-9, 5-9, and 6-9 Iron PW, AW, and SW combinations. The pieces below belong to the standard 6-9 iron PW, AW bundle.
One 6-iron
One 7-iron
One 8-iron
One 9-iron
One pitching wedge
One approach wedge
Flex
Shaft Material
Stainless steel True Temper XP 95 for the stiff model
Aldila Synergy 60 graphite for the regular model
Orientation
Callaway Golf Men's Rogue Irons Set Pros
Excellent snap and hand-feel that are neck-and-neck with irons twice their price
A lot of forgiveness so players can improve at a faster pace
Lightweight and durable
Callaway Golf Men's Rogue Irons Set Cons
True Temper steel and stiff variants are almost always out of stock
No headcovers come with a set

Best Budget Iron: TaylorMade Golf M6 Iron - Link
The TaylorMade Golf M6 Irons continue the company's tradition of producing some of the longest irons you can find anywhere. Their standard models are excellent for tall golfers.
The Golf M6 features a 360-degree flute-like hosel that channels its weight from the shaft to the HYBRAR damper, which you can find at the center of the head. Its low CG and speed bridge give it a steady center of gravity, helping you swing with more confidence.
The speed bridge hardens the M6's head and dampens the noise and vibration it creates when colliding with a ball. Other than the speed bridge and the HYBRAR, the M6 has no other fancy implements that would add additional costs to its price tag, letting you improve your game without breaking the bank.
TaylorMade calls the M6's design the Speed Injected Twist Face. Even though the name could use some work, it's a great way to describe how the club maximizes forgiveness while giving you high launching capabilities and a wider sweet spot. All these features make the M6 a capable beginner and intermediate golfer's iron.
Advanced players also love the M6 because of its soft yet confident feel, thanks to its ultra-thin face with TaylorMade's Inverted Cone Technology.
Pieces in Set
You can get the M6 in 4-PW, 4-PW, AW, 5-PW, AW, SW, 5-PW, and 5-PW, AW combinations. For the 5-PW bundle, you get:
One 5-iron
One 6-iron
One 7-iron
One 8-iron
One 9-iron
One pitching wedge
One approach wedge
Flex
Shaft Material
Graphite for the Fujikura Atmos Orange model
Stainless steel for the KBS Max 85 model
Orientation
TaylorMade Golf M6 Iron Pros
The unbeatable value proposition
Speed bridge and low CG give you that crisp feel on impact without much noise and vibration
Standard models are capable of working for 6'1" to 6'4" players, although you might still need to test out if it's right for you
TaylorMade Golf M6 Iron Cons
The speed bridge creates a recess at the back of the club, which could be a dirt trap
The bottom of the head scratches easily, which spoils its great looks

Callaway X HOT Iron Set - Link
The Callaway X Hot Iron set has been earning one of the best review scores on Callaway's website since its launch date. Mid-handicap, beginners, and intermediate golfers love its versatility, generous forgiveness for mishits and near misses, and supreme accuracy. Many golfers report making great shots and gaining up to 15 yards consistently, although they didn't have the best contact with the ball.
The visual appeal of the Callaway X Hot irons will give you beats of the Razr Xs, although overall, they're cleaner and more minimalistic. When it comes to performance, the X Hot irons are all about giving your more launching power and distance, and it's the reason more golfers have become Callaway fans over the years.
The Callaway X Hot articulates the company's reimagination of its frame design from previous iterations. The reinvented frame improves ball speed by two to three miles per hour, equating to about 7 yards on the field. However, the company has kept the irons' distinguishing features like the thru-bore hosel and the low center of gravity thanks to the Razr weight on the trailing edge.
Pieces in Set
You can get the Callaway X HOT in two different combinations: 4-9, PW, AW, and 5-9, PW, AW. In the 4-9, PW, AW package, you get:
One 4-iron
One 5-iron
One 6-iron
One 7-iron
One 8-iron
One 9-iron
One pitching wedge
One approach wedge
Flex
Shaft Material
Orientation
Callaway X HOT Pros
Excellent, versatile irons for mid to high handicappers looking for a soft feel
Unbeatable build quality and easy to train with when building consistency
Quality grips and hefty weights will give you confidence in every swing
Callaway X HOT Cons
Depending on your skill level and pace of improvement, the X Hot irons can get boring pretty fast, and you'll want to move on to more advanced clubs

Cleveland Golf Men's Launcher CBX Iron Set - Link
The Cleveland Golf Men's Launcher CBX is a paradox for reviewers, especially in the aesthetics department. It has the look of a nondescript metallic golf club you would see on TV and the movies, but it looks distinct from many other clubs out there. It has a satin finish, strong lofts, and innovative groove tech that makes it an easy recommendation for any mid-handicap or an intermediate golfer looking to up their game.
The Launcher CBX is one of Cleveland's most forgiving irons. It borrows some influences from Cleveland's RTX-3 wedge clubs with its Dual V Sole, score lines, and tour zip grooves. The company aims to replicate the short game you would get with the RTX-3, designing the Launcher CBX to let you cover more ground as quickly as possible.
The best feature of the Launcher CBX is its Feel Balancing Technology that shifts the center of gravity to the lower middle section of the club. Moreover, golfers of all skill levels love the Launcher CBX because of its value proposition that enables them to thrive in the mid-handicap space for less than $500.
Pieces in Set
The Cleveland Launcher CBX is available in a 4-PW, and 4-PW, DW combination. For the 4-PW, DW bundle, you get:
One 4-iron
One 5-iron
One 6-iron
One 7-iron
One 8-iron
One 9-iron
One pitching wedge
One dual wedge
Flex
Shaft Material
Orientation
Cleveland Launcher CBX Pros
Features a True Temper Dynamic Gold DST 98 steel shaft that has less weight than most other clubs out there
Oversized and forgiving head, perfect for launching your ball into a high or medium-high angle
Very unique, non-shiny satin finish
Cleveland Launcher CBX Cons
The matte coating will attract scratches and scuffs more easily
The longer irons have bigger hollow cavities, and the sound was emptier on them
Mid-Handicap Irons Buyer's Guide
What handicap can you consider mid-handicap?
There is no cut and dry definition of a mid-handicap golfer, even though the United States Golf Association recognizes handicap levels. The de facto standard is someone who plays between the handicaps of 11 and 20, but it might vary depending on the accuracy of your handicap. If you have an accurate handicap, you can play between 85 and 95.
If you start to break 80 with increasing regularity, you might soon earn a promotion to a low-handicap golfer. Most players who transition from high-handicap to mid-handicap get the urge to change their irons, and they should upgrade if they want to transition to the next level.
How do mid-handicap irons compare to other golf irons?
While each company designs their irons differently, most mid-handicap models have a few features that are must-haves.
For a more forgiving sweet spot, they all have a back cavity
To allow you to shoot straighter, they have offset hosels
Most of them have perimeter weighting to broaden their sweet spots
Most bundles include a 5-iron and a pitching wedge
What clubs should a mid-handicapper carry?
Mid-handicappers can hit with a driver easier than a high-handicapper, but they won't have the skill to control it more than half the time. Most of them will get better numbers with a three-wood, but they should carry around hybrids as well.
3-wood
4 and 5 hybrid clubs
6-iron
7-iron
8-iron
9-iron
Sand wedge
Pitching wedge
Putter
What should you look for in a golf iron?
The things you should look for in a golf iron depends on your playing style, but here are a few general attributes:
Proper fit for your height
Right loft and lie angle for your swing
Right shaft type, material, and grip size for your arms and hands
Buy on Walmart
Cleveland Golf 2018 Men's Launcher CBX Iron Set (Set of 7 total clubs: 4-PW, Right Hand, - Walmart Link
TaylorMade Golf M5 Iron Set 4-PW, Right Hand, Stiff Flex Shaft: True Temper XP100 - Walmart Link
TaylorMade Golf M6 Iron Set, 5-PW, AW, Right Hand, Stiff Flex Shaft: KBS Max 85 - Walmart Link
Callaway Golf 2020 Mavrik Max Iron Set (Set of 7 Clubs:5 Iron - PW, AW, Right Hand, - Walmart Link
TaylorMade M4 Combo Iron Set (Set of 8 total clubs: 5-PW, 3 Hybrid, 4 Hybrid, Left Hand, - Walmart Link
P790 4-P/Rh S (Set of 7 total clubs: 4-PW, Right Hand, Stiff Flex) - Walmart Link
Mizuno MP-20 HMB Golf Iron Set 3-PW, Steel Right Hand - Walmart Link
Cobra Golf 2019 F9 Speedback One Length Iron Set, Chrome/Black/Blue, Left Hand, Regular, - Walmart Link
Callaway Golf 2018 Men's Rogue Irons Set (Set of 6 Total Clubs: 5-PW, Right Hand, Steel, - Walmart Link
Callaway Golf 2019 Apex Individual Iron, SW, Right Hand, Steel, Regular Flex - Walmart Link
Callaway Golf 2018 Men's Rogue X Irons Set (Set of 6 Total Clubs: 5-PW, Left Hand, - Walmart Link
Callaway Golf Men's Apex CF16 Irons Set - Walmart Link
TaylorMade IRG-M2 17 4-P R Golf Iron Set, Right Hand - Walmart Link
Buy on eBay
Cleveland Golf 2018 Men's Launcher CBX Iron Set (Set of 7 total clubs: 4-PW, Right Hand, - eBay Link
TaylorMade Golf M5 Iron Set 4-PW, Right Hand, Stiff Flex Shaft: True Temper XP100 - eBay Link
TaylorMade Golf M6 Iron Set, 5-PW, AW, Right Hand, Stiff Flex Shaft: KBS Max 85 - eBay Link
Callaway Golf 2020 Mavrik Max Iron Set (Set of 7 Clubs:5 Iron - PW, AW, Right Hand, - eBay Link
TaylorMade M4 Combo Iron Set (Set of 8 total clubs: 5-PW, 3 Hybrid, 4 Hybrid, Left Hand, - eBay Link
P790 4-P/Rh S (Set of 7 total clubs: 4-PW, Right Hand, Stiff Flex) - eBay Link
Mizuno MP-20 HMB Golf Iron Set 3-PW, Steel Right Hand - eBay Link
Cobra Golf 2019 F9 Speedback One Length Iron Set, Chrome/Black/Blue, Left Hand, Regular, - eBay Link
Callaway Golf 2018 Men's Rogue Irons Set (Set of 6 Total Clubs: 5-PW, Right Hand, Steel, - eBay Link
Callaway Golf 2019 Apex Individual Iron, SW, Right Hand, Steel, Regular Flex - eBay Link
Callaway Golf 2018 Men's Rogue X Irons Set (Set of 6 Total Clubs: 5-PW, Left Hand, - eBay Link
Callaway Golf Men's Apex CF16 Irons Set - eBay Link
TaylorMade IRG-M2 17 4-P R Golf Iron Set, Right Hand - eBay Link