Florida always has been the prime destination of golf enthusiasts all around the year. The warm climate and sunny skies are excellent for spending a lot of time outdoors. Miami, too happens to have a lot of fantastic golf clubs and a variety of entertainment and dining that makes it a great attraction spot for golfers and other adventurous people.
Miami has a great range of greens to select from for all skill-level golfers looking for fun and challenge. The public golf clubs mentioned in this list are ideal for golfers looking for challenging golf courses of the highest caliber and courses that are good for beginners. So if you are looking for diversity for your game, you can take advantage of these Miami golf clubs this summer.
Best Public Golf Courses in Miami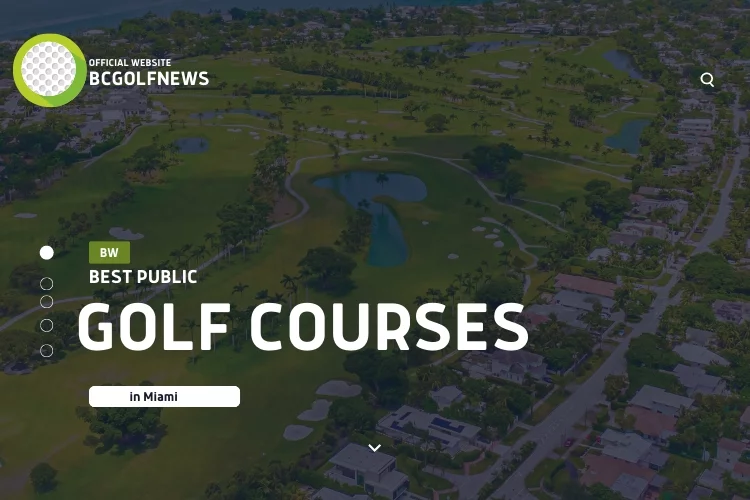 1. The Biltmore Hotel Spa and Golf - Link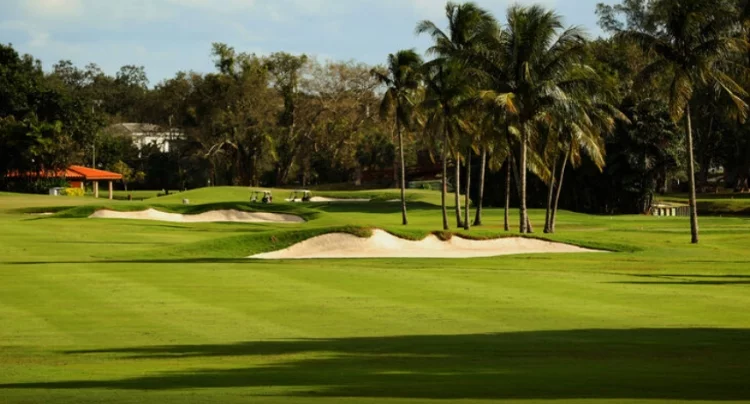 The Biltmore Coral Gables Golf Club has a par 71 feature of Donald Ross design from the 1920s. The club has doglegs on both left and right figure that prominently adds to the challenge. This club is very suitable for the women team of the University of Miami, and they play here pretty often.
The Biltmore Golf Club has signature 17 holes of greens surrounded by water on three sides. The club has very scenic views and ambiance. There is a vast pool available for getting a refreshing dip. The hotel also has spa facilities where you can treat yourself to some relaxing time. The Biltmore Hotel is one of the most visited and iconic spots for golfers because it is proud of its manicured and pristine courses.
2. The Turnberry Isle Country Clubs' Soffer Golf Course - Link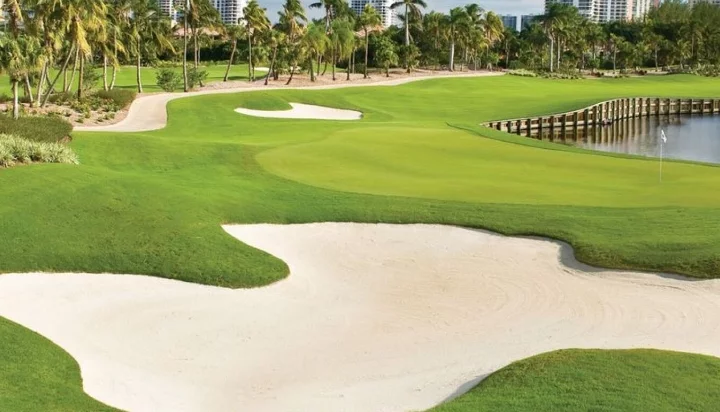 Robert Jones senior initially designed the golf club at the Turnberry Isle, and later on, it was re-imagined by Raymond Floyd. The key features of this excellent club include lush green fairways, a beautiful landscape, and an 18 hole island green along with a signature waterfall. The greens of this golf course are rolling true and in top condition.
This spot is one of the favorites on the resort circuit, and it has golf courses for all skill levels. The club has suitable tee box locations to ensure that all the golfers can enjoy their golf game on the pretty course without experiencing defeat by the length. In addition, the scratch and skilled golfers will surely appreciate the challenging course with water hazards.
3. Miami Shores Country Club - Link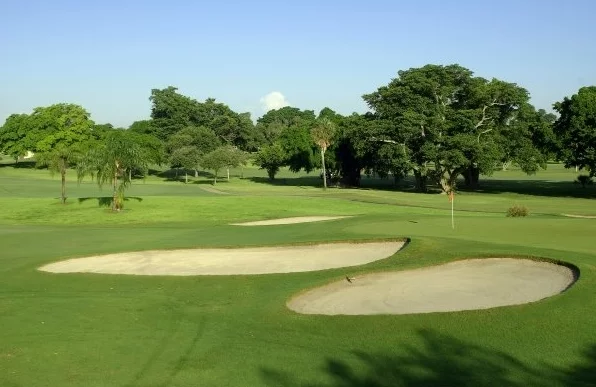 The citizens of Miami are fortunate because they enjoy various public golf clubs and fantastic beaches. For instance, take this golf club at the excellent Miami Shores Country Club. This beautiful club was established in 1939, and it is conveniently located approximately fifteen minutes from the Miami airport, the beach, and downtown.
The club is in the center spot, and it features a wide-open golf course with a driving range, a putting green, chipping green, and a top-class clubhouse. You can host all entry types in any small tournament in the clubhouse. The club hosts 18 hole golf courses that are excellent no matter if you are on a solo outing or want to participate in some small contest.
4. PGA National Golf - Link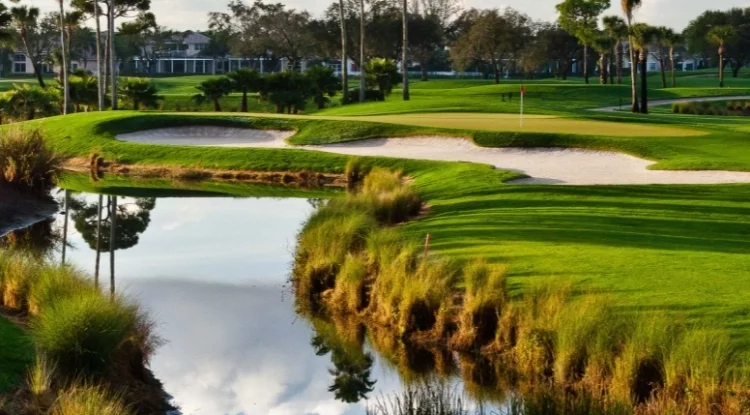 Palm Beach Gardens National Golf is like heaven for golf enthusiasts, which is why many golfers prefer it. The National Resort and Spa is a luxurious resort proud of its 5 championship courses that are a dream to play on. In addition to all this, the club also hosts Bear Trap and PGAs' Tour Honda Classic.
The resort and club have a lot to offer, and if you are not a golfer, you can have a fantastic time experiencing various facilities and amenities. You can enjoy other sports and racquet clubs, or you can pamper yourself in the European spa. This club has a lot of other attractions and additional on-site adventurous activities that make it a perfect destination.
5. Crandon Golf at Key Biscayne - Link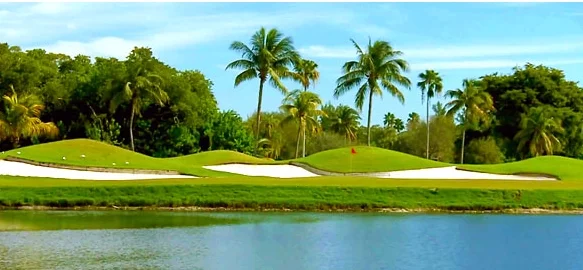 This great Crandon Golf club at Key Biscayne features an 18 hole and 72 par course that has hosted and arranged various PGA events. The Crandon club is beautifully well-kept and has scenic views of Biscayne Bay, salt lakes, mangroves, and an excellent course. Despite its fantastic location and beauty, the club is an affordable and accessible spot for the public.
Crandon offers excellent greens, an outstanding pro shop for people who need it, and a driving range. If you are a beginner fr new to this game, you can easily rent the equipment from the club if you like or take some golf lessons if you want to up your game. The incredible feature of this club is its outstanding views of the bay, and it is open to the public. Isn't it superb?
6. Miami Beach Golf Club - Link
Golfing on the South Beach with the cool breeze from the ocean and the sway of palm trees makes the experience super unique. This club offers a heavenly atmosphere that compels you to spend all day long in the greens. Golfers immensely enjoy the 18 hole golf course in Miami Beach Club. This public course was opened in 1923, and it has a very intriguing history.
During World War II, this club was used by the US army to train soldiers, and it was completely demolished after some years. Then the grounds were paved for some housing society, but the city wanted to keep the golf course intact. Now the club offers courses fr all skill types, and it is famous for its challenging fairways, and some of them include water too. The club has beautiful lush green fairways and scenic views.
7. Normandy Shores Golf Club - Link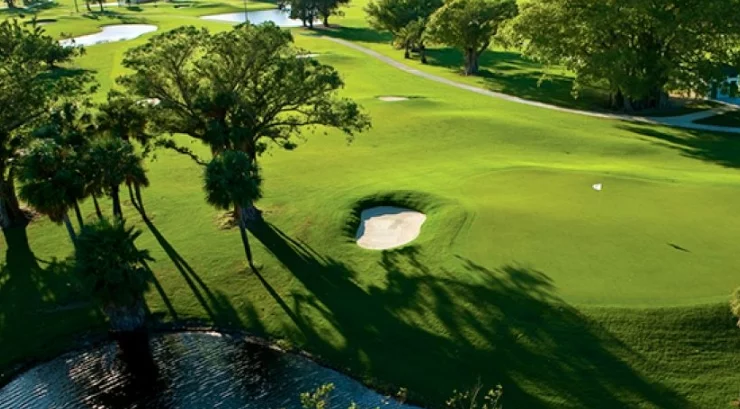 The Normandy Shore Golf course is located in the north direction of Miami Beach, and it has well-kept greens, an all-around enjoyable golf experience, and excellent service. The club was first opened in 1928, and it was a constant spot for famous people like Peter Thompson and Arnold Palmer.
Recently Normandy Shores Golf Club hosted South Beach International Tournament Amateur. The locals of Miami can visit and enjoy the excellent course at reasonable prices and discounts. The club also offers a free day for the kids to play golf and free youth clinics. These remarkable features make the club super family-friendly in town. Normandy club has fantastic golf courses for all skill types with breathtaking views of the greens. It has challenging fairways for skilled golfers.
8. Greynolds Golf Course - Link
The Greynolds Golf Course is a newly established golf club in Miami, as most golf courses were opened before World War II. The Greynolds Golf club is a public club with nine holes and par 36. The club boasts its laid-back beauty and aesthetics, which is a plus for someone new to the golf sport.
The club is super affordable, with a price range starting from $25 per player. In this amount, you also get a golf cart. Greynolds golf club has the ambiance and prestige of some private clubs, but citizens of Miami love its accessibility. If you get a membership to this great golf club, you will enjoy many deep discounts on various courses.
9. Miami Springs Golf & Country Club - Link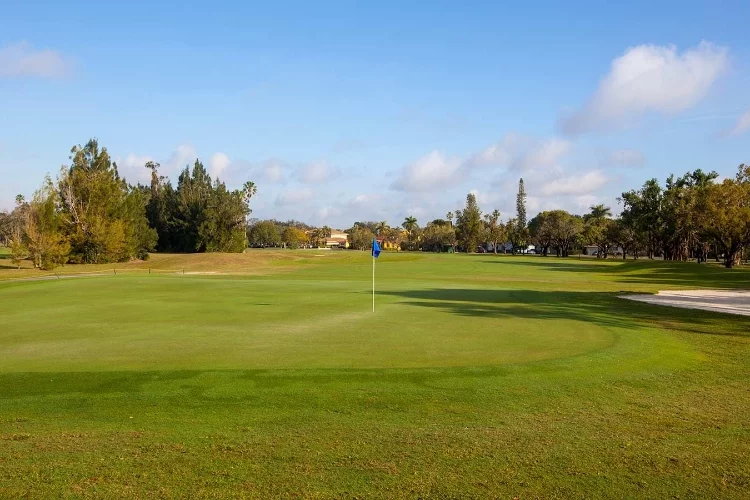 The Miami Spring Golf and Country Club takes the position of being the oldest golf course in Miami. It was first opened in 1923. However, the club was recently renovated and hosts golfers that find its courses rewarding and challenging enough to return again and again. The club is famous for its convenient driving range, an excellent feature for the players.
The club has a practice facility with night access, which is only present in this club out of all South Florida. Miami Springs Golf and Country Club have golf courses for all skill types. It has incredible greens and narrow fairways with 18 holes. It offers beautiful scenic views and other amenities that golfers can enjoy.
10. The Crandon Golf Course on Key Biscayne - Link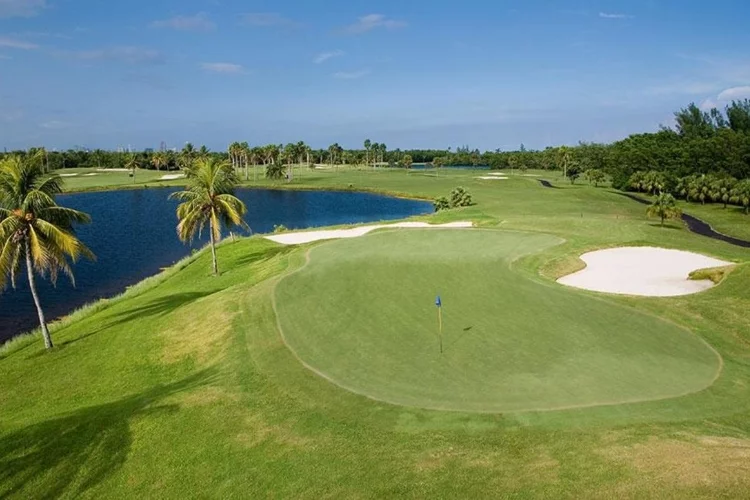 The Crandon Golf Course on Key Biscayne is the only public course in Dade County to have hosted a PGA Tour event. It has also held numerous other important tournaments, including two U.S. Amateur Championships and the 1998 World Cup Matches. Built by Charles Crandon in 1924, it was named by James Hepburn in honor of Crandon's wife, Julia Burdette Key. The course remains one of the oldest continuous members of the PGA of America.
The name "Crandon Park" was used for the first time in connection with this course in 1926, when Charles Crandon hosted his first international event, the International Four Ball Championships. The following year, however, the Galt Cup was won by a team from Boston representing the New England States and marking the first of many occasions on which this event would be staged here.

In 1927 Crandon hosted his third annual International Four Ball team championship with participants car-pooling from Miami Beach. The Canadian Team of George S. Lyon, Dougald McVivier, George Lyon and Tom Creavy defeated the American team of Horton Smith, Al Espinosa, Bobby Jones and Hagen.

In 1928 Crandon staged his first big international event with professional participants. The Great Lakes Open Invitational featured star players from the PGA Tour as well as that year's British Open Champion, Eric Barnes. Star power prevailed as the big names won top honors. Bobby Jones was low man among the professionals with a 69. In 1927 he had won two Blue Ribbon amateur events at Crandon Park, now as a professional his score is not recognized as an official win on his record.

In 1929 Crandon organized the Florida Open "B" Championship, one of four tour stops that year which were dubbed "B" championships because they were conducted in addition to the full schedule of regular events. Worth Harrison triumphed for his first PGA Tour victory, defeating James Burke in an 18-hole playoff after both finished regulation play at 287 (+3).

The next year, 1930 saw another prestigious event contested at Crandon Park when the U.S. Amateur Four Ball Championship was held here in late January just four days before the Miami Open. James Bradbeer and Joe Kirkwood, Jr., won with a 4 & 3 victory over Bobby Jones and Harvie Ward in the final match.

In 1931 Crandon staged his most significant event to date with one of America's longest-running tournaments - The Galt Trophy. For many years this sportsman's dream attracted amateur teams from throughout North America; always open to golfers of all skill levels, it was known for its relaxed approach and lack of pressure, plus its fatherly course owner who wanted nothing more than for players to enjoy themselves. In 1932 Crandon hosted his own version of the Ryder Cup as he and James Hepburn (for the United States) squared off against George Duncan and Reg Whitcombe (for Britain). Crandon captured the first of his four individual titles at this event in 1931. In 1933, 1934, 1935 and 1938 Crandon Park hosted the Galt Match Play Championship. Earning great renown for course conditioning that was always immaculate at a time when many other courses were allowed to slip into neglect, Crandon also became known as a fine judge of golf talent.

In 1940 Charles Crandon died suddenly at age 52, but his widow Julia continued to operate the course until it was sold after World War II ended in 1945.
In 1947 Milo Lillienfeld's Mere Golf Club purchased the property, renaming the golf club "Mere Golf Club".

In 1949 MGC hosted the 3rd Ryder Cup Matches with 8 USA players competing. Team Great Britain was captained by Vic Burton and won 7-5. The event marked Ben Hogan's first Ryder Cup appearance.

In 1950, Detroit manufacturer Henry Ford II purchased Mere Golf Club for his son Jack to manage along with fellow Bostonian Bill Campbell who later wrote about their exploits at MGC in two books entitled "Campbell & Ford on Golf" and "Life is a Game." For several years beginning in 1953, they staged one of Florida's most important tournaments - The Palm Beach Open Invitational which many prominent pros chose as their winter season opener. In 1955 they were able to attract an impressive array of touring pros to compete - Henry Cotton, Byron Nelson, Sam Snead and Jimmy Demaret.

In the 1960s real estate developer Al Munro acquired the course and renamed it "Crandon Park Golf Course." Former University of Miami All-American golfer Johnny Gilder managed the course for most of his life before passing away in 2008 at age 84. Under his management Crandon became a favorite tournament site among top amateur players as well as some prominent touring professionals who appreciated its demanding yet fair test of golf. In 1970 Crandon Park hosted the U.S. Amateur Four-Ball Championship, won by Doug Sanders and Jerry Steelsmith over Mike Souchak and Hale Irwin 2 & 1.

In the winter of 1974, Crandon Park hosted its first major professional golf tournament - The Jackie Gleason Inverrary Classic for six years between 1974 and 1979 (seven times if counting the shortened version in 1978). That event was succeeded by several others including the Doral-Eastern Open (1980-83), PGA Grand Slam of Golf (1984), The Players Championship (1985-86) and finally, The Mercedes Championship (1987-88). During that same period it also hosted various LPGA tour stops during both spring and autumn seasons.
The Crandon Golf Club has been played by many notable people throughout the years, and is a great place to spend some time on vacation. If you're looking for an upscale golf course with beautiful scenery in Miami Beach, Florida, this may be the perfect one for you! We hope that we have given you enough information about the club so that you can decide whether or not it would be worth your time to go out there and give it a try. There are only two weeks left before their season ends too…so if you want to see all of these amazing views while they are still fresh in our mind then now is definitely the right time!

11. The Doral Golf Resort and Spa - Link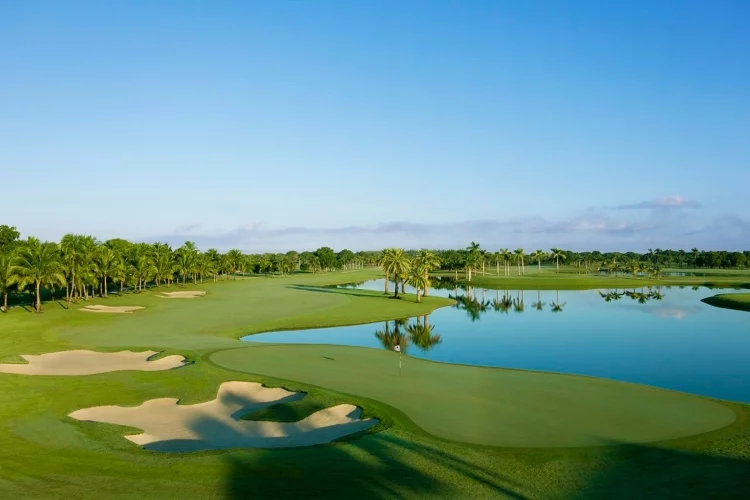 Looking for a luxurious golf resort and spa to stay at during your next vacation? Look no further than the Doral Golf Resort and Spa! This magnificent resort offers guests premium accommodations, championship golf courses, award-winning restaurants, and plenty of opportunities for relaxation and pampering. Whether you're looking to tee off on one of the world-class golf courses or simply relax by the pool, the Doral Golf Resort and Spa is sure to exceed your expectations! Doral Golf Resort and Spa is the perfect place for golf enthusiasts to enjoy a relaxing vacation. The resort features two championship courses, an 18-hole short course, tennis courts, pools with waterfalls, fitness center with spa treatments & more! Check out their website to read about all of their amenities or call 888-996-3687 to book your stay today.
12. The Ritz-Carlton golf course in Coconut Grove - Link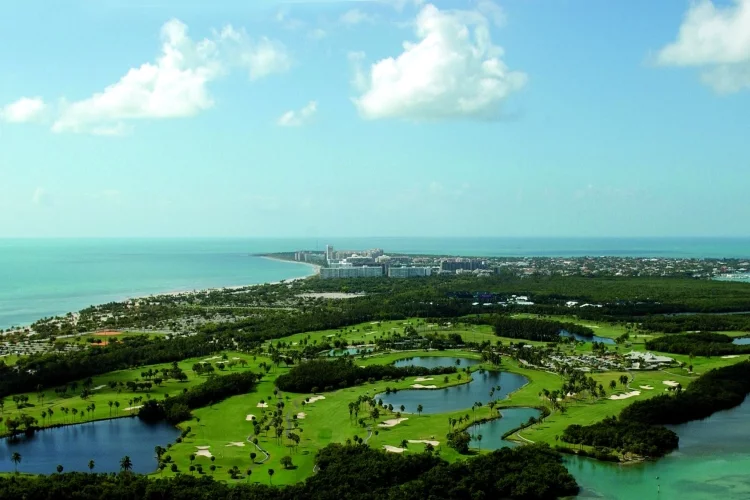 Coconut Grove, located just south of Miami's downtown, is a lovely and lush neighborhood that's home to The Ritz-Carlton golf course. This 18-hole course is challenging but playable for all levels of golfers, and water comes into play on 11 holes. The fairways are well maintained and the greens are fast, making for an enjoyable round of golf. And if you need a break from the action, there's plenty of wildlife to enjoy in this tropical oasis. You don't have to be a guest at The Ritz-Carlton to enjoy a round of golf here; the course is open to the public. So put on your clubs and head down to Coconut Grove for a fun day on the links!

The Ritz-Carlton golf course in Coconut Grove is a luxurious and exclusive experience. If you're looking for an amazing Miami golf course, this should be at the top of your list. From the moment you pull up to the property, you'll know that this is no ordinary golf course. With lush vegetation and impeccable service, The Ritz-Carlton Coconut Grove will make your day on the green unforgettable.
Conclusion for Public Golf Courses in Miami
As you can see, there are many wonderful public golf courses in Miami that offer a great chance to get out and enjoy the sunshine. Golfers of all levels will be able to find an enjoyable experience at one of these locations which range from budget-friendly options with 18 holes to expensive championship courses with 36 holes. We hope this list has helped make your search easier!