The key to thriving in any sport is consistency. Nothing will improve your game performance more than constant practice. But it is equally essential to track your performance as well. As otherwise, there is no way for you to find out if you have progressed at all or not.
Back in the day, it was quite difficult for players to analyze their performance as there were only limited resources available. But that is not the case anymore, thanks to the recent developments and advancements in technology.
Monitoring your performance in a sport is now easier than ever. Since everything is now digital, this too has been placed at the tips of your hands. With the constant developments in this industry, nothing is impossible or too difficult to do anymore. In this generation, everyone from a thirteen-year-old to an eighty-year-old owns a smartphone. So grab your phones and get the best use out of them.
Let's get a bit more specific now, shall we? When it comes to golf, I believe this is a sport that requires the highest level of concentration and the best set of skills. There is a reason why this game is not played by every other person despite its popularity. In order to learn how to ace every golf game, the only strategy is to practice and keep a track of your performances.

But how do you do that? I am glad you asked. Well, as I have already mentioned, everything is now possible by simply using your fingertips effectively by tapping them on a digital screen. Confused? Don't be. I am referring to the various golf apps that can help you monitor your game performance in the easiest and the most hassle-free manner.
For all the golf lovers out there who own whether an iPhone, iPad, or Apple Watch, this is the perfect article for you. Here we will be listing down and discussing several apps available to all Apple users that will assist you in tracking your golf performance by keeping a record of your distances, shots, and whatnot.
When you open the app store and search for golf-related apps, hundreds of options will be displayed. It is nearly impossible to determine which is the perfect app for you that will fulfill all your requirements. So, I have narrowed down your options for you by shortlisting the best apps for monitoring golf performance and then further categorizing them into what they do the best.
Without wasting any further time, let's go and see for yourself what I am talking about!
Best Golf Apps for Scorecard and Rangefinder: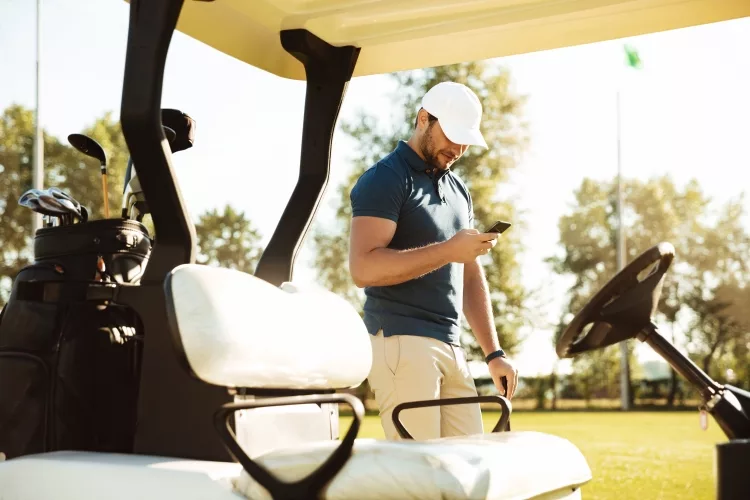 1. Golf Gamebook Scorecard and GPS - Link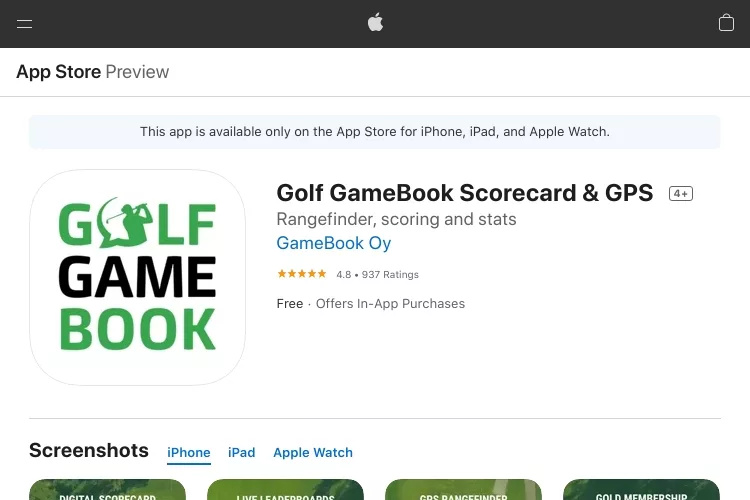 This golf app by Gamebook Oy is among the most popular and liked apps by golf players. It is available on all Apple devices. It has a rating of 4.8 out of 5 stars on the App Store which speaks for the app itself. It is a great choice if your goal is to keep your scorecard just a few taps away. It has a list of features and benefits which make it one of the best options for you out there.
Let's look at some of the things this app has to offer:
Features and Pros:
Option to view the history of all your previous games.
Provides suggestions for improvements after every shot.
Allows pre-planning of the shots.
Enables users to measure their shots.
Available in over 180 countries.
Displays a list of golf courses near your location.
Also shows you relevant information regarding the golf courses i.e. course rating and etcetera.
2. 18 Birdies Golf GPS Scorecard - Link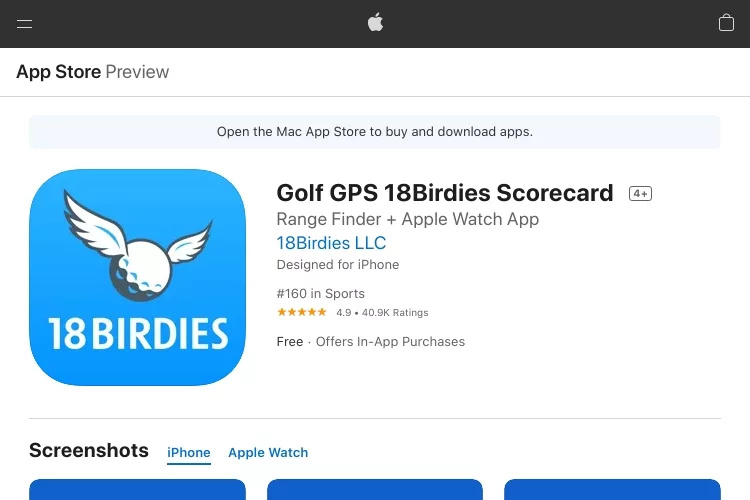 This app has a rating of 4.9 out of 5 stars on the App store. Therefore, I don't really need to talk about how great it is, right? The ratings are more than enough for a person to judge how well a product or service performs its function.
In my opinion, one of the best features of this app is that it constantly showers you with tips and tricks to assist you in improving your performance. After all, only an app can be so good at giving such blunt suggestions. Pointing out where you lack and how can you get better, who does that?
In addition to that, this app also provides you with analyzed data about your shots. It provides you with all information regarding the location, distance, angle, and much more about your shot. This is not where it finishes, there are several other features and benefits delivered by this app, let's read what they are:
Features and Benefits:
User-friendly as it has an easy and simple interface.
Worried about the temperature, weather, and wind speed at your golf course? Don't be. This app provides you with the most accurate information so you can plan ahead of it.
Gives an access to a live AI Coach who will constantly guide you.
The premium members can buy their own digital caddy.
It shows the elevation and other relevant information regarding the golf course.
3. SwingU Golf GPS - Link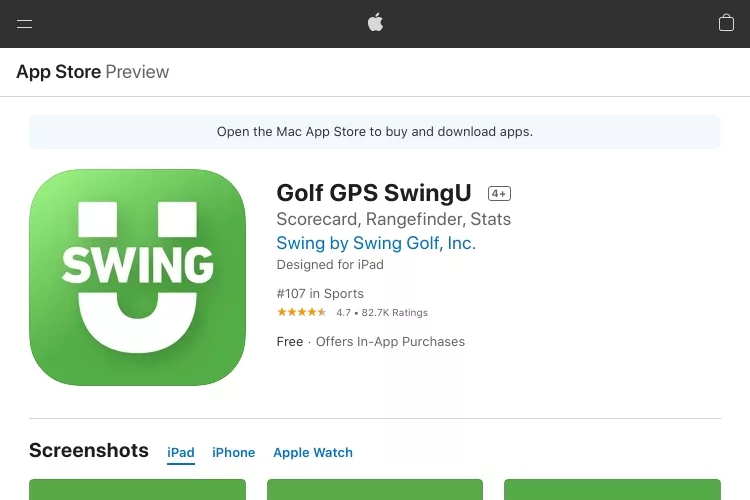 This app by SwingU is another most popular app for golf. It has above 5 million users and has an average rating of 4.7 out of 5 stars on the App Store. It is completely free of cost and perfect if you want to keep a check on your scorecard. It is also the ideal rangefinder.
It has various features which contribute to its amazingness. Eager to learn more about this app? Read the list of features mentioned below:
List of Features:
The app is completely operable from any location in the entire world.
It calculates the accurate distance to the greens.
It can spot any obstacles on the course beforehand.
You can link it with your health app to keep a track of calories burnt during the game.
It tells you the accurate wind speed.
You can check the elevation from this app.
It allows you to play handicap-adjusted games.
With the help of satellite photos, you can calculate the distance from one point to another.
4. Golf GPS and Scorecard by Golf Pad - Link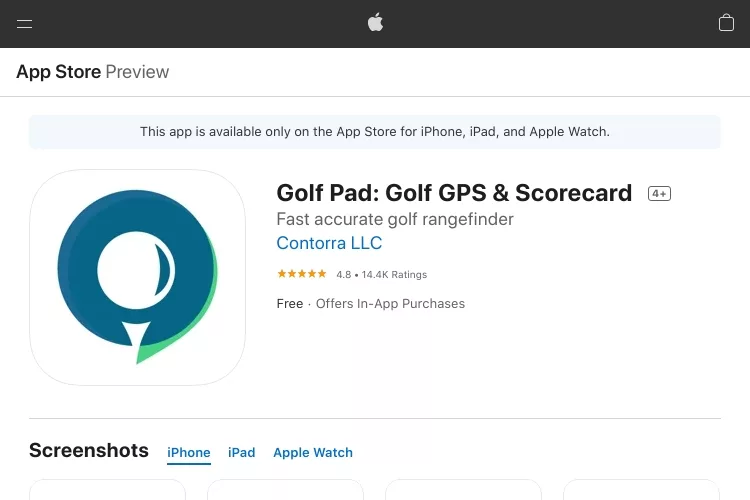 This golf app should not be forgotten when the best golf apps are talked about. It provides a range of attractive and useful features that are helpful in tracking your golf performance. The best part about this is that it does not charge you a penny for these value-added features. Although the Apple Watch version of this app did use to be paid, now it also offers a number of basic features completely free of cost.
In addition to that, it does not ask the users to sign up for registration. In my opinion, this feature should be added to all of the apps since getting yourself registered in order to use an app seems like a lot of work. Installing this app on your iOS device is going to be one of the best decisions you will ever make.
Following are some of the amazing features and benefits of this app:
List of Features and Benefits:
You can keep a scorecard for 4 players at a time.
It has a GPS rangefinder.
It has a shot tracker that analyzes all your shorts and then provides you with recommendations.
It includes aerial maps which are able to detect flyovers and elevations.
The statistics are automatically updated.
It offers quick distant measurement for any two points.
5. Golf Scorecard and GPS by Hole19 - Link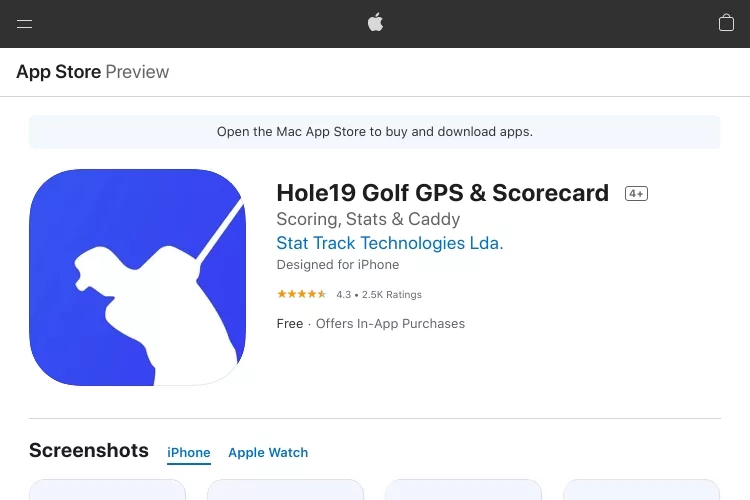 This list would have definitely been incomplete if I had not mentioned this golf app by Hole19. A feature that makes it distinct from other apps on the list is that this app gives you a supreme quality GPS against zero charges at all. While other apps also offer this feature, they are most likely to be either partially charged or you are expected to compromise on the quality.
Installing this app on your IOS device is one of the best decisions that a golfer can make. It is reported to be extremely helpful in improving the game of players. Whether you download it on your iPhone, iPad, or your Apple Watch, the app is compatible with all devices and works equally great. There are no compromises on features if you are using it on the smartwatch instead of the iPhone and vice versa.
Let me list down some of the best features and benefits of having this app. Go through them and pass your own judgment, isn't it the best?
Features and Benefits:
By using the distance tracker, you can find out the distance traveled by your shots after every game or every single shot.
It updates the score automatically, you can view the scorecard at any time.
It enables you to stay focused on the round by automatically changing the hole.
It is operable on more than 40,000 golf courses.
It is a completely free app.
The distance tracker gives you the most accurate values with very rare chances of errors.
6. Golf GPS and Caddie by Golfshot - Link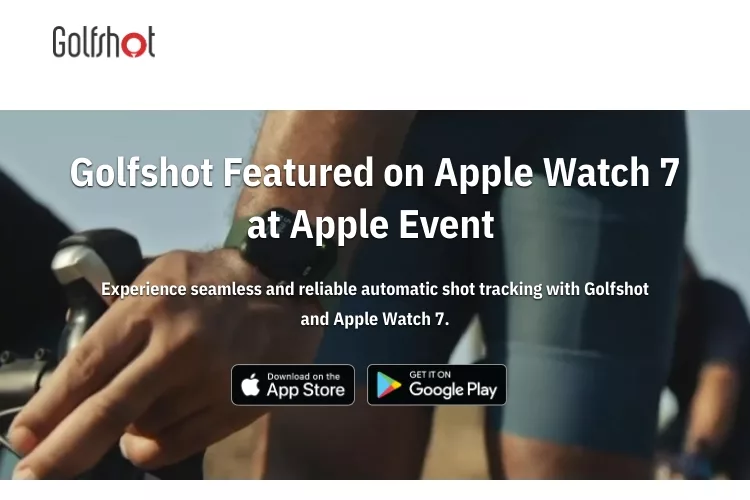 You should know an app has to be extraordinary if it is designed by Golfshot. This is not just a mediocre app, it has a number of features that are so good that you will regret not knowing about this app sooner.
You can totally rely on this app for improving your game. It is user-friendly with an easy interface so you won't even need much time to get acquainted with it. Eager to learn more about this golf app by Golfshot? Refer to the list below to read all about its wonderful features:
List of Features:
It offers you an option to activate the voice caddy. Using this feature will eliminate the need of taking out your phone every time to check the distances and everything. The voice caddy will read them out to you.
The app works well on over 40,000 golf courses from all around the globe.
It detects any obstacles in the field and notifies you about them.
You can monitor your golf handicap index by linking the app with your Apple fitness system.
It offers augmented reality and being the only app that does that, it can easily be considered as one of the best.
It provides you with a number of tips to improve your game.
You can view in-depth statistics and analysis of your game.
You can also determine the distance of your shots with the help of this app.
Now, these were the top 6 apps that you can choose from if what you need are a scorecard and rangefinder. However, if that's not what you are looking for, don't worry I still got your back. Mentioned below is another set of apps that is perfect if you are looking for an app to track your swing.

Best Golf Apps for Swing Tracking:
1. Golf Coach - Link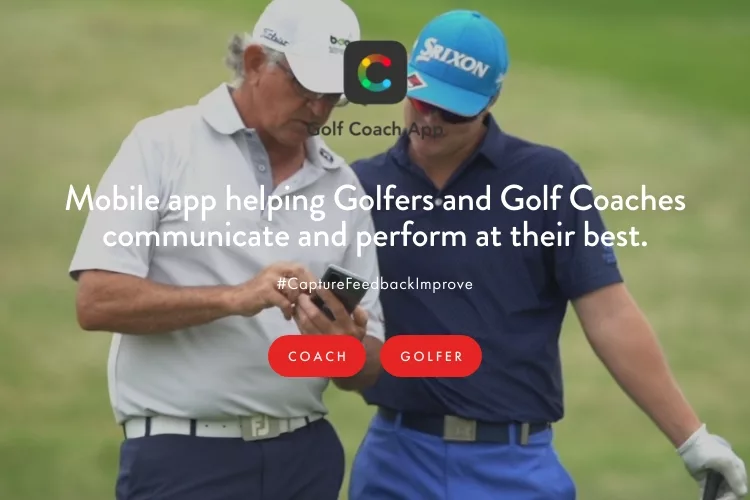 Just imagine how great it would be to have a coach with you 24/7. This app by Dr. Noel Rousseau has made that possible for you. Having access to this application is going to change your golf game completely.
It will provide you with constant tips and tricks that would help you enhance your game performance. Furthermore, it will even guide you on what equipment will be perfect for the game as per the game situation.
It teaches you various methods of playing golf and provides you with an in-depth analysis of your shots. The app contains several tutorials that explain several aspects of the game in detail. The cherry on the top has a feature that analyzes the swing.
In a nutshell, this app has everything that you need if you are a beginner in golf and want to quickly learn this game.
2. HudI Technique Golf - Link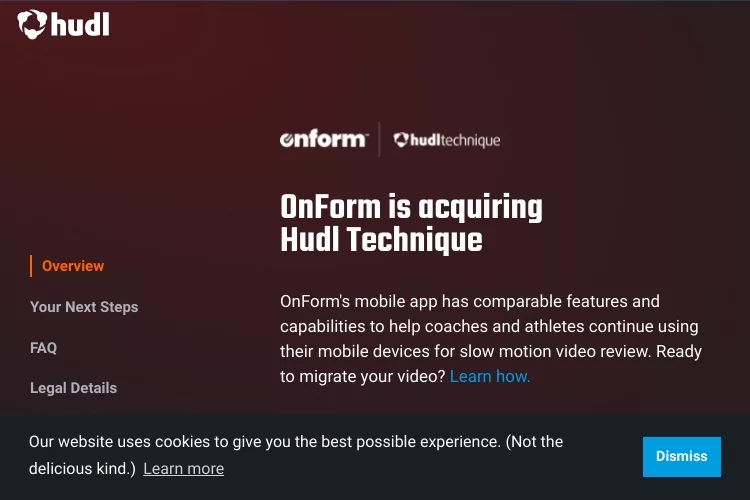 This was previously known as the Ubersense Golf and has been very popular among golfers because of its fantastic features. It should definitely be one of the apps in your iPhone if you are looking for an app that will analyze your every game shot by shot, evaluate your swing in a slow-motion frame, and much more.
This app too has a number of unique features including a feature that will enable you to record swing. It also enables you to compare your game with other golf players and get guidance from coaches so you can improve your game.
So, what do you think? Get your hands on this app as soon as possible and watch your golf game improve with every passing day.
3. Coach's Eye - Link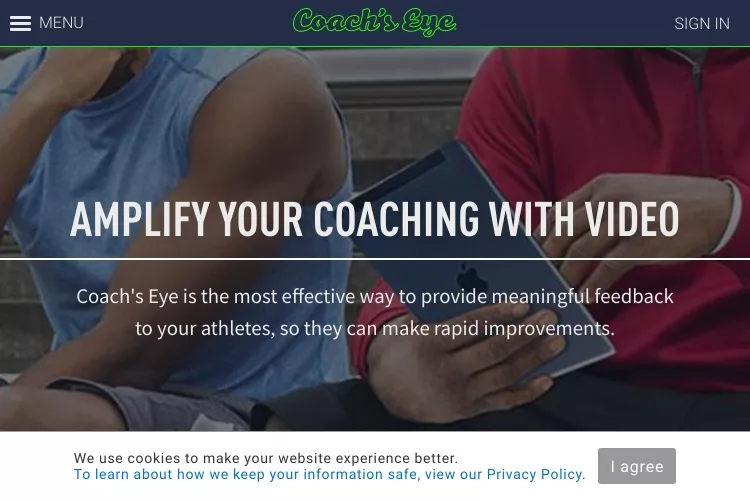 Wouldn't you like it if you could watch your own game so you can pinpoint your strengths and weaknesses? Well, this app has made that possible for you. If you have this app on your phone, you can record all your shots to review and analyze them later. I believe this feature is great as nothing can help you improve your performance as well as when you know yourself which areas to improve.
If I talk about the features of this app, they are no less than wonderful either. In fact, it has the perfect combination of features. You can even compare different performances by playing the recording side by side. The video quality, however, varies from 60 to 240 FPS, depending on the type of device you are operating.
With this app, you can also review your performance videos in slow motion and it also has a feature of analyzing the shots from different angles. This also enables the user to analyze their swing in-depth as well.
So, that was it for the best swing tracking golf apps. Still not what you were looking for? Coming next are the top 2 apps for measuring the handicap level. Let's talk a little about them!
Golf Apps for Measuring Handicap Level:
1. The Rules of Golf - Link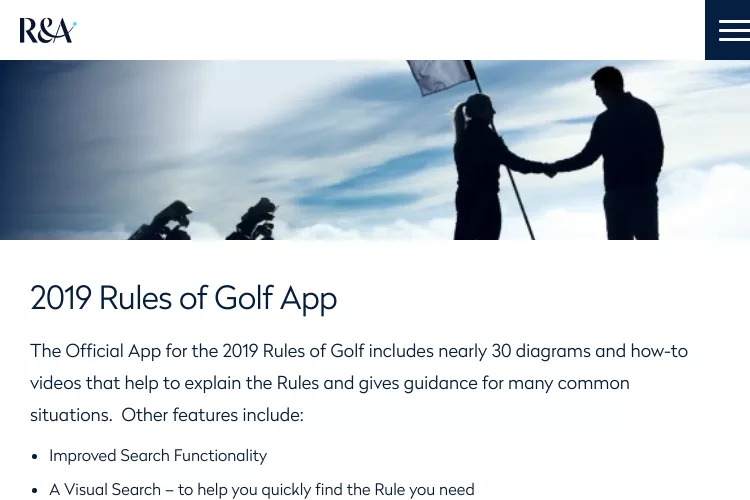 As long as you are not aware of the complete rules of golf, there's no point in choosing the best equipment and course. A golfer invents or follows techniques that help him reach his goal but how will you do that if you don't even know the rules of the game?
This Rules of Golf App is ideal for you if you are new to the game and would like to learn about it. It contains details about different tournaments and explains all the rules and regulations of the game in detail. This makes it perfect not just for the players themselves but also for other people involved in the game such as the referee.
Furthermore, it is a great source of help when you are stuck in a confusing situation. You can find all your answers here. The app contains a comprehensive list of frequently asked questions as well.
Apart from everything, it further contains videos and diagrams that can help explain the game to you in more detail. Also, you can attempt quizzes on the app too in order to find out how much you know about golf. Hence, make sure you don't miss out on any new updates on the game.
2. Golf Handicap Tracker - Link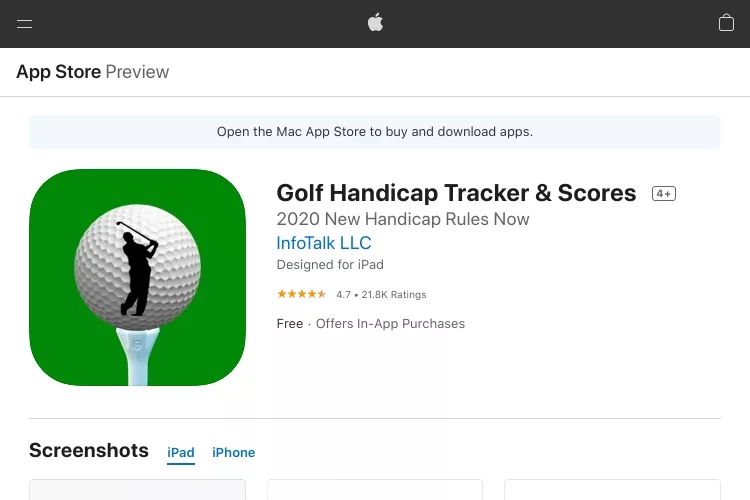 The second app in this list is the golf handicap tracker and scores. It is the most helpful app if all you are looking for is to track handicap scores. It is completely free of cost which is amazing. You won't need to learn how to navigate around the app, it has such a simple interface that it will take you seconds to find your way around it.
This app helps you in monitoring and calculating your handicap score. It offers you a number of options such as applying a hard cap or soft cap. You can even choose a particular course. Besides this, you can find plenty of courses in this app along with their course ratings. Plus, it lets you compare your handicap index with your friends thus keeping the competition alive!
In my opinion, every golf player should download this app on their cellphones as it is really helpful in knowing and ultimately improving your overall game performance.
Lastly, let's talk about some apps that will fill you in about all the latest news and updates regarding golf!
1. PGA Tour - Link
For individuals who prefer staying in the loop whether they are a frequent player or not, this is the perfect app for you. It keeps you informed about any latest updates on your favorite sport, including golf.
You can view shots in detail through this app and also view the scorecards, videos, or profiles of your favorite players. Furthermore, it lets you have access to the complete view of a golf course including the position of all the players on the golf course. Thus, ensuring you don't miss a single shot.
2. Golf Digest Magazine - Link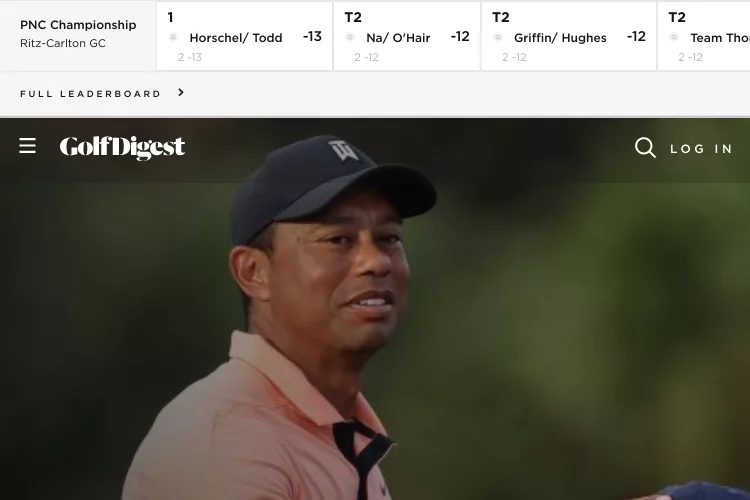 For true golfers, this digest magazine is like a ride in Disneyland for kids. This app contains so much information regarding golf that it is overwhelming. You can read some tips from the top golf players of the world or get recommendations regarding golf equipment. Furthermore, it also features famous golfers and their journeys for inspirational purposes.
This app is not completely free like many of the apps discussed throughout the article. You can get a monthly or yearly subscription. Take my word for it, you are not going to regret it though. It is a complete package for golf players which includes updates on what's happening, equipment recommendations, tips from golf coaches, and much more. Therefore, don't underestimate the importance of this app!
Conclusion for Golf App Getters

So, we have finally reached the conclusion of this article. I have tried my best to be as comprehensive as I can and I do hope this was helpful for you. From rangefinders to swing trackers and handicap calculators, you now have an insight into every type of app. You know which one to choose in every category, without having to search through a list of apps that appear after you click enter on the search bar.
Every person has different preferences so what worked for me may not work as well for you. Therefore, choose your own apps from the list above and make golf a lot more fun!