As a beginner in golf, you will come across several queries every other day. The number of dimples on a golf ball is one of them. I remember the time I first heard the words dimple and ball together. Back then, I was not much familiar with the concepts of golf either. So I thought "how ridiculous? How can these two things be connected?"
In case you are having the same thoughts right now, let me reassure you that you are off to a great start. Learning how to play golf and becoming an expert in it is no piece of cake. Even the smallest of details count a lot and can have a significant impact on your game performance. One such thing is the number of dimples on a golf ball.
If you have no idea what that means and why does it play a huge role in a player's game performance, kick back and relax. This article will clear all your queries regarding the dimples on a golf ball. Continue reading till the end if you wish to find your answers!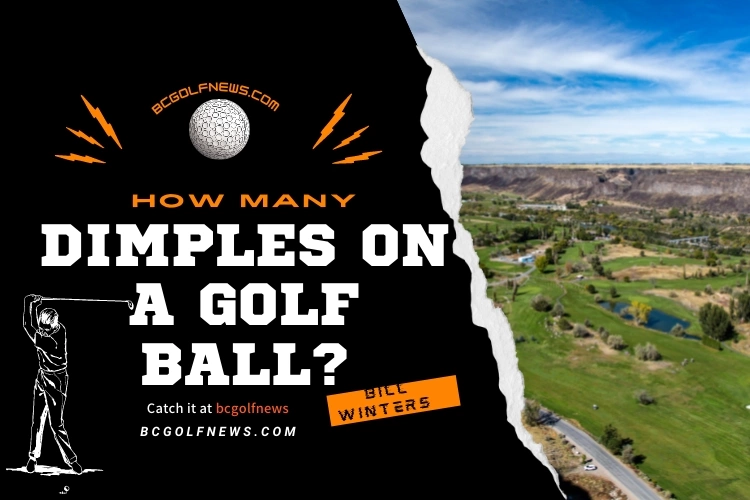 So, let's start with the most obvious question:
What Is Meant By Dimples On A Golf Ball?
Let me describe this in the simplest of terms. If you have ever seen a golf ball before, you should know it is not smooth and flat. Instead, it has small and numerous depressions all over it. These small grooves or indentations on a golf ball are known as their dimples.
Even though dimples are a method of identifying a golf ball, it has other purposes than that. This unique design was not produced to help people differentiate between a golf ball and a normal ball. Instead, it has many uses. Even the smallest of equipment matters in golf. Therefore, the role that a golf ball plays in a game of golf is very vast.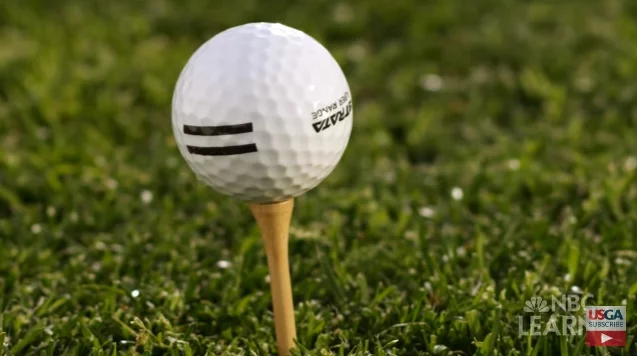 Eager to learn more? Continue reading to find out!
The Origin of Dimples on a Golf Ball:
Before we get into the details of the importance of something, it is essential to learn about its origin first. If you look back a couple of centuries, to the history of golf, you will find out something interesting. Golf balls did not always come with dimples. In fact, they were smooth and flat just like the regular balls.
So, what changed? Who decided that the golf balls are better off with the dimples? When did the first golf ball with dimples come out? And, what was the reason behind this alteration? Let's address all these questions one by one!
Surprisingly enough, the invention of dimples on a golf ball was not intentional. The discovery of the importance of dimples on a golf ball goes back to the 1800s when golf was played using balls made from molded tree sap.
During a game, a group of golfers realized that the damaged golf balls result in a better game performance than the new ones. The experiment was repeated a couple of times with the same conclusion each time. From here onwards, people started making golf balls with raised projections.
The trend continued up until the 20th century. This is when the golfers were hit with a new realization. They figured that the balls with dents tend to perform better than the balls with upward projections. And so, they decided to produce balls with dimples then.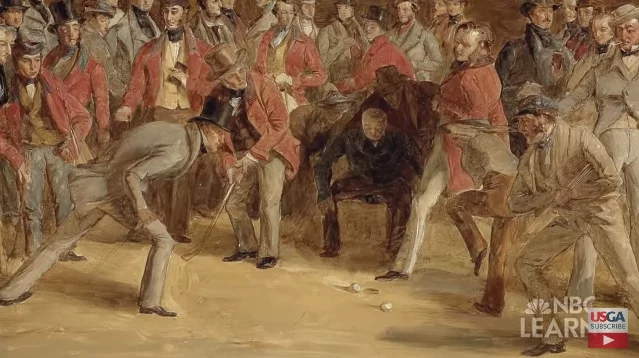 To wrap it up, dimpled golf balls came into the picture in the 1900s after a couple of golfers accidentally discovered their significance. It was not a pre-planned step, instead, it came on as a surprise itself.
How Many Dimples Are There on a Golf Ball?
There is no standard or an exact number of dimples on a golf ball. It varies from brand to brand, manufacturer to manufacturer, and ball to ball. But the average number of dimples on a golf ball is in the range of 300-500. Yes, you read that right! That small ball has over 300 dimples on its surface. Strange, right?
Here's another fun fact: one of the manufacturers of golf balls has a record of producing a ball with over 1000 dimples! Sounds practically impossible to me- but stranger things have happened in the world so we never know.
Following is a chart which mentions the number of dimples on some of the golf balls for beginners produced by one of the top golf ball manufacturers for:
| | |
| --- | --- |
| Golf Ball | Number of Dimples |
| Titleist Pro V1 | 388 Dimples |
| Titleist Tour Speed | 346 Dimples |
| Titleist AVX | 352 Dimples |
| Titleist Velocity | 350 Dimples |
| Titleist Pro V1x | 348 Dimples |
So, you see? There is no fixed number! Now, let's talk about what is the function of these dimples on a golf ball!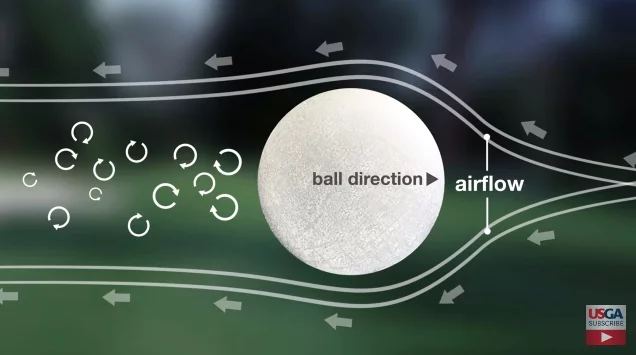 Importance of Dimples on a Golf Ball:
Besides the fact that dimples on a golf ball make it look more intimidating, it does a lot more than that. Dimpled golf balls tend to produce greater distance and higher flight. This is the reason why they are considered to perform better as compared to non-dimpled balls. If you think about it, a lot of physics applies to it. Let's see how.
For a better game performance, a golfer needs to be able to predict and control the way the ball will react in the air. Without being able to predict it, there is no way to determine which type of shot will help him score a point. The movement of flat balls in the air is difficult to predict because they move inconsistently because of the way forces of air enact on them.
When dimples are added to these balls, they manage to reduce the amount of drag or air resistance around them. This is done because the grooves cause a tiny layer of air in the surrounding of the ball. Now, instead of the air acting on the ball from different points, it enacts on a larger portion. This makes the ball flight smoother and hence a lot more predictable.
In addition to that, dimples enlarge the magnitude of air pressure below the ball when it is spun backward. When this happens, the ball results in having a higher trajectory, enabling a greater lift.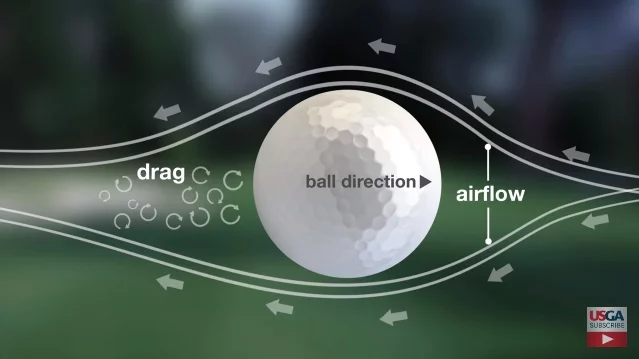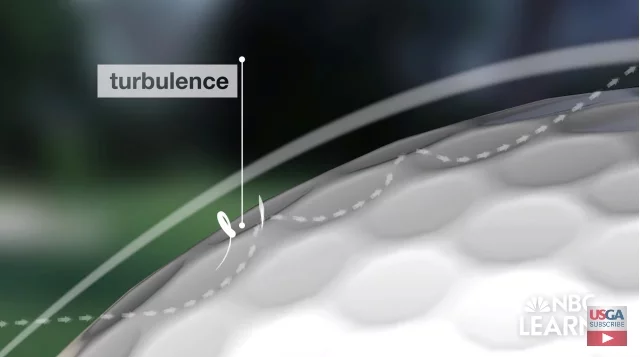 In a nutshell, dimpled golf balls give you more distance, higher trajectory, and a little control over the way it is going to act in the air. Isn't that what every golfer looks for to ace a game of golf?
What is the Shape and Size of Dimples on a Golf Ball?
Just like their quantity, there are no specific size dimensions of the dimples on a golf ball. The size can vary from ball to ball. However, all the dimples on a single ball need to be of the same size. It is typically measured by the depth rather than the circumference of the dimples. Most commonly, golf balls have dimples with a depth of around 0.01 inches only.
Even though these dimples are usually spherical, they can be of any other shape too. Some manufacturers also produce golf balls with hexagonal dimples!
Here it is important to note that although the dimple size does not matter as such, their symmetry is super essential. All the dimples on a golf ball should be within a specific distance from each other. Otherwise, the ball will not perform as per its function.
How to Choose the Right Golf Ball Dimple Pattern?
As we have already established, golf balls do not have a specific number of dimples on them. Neither do they have a particular shape or pattern. So, how does one figure out which dimple pattern is more suitable for them?
Well, these balls are made by considering different purposes or aims that a ball is supposed to achieve. Some balls are designed to achieve greater distance. While some are designed for higher trajectory or more lift.
The dimple pattern of the golf ball depends on the aim it is supposed to achieve. To choose the right pattern for yourself, you need to think about the goal you want to reach. Are you good at distances but you lack at achieving a higher trajectory? Go for the pattern designed to serve this purpose.
Summary about Dimples on Golf Balls
A golf ball has dimples to help it fly farther and more accurately
A golf ball has dimples to help it fly farther and more accurately. The dimples create turbulence in the air as the ball moves through it, which helps to keep the ball flying in a more horizontal line. This results in the golf ball traveling farther and with more accuracy than a smooth golf ball. Additionally, the dimples also help to create a boundary layer of air around the golf ball, which reduces drag and further improves the ball's flight. As a result, golfers can achieve longer and more accurate shots with a golf ball that has dimples than with one that does not. So next time you are playing golf, be sure to use a golf ball with dimples! You'll see a difference in your game.
The number of dimples on a golf ball affects its flight path
The number of dimples on a golf ball affects its flight path. The more dimples on a golf ball, the more stable its flight path will be. This is because the dimples create turbulence in the air around the ball, which disrupts the airflow and makes the ball more resistant to wind interference. Additionally, having more dimples creates less drag on the ball as it moves through the air, allowing it to travel further. Therefore, the number of dimples on a golf ball can have a significant impact on its performance. In order to get the most out of your golf ball, it is important to select one that has the right number of dimples. If you are playing in windy conditions, or if you need to hit the ball a long distance, it is recommended that you use a ball with more dimples. Conversely, if you are playing on a calm day or in a tight space, using a ball with fewer dimples can help you make better shots. Ultimately, it is up to the individual golfer to decide which type of golf ball works best for them. By understanding the importance of dimples, you can make more informed decisions about which ball to use on the golf course.
Golfers use different types of balls depending on the course and their own playing style
Golfers use different types of balls depending on the course and their own playing style. Some golfers prefer to use a harder ball on faster courses, while others may use a softer ball for more control. Ultimately, it is up to the individual golfer to find what type of ball works best for them. There are many different types of balls on the market, so be sure to do your research and find the one that is right for you.

Technology is changing the way golf balls are designed and manufactured
Golf ball manufacturers are now using high-speed cameras and computers to help design golf balls. This technology allows for more precise measurements and helps create a more consistent golf ball. The use of computer aided design (CAD) has also helped speed up the manufacturing process. Golf ball manufacturers can now create a mold for a new golf ball design in a fraction of the time it would have taken in the past. This technology has also allowed for the development of new golf ball designs, such as the urethane-covered ball. This type of ball is designed to travel farther and stay in the air longer than traditional golf balls.
Golfers can also now choose from a variety of different golf ball types, depending on their playing style and the type of course they are playing. So don't be surprised if you see a golfer using a pink golf ball or a golf ball with a starburst design. The bottom line is that technology is changing the way golf balls are designed and manufactured. This means that golfers now have more options when it comes to choosing a golf ball. So what type of golf ball do you want to play?
Conclusion for Dimples On a Golf Ball Buyers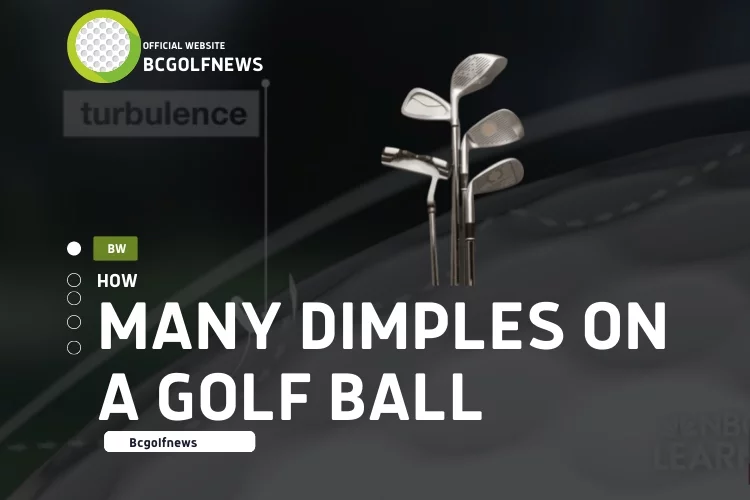 Dimples on golf balls help them travel farther and more accurately. They were first used in the late 1800s and have been a part of the game ever since. While you might not think about their importance when playing, they make a big difference in how well you can play the game. If you're looking to up your golf game, using dimpled golf balls is one way to do it!

In order to ensure that you pick the right golf ball for yourself, it is important to know about your strengths and weaknesses. What's best and trending in the market may not always be the solution to your problem. So, focus on your needs and pick the ball that serves your interests the best!