California, the bay area is famous for its lavish golf courses. It also shows how much the residents of this area love golfing. Today we have brought you a list of top golf courses in California, bay area. There are several famous and unique golf courses including
1. TPC Harding Park
2. Cinnabar Hills Golf club
3. Pasatiempo Golf course
4. Hidden Brooke Golf club
5. Golf links Half-moon Bay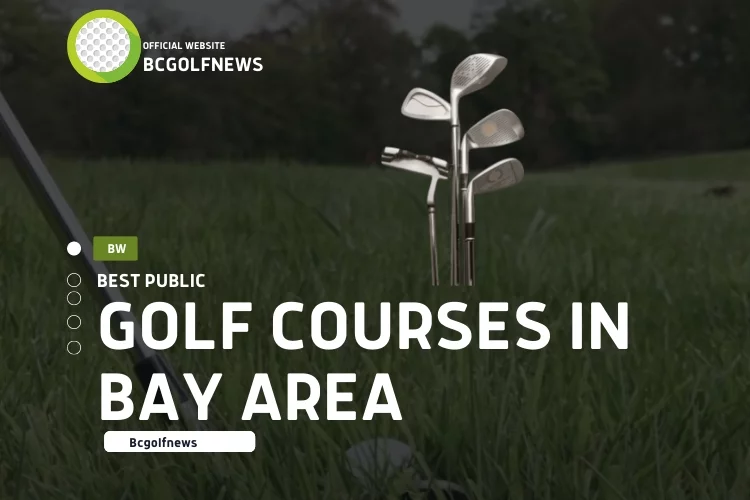 The best thing about these courses is that you do not need to join a club. Yes, you can just play golf in one of these without joining any golf club. So, choose one of these and enjoy golfing.
1. TPC Harding Park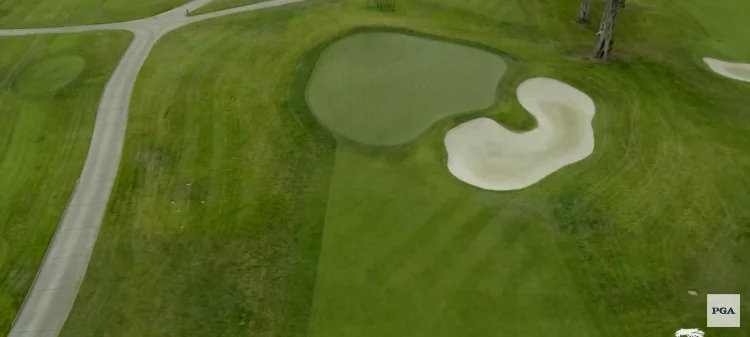 Location
TPC Harding Park is situated in San Francisco, California. It is considered one of the top public Golf courses in this area. Plus, the location of this course is adorned with Lake Merced shores and its beautiful view.
Course Design
Sam Whiting and Willie Watson have designed this beautiful golf course. Basically, it showcases a design with 18 holes and 72 par. It spans over a length of 6555 metres. Moreover, the golf course has many cypress trees which give this place a really green look.
Awards
This place has won many awards and honours. Firstly, the Golf digest has given this place the honour of ranking it as one of the best places to play. Secondly, this place has hosted many big championships and games including the San Francisco Open and many other championships.
Top Tracer Range
This amazing golf course has a practice facility called the top racer range. This range is for practice purposes and will benefit you if you wish to practice golf and master it. However, if you are an old lover of golf, you can also go to the top racer range and polish your skills more.
At top racer, you will get an excellent experience that will further help you in your game. This range basically acts as a practice tool for golf lovers. You can compete against your friends and family. Plus, you will get prompt feedback about your game. That will help you to learn more and more.
In addition, this golf course is a kid's friendly spot. You can bring your kids with you as the place offers kids areas. Or if you are the kid yourself then you can enjoy different engaging games on this Golf course.
Rates And Rules
You can visit this Golf course at a rate of 35 dollars per Golfer for Golf Cart rental. While the Golf club rentals are 75 dollars. For rules, the course has the following set of rules
1) No walk-ins are allowed all guests need to pre-book or you will not be allowed to enter without a reservation
2) The golfers will only have access to the property and they would not be allowed to arrange any recreational activities
3) Try to arrive one hour earlier and be ready 20 minutes before the tee time
2. Cinnabar Hills Golf club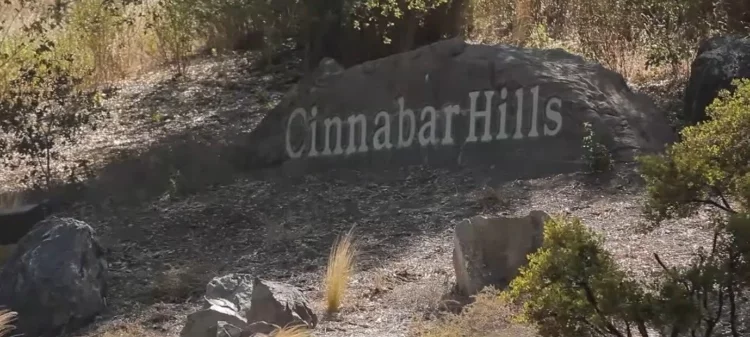 Location
Cinnabar hills golf club is known for its beautiful location. It is located in Silicon Valley in California. This valley is known for its greenery and so does this Golf course. It is one of the top-rated clubs in the area with public access.
Design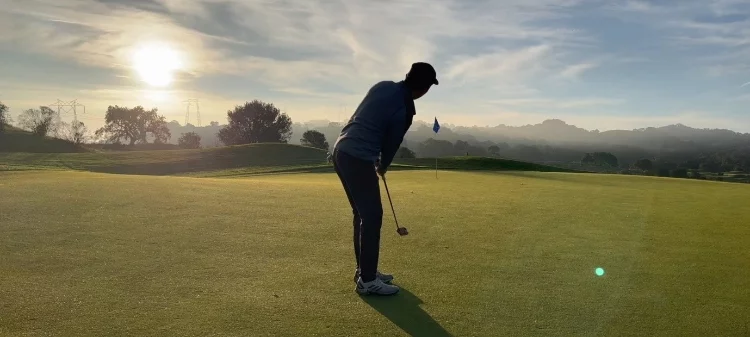 The golf club is beautifully designed amidst the beautiful landscape and in the laps of hills. John Harbottle 3 has designed this masterpiece. He has also won awards for his architecture. Mainly, the golf course has 18 holes each designed uniquely to preserve the wildlife.
Green fees
The fee structure of this golf course is divided into 5 categories depending upon time. The categories are Early bird, regular, twilight, super twilight and sunrise. All these categories have different rates ranging from 50 dollars to 90 dollars. For juniors, this fee is relatively lower. Twilight times can change with seasons accordingly. Nowadays timings for twilight and super twilight are 12:00 pm and 2:00 pm respectively. Moreover, the charges vary according to the days like on Friday charges are relatively higher.
Rules
a) You can reserve your spots online or by calling them on their phone
b) Reserve your spots up to 14 days before the date you want to visit
c) Dogs are not allowed on the Golf course unless they are certified dogs for service purposes.
Practice area
Cinnabar hills golf club has a practice range where you can perfect your game. This range has a chipping area and a snack bar for the refreshment of players. Also, the driving range is surrounded by beautiful views. So don't wait and book your spots now.
3. Pasatiempo Golf Course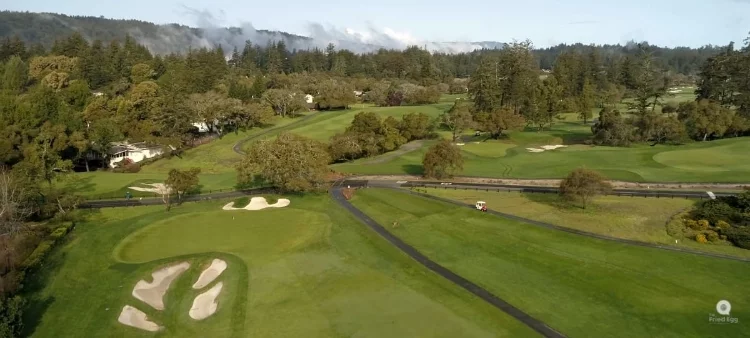 Location
This golf course is a renowned golf course, located in Santa Cruz, California. Basically, it is a semi-private course and offers hospitality and amazing golf courses. Moreover, it's located on a short drive from 4 Airports, spyglass hill and pebble beach. This makes it more popular among its visitors.
Design
A well-known golf course designer named Alister Mackenzie has designed this golf course. This designer has designed so many other big names like Cypress point.
Dress Code
Following a dress code is necessary for golf course entrance. The dress code includes shoes that are necessary for both on and off the course. These shoes should also meet certain criteria of pro shop.
Both men and women have to follow the dress code. Men should come in full sleeve shirts with collars, golf shorts, slacks or a turtle neck. While tee shirts, tank tops, sleeveless shirts, bathing suits and bike shorts etc are not allowed.
Women can wear dresses, golf shirts, slacks, golf blouses, golf shirts and a hat. While they are not permitted to wear fishnet tops, sweatpants, bathing suits, yoga pants, denim pants and sweatpants.
Other Facilities
The golf course also offers a driving range, practice facility and golf instruction. The driving range is available for golfers. This range is accessible through a shuttle service for the convenience of guests. The shuttle will take guests from the first tee to this range.
Moreover, this golf course provides practice facilities for chipping, sand play and putting. Another thing that might make this club really popular is the facility of golf lessons from professionals. Yes, the professionals at Pasatiempo Golf course offer golf lessons and can conduct group or individual classes. You can reserve your seat by contacting the pro shop. Moreover, you have the liberty to choose whoever you want to learn from. Your class will be conducted on the driving range or practice facility.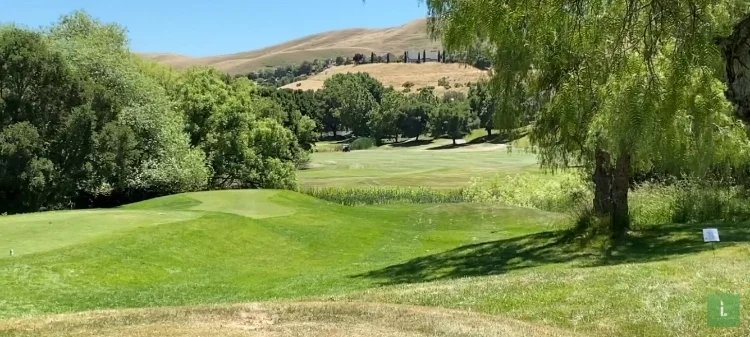 Location
Hidden brooke Golf course is one of the most beautiful courses in Vallejo, California. Moreover, it shares a beautiful vicinity of Napa Valley.
Awards
The Golf world (reader's choice award) has ranked this Golf club in the top ten public golf courses. Also, the course has a rating of 4.5 to 5 stars. In addition, this golf course is the first one from San Francisco to achieve a spot in the top 50 golf courses.
Other Facilities
This golf course has a practice facility where you can train yourself and practice your skills. You can also warm up before the next rounds with range balls. You can also learn new skills every day at this practice facility.
Further Hidden Brooke has a Troon junior club. This club offers a facility to play with the junior golfers and other fun facilities.
This club offers several facilities to the juniors aged blew 17 years, including
a) Being able to enjoy the junior rates
b) Discounts up to 20% on summer camps
c) Welcome letters, a tee and a hat
5. Golf links Half-moon Bay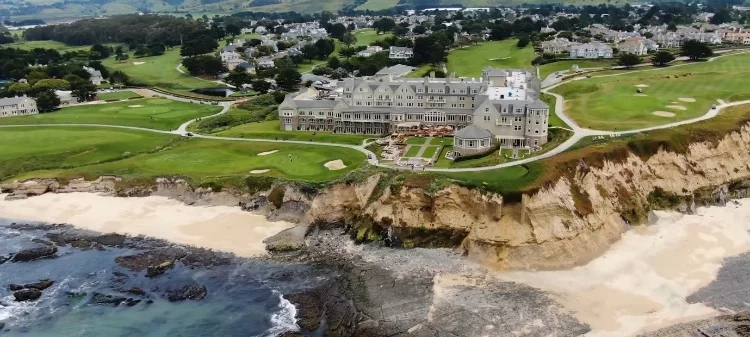 Location
Half moon bay Golf course is located at a mesmerising spot in San Mateo, California in the vicinity of beautiful beaches. It is just 30 minutes away from San Jose and San Francisco. These Golf links have two famous Golf courses including
The Ocean Course
The ocean course at Half moon bay Golf links has the most scenic views of the ocean. This golf course is designed in a famous "link design". Plus, Arthur Hills a famous architect has designed this amazing Golf course.
The Old Course
This course at Half moon bay is in the American style of architecture. Francis Duane and Arnold Palmer are the designers of this masterpiece. From this golf course, you can view the corridors and edges of the Pacific Ocean. It is important to note that this golf course requires carts too. You can reserve your spots before you arrive by contacting them on the official website.
Frequently Asked Questions
Question 1: Can We Reserve Our Spots Online?
Answer: yes why not, just visit the official websites of all these places and book your spot.
Question 2: Can We Take Children With Us?
Answer: Of course, you can as these Golf courses have kids areas where kids can enjoy their time.
Conclusion
So here our list of "best Golf courses of California bay area" ends. All the above-mentioned golf courses have their unique facilities. All of them have an aim of providing the best-golfing experience to their guests. So don't wait, choose one of these, call them and reserve your spot today.