There are many great things about living in Iowa, and one of them is the abundance of public golf courses. If you're looking for a challenging round of golf with stunning scenery, you'll definitely want to check out some of these top-rated options. From the rolling hills of the Des Moines area to the picturesque lakeside setting of Sioux City, there's a course for everyone in Iowa. So grab your clubs and get ready for an amazing golf experience!
Top 11 Best Public Golf Courses in Iowa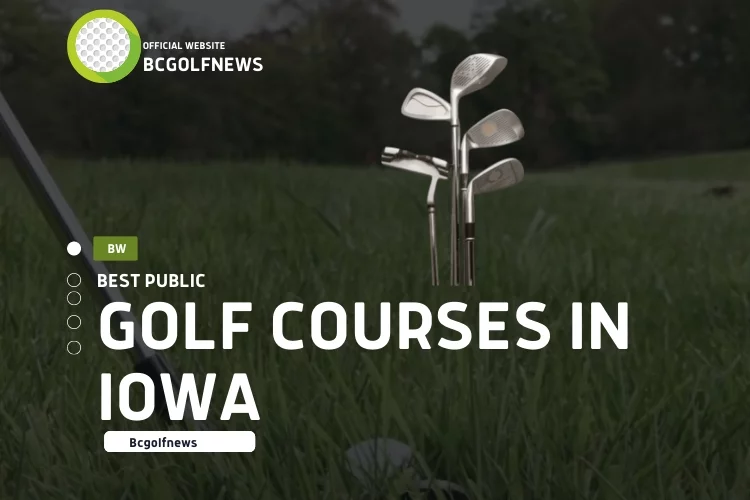 The Harvester Golf Course, Rhodes, IA
The Harvester Golf Club opened its doors in 2000 and quickly rose to the top of rankings listing the best 100 public courses in the United States. However, for owner Dickson Jensen, having one of the top public courses in the country was not enough; he wanted for The Harvester to be one of the best courses in the world, period. As a result, the course was closed in 2017, and Keith Foster was enlisted to refurbish his design from almost two decades earlier and reopen it as one of the Midwest's premier layouts. In the year 2019, that task was completed. The Harvester Golf Club is situated on one of the most beautiful tracts of land for a golf course in the time zone, and Foster took use of this by creating a course that offers an extraordinary range of altitudes, hole designs, lengths, and tests. It's hard to argue with Foster's signature design from start to end, unlike many other courses where one nine stands out above the others. Harvester's last stretch is particularly impressive, but it's hard to dispute how fantastic it is. When played from the tips, this course is capable of testing the top players in the world, and the greens, like those at Oakmont, are kept in superb shape and move at a lightning-fast speed as well. According to Golf Digest, The Harvester is one of the best-conditioned courses in the nation, which includes the prestigious Augusta National. There isn't a single blade of grass out of place, and the solid conditions provide for absolutely wonderful turf to play on, which is something that golfers of all abilities can enjoy.
The Harvester Golf Club consistently ranks as the top-rated golf course in Iowa and is consistently acknowledged as one of the greatest golf courses in the country. It exceeds expectations in every area of the golfing experience. With 18 beautifully designed and perfectly groomed courses surrounded by gorgeous rural surroundings, as well as excellent lodgings for a weekend getaway, it's advisable to book your overnight stay and tee-times as soon as possible since they do fill up fast. Experience for yourself why the Harvester Golf Course is often regarded as the greatest golf course in Iowa, and why it is such a fantastic site to play golf.
Features
Perfectly groomed courses
Gorgeous rural surroundings
Excellent lodgings
Golf at the Preserve at Rathbun Lake, Moravia, IA
PGA golf instruction and club fittings are available at the Preserve, which is intended to accommodate players of all ages and abilities, as well as junior golf programs. The 7,000-yard course, which meanders through gorgeous grassland and oak savannas, is Audubon-certified in recognition of its environmentally friendly practices and offers the ideal combination of excellent golf and natural scenery. It is certain that your golfing experience will be great at The Preserve, which has five sets of tees, carts equipped with the latest in GPS technology, and unrivaled guest care.
Make a weekend out of it with a golf package and spoil the whole family with everything that Honey Creek Resort has to offer them. The Iowa Golf Association is pleased to have the Preserve as a member. Golf Digest's Best New Public Courses of 2009, Golf Magazine's Best New Courses of 2009, and Golf Inc.'s Developments of the Year all recognized the course as the third best golf course in Iowa for 2020. It is also ranked as the fifth best public golf course in Iowa by www.iowagolf.com and the third best golf course in Iowa for 2019.
Features
PGA golf instruction
Environmentally friendly practices
Spirit Hollow Golf Course, Burlington, IA
Spirit Hollow Golf Course, located in the heart of the Mississippi River Valley, is a nationally recognized, championship-level golf course that welcomes members of the community of all ages and skill levels to come out and enjoy the game of golf on its scenic course. Even after the 18th hole at Spirit Hollow is completed, the excitement doesn't let up. The course features numerous ups and down, short greens, and the inevitable out-of-bounds shot or two. It's a great way to round out your day at this Burlington golfing destination by stopping for a meal at the adjacent LAMBO's Grill, which serves up fresh food while you review your scorecard on the course.
Features
Suitable for all skill level
Numerous ups and down
Short greens
Amana Colonies Golf Club, Amana, IA
The Amana Colonies Golf Club, which is surrounded by rolling hillsides and the welcoming town of the Amana Colonies, has 18 courses, each of which provides a unique scenery to appreciate. Although the Amana Colonies Golf Course has consistently been ranked as one of the best public courses in the state of Iowa, it's not just because of the beautiful surroundings and well-designed holes that it's such a great public course. It's the full thing, the complete experience. The Amana Colonies Golf Club offers much more than just a great golfing experience, whether it's the nearby overnight accommodations or the neighboring Amana Colonies that are just waiting to be discovered. It's worth visiting for much more than just the golfing experience.
The Amana Colonies Golf Course, which opened for public in 1989 and has been expertly built to conserve the natural qualities of the terrain, has been a popular destination for locals and visitors alike. This championship golf course spans through 600 acres of stately white forests on its way to the finish line. There are flowing streams, shimmering ponds, and breathtaking landscapes on the golf course, which contribute to the overall visual attractiveness and pleasure of the game.
The Amana Colonies Golf course has five sets of tees that range in length from 5,228 to 6,824 yards, and is intended to suit players of various ability levels. "Beautiful, spectacular, charming, delightful, playable," "difficult," and "intimidating," are some of the words that our visitors use to characterize the course.
Features
Great golfing experience
Natural terrain
Otter Creek Golf Course, Ankeny, IA
Otter Creek is a wonderful links-style course that will test the skills of any golfer with its numerous water hazards, tall grass, and strong winds. There are perfect low mow bluegrass fairways and some of the best public golf greens in the state, and it has fully matured and is always in excellent condition. Tee boxes are strategically placed so that players of all abilities can enjoy the round to the fullest extent possible. This Paul Miller design is a masterpiece on the prairie, and it is a must-play for any golf enthusiast.
A golf course with over 17 ponds, 40 bunkers, and lots of mounds and long grass surrounding each hole, it's unlikely that many golfers will leave this Golf Course with every golf ball they brought into the course. However, searching for your out-of-bounds shot at this highly regarded public course in Iowa isn't too bad because it provides you with a small additional reason to take in the breathtaking views of the surroundings of each properly maintained hole. Otter Creek is not only among the best public golf courses in the state of Iowa, but it is also one of the most affordable, with weekend rates for 18 holes averaging somewhere in the $50 range.
Features
Amazing greens
Tall grass
Strong winds
Blue Top Ridge, Riverside, IA
Anyone who plays the golf course at Riverside Casino & Golf Resort will feel like a champion after a few rounds. Riverside's world-class golf course, which stretches over 7,400 yards, provides golfers with stunning panoramas overlooking two rivers, man-made lakes, and a variety of topography. Overall, it all adds up to an unforgettable golfing experience for both novices and seasoned experts.
The Blue Top Ridge Golf Course was designed by Rees Jones, whose previous golf course accomplishments include 7 U.S. Open courses, 5 PGA courses, and three Ryder Cup locations. When you tee off at the Blue Top Ridge Golf Course, you'll feel like a pro in no time. This gorgeous facility, which is connected to and run by the Riverside Casino & Resort, is flanked by two rivers and can offer a weekend full of excitement when combined with the resort-style rooms and a variety of activities on the program at the casino. No matter whether you are or are not a gambler, it is a fairly safe bet that this Golf Course will provide a memorable 18-hole experience for golfers of all skill levels.
Features
stunning panoramas
Gorgeous facility
Waveland Golf Course, Des Moines, IA
In 2001, Waveland Golf Course turned 100! It's the oldest west of the Mississippi municipal golf course. This 1901 course features a classic layout. Waveland Golf Course is situated at 4908 University Avenue in Des Moines.
Waveland's amazing slope sets it unique from the other two Des Moines public courses. A forest surrounds the whole course. The trees are mature, as expected for their age. At Waveland, golfers must be precise. The course isn't very lengthy, but playing among the woods may make it seem such. The men's course is about 6500 yards. Despite the course's difficulties, Waveland hosts approximately 40,000 golfers each year.
Waveland's third hole, dubbed "The Tunnel", is considered by many to be the most difficult. A huge valley separates you from the green on the right side of the tee. A golfer must cross water twice before reaching the green, which is surrounded by trees.
The greens are in terrific shape, but are quick and tough to read. Hills and trees minimize the number of sand traps. The fairways are properly watered, although the grass suffers from the terrain. The rough is high, like the trees. It typically covers the gaps between the fairways, frustrating players with a hook or slice.
Given the course's rough topography, it's not surprising that 70% of players use a golf cart. Accept that you won't master this course straight away. For the first time, even veteran golfers felt irritated.
The clubhouse is a 1940s red brick structure. It features great meals, a banquet area, and a pro shop. The clubhouse is a great place to meet other golfers and check out the latest gear.
Features
Classic layout
Properly watered fairways
Cedar Rapids Golf and Country Club
The Cedar Rapids Golf and Country Club is a private golf club in the northwest part of the city, across from Lindale Mall. They have a beautiful clubhouse which serves as a wedding venue too. The club has two 18-hole courses within its borders: North and South. The north course was designed by Nick Price and Ron Zuidema, and the south course was designed by Ron Zuidema. For both of these courses, par is 72. There are multiple tee boxes on each hole of either course, to make the game more challenging for skilled players.
The clubhouse has a beautiful ballroom that seats 400-500 people comfortably. Their food is delicious; they even have a gluten-free menu for people with special dietary needs. The club provides a shuttle service for events, so there is no need to worry about bringing your own vehicle. They have a large parking lot. Guests are allowed in the ballroom an hour before the ceremony starts and one hour after it ends.

The Cedar Rapids Country Club is a great place to hold any type of event. The ballroom is beautiful and has everything you need for a wedding reception already set out. The country club is located near Lindale Mall, which makes it convenient for guests who want to shop or eat at the mall after an event. It's only about 5 minutes away from the hotel, so it makes it easy for out-of-town guests to find. They host a lot of weddings and other events, such as retirement parties or birthdays. Everyone I've talked to who has hosted an event here has been very happy with the service they received. I would definitely recommend this place!
Brown Deer Golf Course
The only public facility offered in Brown Deer for golf is the 18-hole public golf course, known as the Brown Deer Golf Course, which was established in 1969. It is underlain partially by glacial till and to a larger extent by stratified drift (sand, gravel, silt). The substrate materials are poorly graded with about 20% of the material having a size coarser than sand, 30% that is similar to sand and very little fine-grained silt (3%) or clay (2%).
The Brown Deer Golf Course is located on the east side of Milwaukee County, about four miles north of downtown. It occupies an area of about 111 acres and has a total length of 6,765 linear feet. The course originally played to 2,857 yards and was par-63; it has since been par-71 and now plays over 7,000 yards.

The area topography is generally flat with no natural water or wetlands evident on the site. Although there are no surface streams draining the area, the sand and gravel areas in the front part of the site may be indicating small, intermittent drainage flows. The grassed-water hazard on the course was constructed to add a level of water hazard for aesthetic purposes. It was known to have been built with sand-gravel backfill material and is not functional for providing a hazard.
The club house is the only building on the site and was built in 1969. The architecture is an example of ranch style design, with walls of vertical wood siding, low-pitched gabled roofs, casement windows and entry doors across the front. An outdoor patio can be accessed from two sides of the structure. Additions were made to the club house in 1990, which added office space and a small locker room.
The original nine-hole course was laid out by Robert Armstrong, who used sand greens for this portion of the golf course; these areas are now somewhat rough with very little grass coverage. The trees originally planted on the course were not treated with Chlorophacinone, but are now infested with Emerald Ash Borers.

The golf course contains an irrigation system for the greens and fairways that is based off of groundwater well fields through six separate systems. The pump capacity in the wells ranged from 5 gpm to 20 gpm, which was sufficient in the 1980s for peak irrigation demands in hot, dry periods. As of 2011, the site has three wells (design capacity 30 gpm) and these are not sufficient to meet peak demands during drought conditions.

TPC Deere Run Golf Course
The John Deere Classic announced today that the 2017 tournament will be played June 24 - 28, with an increased purse of $6.2 million and a winner's share of $1.152 million. Tournament officials noted that this is the second largest purse in TPC history, behind only last year's event at TPC Louisiana which had a $6.5 million purse.
The John Deere Classic is one of 30 events on the PGA Tour's FedEx Cup season, giving it a major championship feel, though not quite on par with the U.S. Open or the British Open. The 2017 tournament will be held June 24-28 at TPC Deere Run in Silvis, Illinois, near Moline which sits along the banks of the Mississippi River.

The John Deere Classic has been held annually since 1976 except for 1987 when it was cancelled due to flooding and 2002 when it was shut down to honor former President George H.W. Bush after he lost his battle with leukemia two weeks before the event on July 6th that year.
Since its inception, the tournament has returned $181 million to charities in the Quad Cities region.
Wildwood Hills Country Club

Designed by renowned golf course architect Rees Jones, Wildwood Hills Country Club is a traditional style course with a challenging layout and beautiful surroundings. Wildwood Hills has been the site of numerous local and regional tournaments over the past decade. In addition to being well known as a premier tournament venue, Wildwood also offers members outstanding recreational and social opportunities, including league play and a state-of-the-art clubhouse.
Wildwood Hills is one of the premier public golf courses in Southern California, with five sets of tees accommodating all levels of ability and we offer a competitively priced season pass. The course also has an exceptional practice facility - two covered driving ranges (one lighted), a practice putting green and short game area.

When you play Wildwood Hills Country Club, you're guaranteed to experience first-rate service and beautiful surroundings. We're waiting for you - come join us for a challenging day of golf on the course that will make your friends envious!

Conclusion for Best Public Golf Courses in Iowa
With so many great courses to choose from, you're sure to find a course that fits your golfing needs. Whatever level of experience you have, the state has an excellent option for you. In Iowa, there are four public courses ranked among Golf Digest's top 100 in America and nine more that made their list as well. If those aren't enough options for you, Iowa is home to over 350 total golf courses! So whether it's a challenging championship course or a beginner-friendly pitch and putt style layout - we've got what will make every golfer happy. Which specific tournaments would be best suited for me?