Louisiana is known for its Cajun food, music, and culture, but it's also a great place to play golf. The state has some of the best public golf courses in the country. Whether you're looking for a challenging course or one that's more forgiving, there's a public golf course in Louisiana that will fit your needs. Here are some of the best ones.

Top 7 Best Public Golf Courses in Louisiana
Looking for a challenging and scenic golf course to play in Louisiana? Check out our list of the best public golf courses in the state! From Robert Trent Jones-designed layouts to links-style courses, there's something for everyone here. So grab your clubs and get ready to tee off!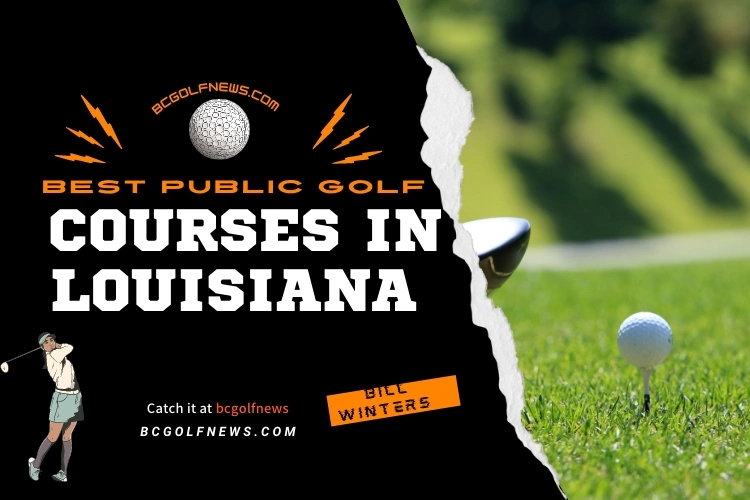 Stonebridge Golf Club
According to many people, Stonebridge Golf Club is the most affordable golf facility on the West Bank. It takes full use of all that is wonderful about the New Orleans region of Louisiana. The 18-hole links-style course, which is located near Gretna, features five sets of tees that can accommodate players of all skill levels, from beginner to expert. However, while annual and monthly subscriptions are available and come with specific privileges, the course is free and accessible to anybody who wants to take part. At the golf store, you may rent clubs, and private lessons are offered to people in person or through a large video collection. Do you need a venue for your next event? Stonebridge is a beautiful venue for weddings, special parties, and other business gatherings of many kinds.
Features
Beautiful venue
Adequate facilities
TPC Louisiana
TPC Louisiana in Avondale, which is a member of the Tournament Players Club network and is a stop on the PGA Tour, is one of the state's greatest 18-hole public golf courses, according to Golf Digest. TPC Louisiana, located just outside of New Orleans, has won multiple honors throughout the years, including GolfWeek's "Best Courses You Can Play" and being named one of Golf Digest's "Top 100 Public Golf Courses." A charity objective of the TPC includes support for charitable organizations such as the Make-A-Wish Foundation, Adopt A Charity, and Birdies for the Brave, as well as active support for the local community via contributions, rent-free tournament locations, and other means. On-site amenities include a 24,000-square-foot clubhouse with locker rooms for both men and women, a pro-golf store, and banquet, bar, and eating facilities that are unmatched in the region.
The golf course, which is a component of the Audubon Golf Trail, spans over 250 acres of wetlands in the Mississippi River delta and is a favorite among bird watchers. The golf course has over 100 bunkers, which is in keeping with Pete Dye's design. TPC Louisiana has a sequence of short and enticing par-4 holes to keep the course's length in check. This championship golf course's five sets of tees, which range in length from the women's tees at 5,121 yards up to the PGA TOUR's 7,400 yards, provide players of all skill levels with an excellent balance of difficulty and playability.
If you are traveling in the New Orleans region, you can't miss out on the opportunity to play on a championship golf course that is home to the only PGA TOUR stop in the state of Louisiana. The TPC Louisiana is within a 15-mile drive from New Orleans' famed French Quarter. Make a reservation for a round of golf at TPC Louisiana to kick off your Louisiana golf holiday as soon as possible.
Features
On-site amenities
Favorite among bird watchers
The National Golf Club
Whether you're a seasoned golfer or just getting started, the National Golf Club of Louisiana is a widely recognized course that caters to golfers of all abilities and experience levels. The National Golf Club, one of the state's newest courses, is situated in Westlake and has been rated one of the state's cheapest courses. The course also offers an outstanding training area where you may test and polish your abilities before you play. In the 7,000-yard course, there are 14 lakes, 65 bunkers, and some of the most difficult greens in the area, as well as an instructional camp with instructors who are knowledgeable about the game. In addition to offering individual and group classes, the club hosts year-round activities for men and women of all ages and abilities.
The National Golf Club of Louisiana is a fun and demanding course that is suitable for players of all skill levels and abilities. Everyone from the leisure golfer to the skilled single handicapper may enjoy themselves at Louisiana's Most Affordable Premier Golf Course, which has five sets of tees for every skill level.
The 7000 yard course, which includes 14 lakes, 65 bunkers, and some of the most difficult greens in the region, not only gives a superb golf experience, but its natural beauty will have you coming back again and again. You will have a great time playing here at any time of year.
All of the fairways and roughs on the course are premium TifSport, and the MiniVerde greens are always a rich green hue and offer superb surfaces for a long-lasting experience all year. The large greens allow a variety of hole positions, ensuring that the course will play differently every time you play it. We are certain that you will never get tired of The National Experience.
Features
Premium fairways
Affordable
Belle Terre, La Place
It is literally translated as "beautiful land," and the public golf course that has that name is this. Belle Terre Country Club, located in La Place, Louisiana, is regarded one of the most beautiful settings in the region, and it is recognized for the tranquil and quiet environment of its 18-hole championship course, which was built by Pete Dye. A location to enhance their game may be found on one of the 4 tees that stretch almost 7,000 yards, which will appeal to golfers of all ability levels. A visit to the New Orleans region is not complete without a round on this public golf course.
Dumas Memorial Golf Course
Dumas Memorial Golf Course is a lovely 18-hole course located just outside of Baton Rouge, Louisiana, that first opened its doors in the 1960s. The course, which measures more over 6,400 yards and has a good balance of long and short holes, was designed to provide the greatest and most demanding course for long-distance shots possible. The green costs are affordable, and there is also footgolf available. Regular and junior leagues, as well as coed golf camps during the summer months, are available for anyone seeking to participate in a league of their own. There are options for players of all skill levels.
Features
Affordable
Good balance for all holes
Koasati Pines
Koasati Pines Golf Course, one of the state's longest courses, is nestled deep in the swamps of Southwestern Louisiana and surrounded by the oaks and pines that give the course its name. With its 18-hole course, a par 72 championship layout, 6 sets of tees, and a creative design, this course blends difficulty and beauty to provide a memorable golf experience for all players. Lockers and a boardroom for meetings are available at the clubhouse, as are competent teachers who can assist you in fine-tuning your game, as well as rate cards that describe special discounts as well as other vital information and rules. You may make a day or weekend out of it by staying nearby and eating at one of the surrounding restaurants. The restaurant is open year round from 7 a.m. to 5 p.m.
In the natural wetlands of Southwest Louisiana, surrounded by stately pines and massive live oaks, the Koasati Pines at Coushatta offers a unique vacation experience unlike anything else in the world. Add to it a dynamic 18-hole, par 72 championship layout with six sets of tees, three different approaches on three holes, and a unique "Gambling Hole," and you've had a glimpse of what Koasati Pines has to offer.
You will be immersed in a relaxing, yet challenging, golf experience thanks to the serenity of gently rolling terrain and 65 acres of looking-glass lakes that have been specifically designed for you. Their magnificent greens extend a velvet invitation to both experienced and inexperienced golfers alike.
Features
Creative design
Available tutors
Black Bear, Delhi
Black Bear Golf Club, situated in Delhi, Louisiana, is a championship-caliber 7,200-yard course with four sets of tees and a variety of extras for both the experienced golfer and the beginning player. The greens and fairways provide the ideal location for golf events as well as a relaxing weekend vacation in the midst of lush vegetation. There are stay and play packages available for those who like the concept of staying overnight; however, the cheap green fees, which include a cart, range balls, and relevant taxes, are also suitable for day golf trips. Known as one of the top courses in the country by Golfweek Magazine, this course is a favorite among locals.
This golf course features a variety of topography, ranging from tree-lined holes to wide open approaches. A Bechtol-Russell championship design, able to host tournaments and outings while also being enticing to golfers of all skill levels, is the result of this partnership. Black Bear Golf Club's expansive Tif Eagle greens, native grasses in all non-play areas, lush fairways and reasonable rates make it a must-play on your Louisiana golf itinerary!
The Black Bear is the ideal location for your Louisiana vacation getaway. Poverty Point State Park, which is just six miles off Interstate 20 and overlooks a 3,000-acre man-made lake that serves as the focal point for a variety of recreational activities, can be found just six miles off I-20.
Features
Overnight packages
Suitable for all golfers
Copper Mill Golf Club
Copper Mill is the course to play if you want a course that will test your skills with features such as a unique combination of par 3, 4, and 5 tees. Since its inception in 2004, this course in Zachary, Louisiana, has established a solid reputation, and Golf Digest has rated it one of the state's top ten courses. Copper Mill is a links-style course evocative of those found in Scotland. It makes the most of the natural terrain while also including strategically placed water hazards and bunkers to keep things interesting. Copper Mill offers everything, including special events, trips, and the use of its banquet facilities for business and social parties, among other things.
Features
Natural terrain
Adequate facilities
Conclusion for Best Public Golf Courses in Louisiana
Louisiana offers a variety of public golf courses that will challenge any golfer. The best part is, these courses are available to anyone who wants to play. Have you played at any of these top public golf courses in Louisiana? If not, what are you waiting for? Pack your bags and get ready for an amazing round of golf!