If you're looking for a challenging and scenic golf course to play, look no further than the best public golf courses in New Mexico. From the links-style course at Sandia Golf Club to the tree-lined fairways of Los Pinos Golf Course, there's something for everyone here. So pack your clubs and get ready for a round on one of these beauties!

Top 8 Best Public Golf Courses in New Mexico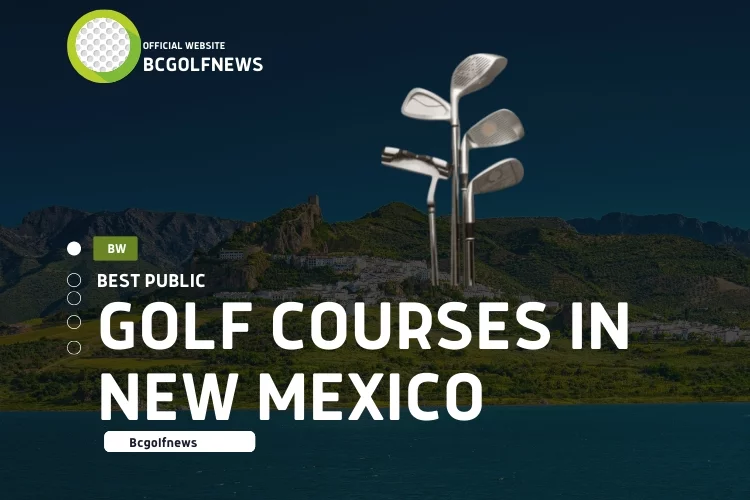 Paa-Ko Ridge, Sandia Park, NM
It is the natural beauty of this public course that determines the handicap at this course, which provides a tough distraction throughout the whole 27-hole course's duration of play. The difficult landscape, along with the height of 7,000 feet, is a challenge to golfers of all abilities. The course is between 5,000 and 7,000 yards in length and winds its way through ponderosa, pine, and juniper trees as well as up and down the steep terrain. Long fairways, deep sand traps, and flawless greens continue to elevate this course to the top of the state's golf rankings year after year, garnering praise from a diverse group of golf professionals.
In addition to an 18-hole public golf course built by award-winning architect Ken Dye, Paa-Ko Ridge is also home to a 9-hole public golf course now under development. The course is located east of the Sandia Mountains. The course's layout, which is surrounded by the rocky landscape and flora of the New Mexican high desert, is divided into landing zones and greens by native vegetation, arroyos, and rock outcroppings. There are five sets of tees on each hole on the luxury course, which allows players to play anywhere from 5,702 to 7,562 yards, and downhill among ponderosa, juniper and pinon.
Features
Natural beauty
Long fairways
Flawless greens
The Links at Sierra Blanco, Ruidoso, NM
The Sacramento Mountains, located at the southernmost part of the Rockies, are home to the vacation destination of Ruidoso, New Mexico. The Links at Sierra Blanca Golf Course is located on this property. There is something for every golfer at every level at The Links, from rolling hills and Scottish style golf on the front nine to paths carving through the pines on the back nine. A first-class driving range, as well as a chipping and putting green, are available at The Links.
The Links, which was built in 1991 by Senior Tour Star Jim Colbert, is surrounded by breathtaking views in every direction, including views of beautiful snow-capped mountains in the winter months. The Links, which is open year-round, weather permitting, is a must-play golf destination for both locals and visitors alike. The Links, with its knowledgeable and outstanding staff, will make you feel at home and will quickly become your favorite golf course while vacationing in paradise.
Features
First class driving range
Chipping and putting green
Twin Warriors, Santa Ana Pueblo, Bernalillo, NM
Twin Warriors Golf Club is one of two courses that are part of My New Mexico Golf, which is considered to be one of the most prestigious golf organizations in the Southwestern United States. Since its commencement in 1991, Twin Warriors has received a slew of accolades. In 2011, 2012, and 2013, the readers of Albuquerque The Magazine voted for it to receive the Best of the City Award. Twin Warriors were recognized as one of the top five teams in the area in the 2014 and 2015 awards ceremonies.
The green fairways on this course, which is surrounded by desert, may be easy to see, but they are a true test of golfing skill and finesse. The 18 holes wind through juniper and pinon pine forests, passing through grassy knolls & along bluffs, and in and out of the trees. In order to maintain par on the course, finesse is essential. The fairways and green are well-kept, allowing for quick and efficient play. Take advantage of the putting green and driving range on-site to get some training in before your round.
Features
Pinon Hills, Farmington, NM
Launch your drive from one of five distinct tees, ranging from red to gold, on the more than 7,000-yard course. On this course, which is regarded to be one of the greatest in the Four Corners region, you'll discover one outstanding golf hole after another. Canyons of sandstone, arroyos of water, and the desert scenery are all included into this multi-tee golfing experience. From one green to the next, walk or drive a cart around to enjoy the amazing views. For pre-game practice, there is a driving range, a pitching and chipping facility, and a putting green available. A fun, friendly, and reasonably priced place to go for a round of golf.
Features
Distinct trees
Outstanding golf holes
The Championship Course at University of New Mexico, Albuquerque, NM
Since it first opened its doors to the public in 1967, Championship Golf Course has established itself as one of the greatest facilities of its type in the country. The Championship Course has been nationally recognized as one of the top-25 public courses in the country by Golf Digest Magazine, and in January 1991, Golfweek Magazine published a ranking of all private and public courses in the country by state, and The Championship Course was named the best course to play in the state of New Mexico. In 1998, Golfweek ranked the Championship Course as the second best in the West, behind the Stanford University Golf Course in Palo Alto, Calif. The Course has maintained its outstanding position in the rankings seven years after it first opened its doors. The Championship Course has hosted a number of major events in the past. The 1950, 1976, and 1992 NCAA Division I Men's Golf Championships, and also the 1998 NCAA Championships, were all held at the course between 1950 and 1992. In 1987, the course hosted the Women's National Collegiate Athletic Association tournament.
Features
Cochiti Golf Club, Cochiti Lake, NM
It is an 18-hole public golf course designed by Robert Trent Jones Jr. and situated near Cochiti Lake in New Mexico. As a result of its handy location between the cities of Albuquerque & Santa Fe, New Mexico, it is a must-visit destination. New Mexico's Cochiti Golf Club has consistently been rated as one of the state's top golf destinations. Its location in the gorgeous high desert terrain of northern New Mexico, which complements the course's fantastic layout, is a plus as well. Afterward, relax at the Stone Kiva Bar & Grill and enjoy the views of the golf course. I don't think it's difficult to see why this area is known as "Heaven with a zip code."
Features
Marty Sanchez Links de Santa Fe, Santa Fe, NM
Marty Sanchez Links de Santa Fe has been recognized as the city's greatest public golf course since 1998. The course provides a fantastic golf experience with inspiring 360-degree panoramic views of the Sangre de Cristos, Jemez, Ortiz, and Sandia mountains. Their year-round, four-season weather allowing course, eight miles west of the historic downtown area, provides golf sport aficionados of all ages with a stunning golf experience that showcases great customer service, special affordable prices, and full service facilities.
Marty Sanchez Links de Santa Fe is distinguished by its stunning, natural southwestern settings, which provide an unrivaled golfing experience while presenting Santa Fe's rustic aesthetic at its best. The Great 28 golf course, which includes a championship 18-hole course and a par-3 course, were built by Baxter Spann, the professional landscape architect who is well-known for creating visually spectacular "links" type golf courses that appeal to players of all skill levels. In addition to natural cottonwood, juniper, and pion trees, the course also has other desert plants such as yucca, chamiso, and cholla. While on the course, you could spot some of the local wildlife, including coyotes, owls, jackrabbits, & roadrunners.
The championship 18-hole course is nestled between desert landscaping and bordered by native pinon trees. It features five sets of tees, ranging in length from 5025 yards from the front tees to 7272 yards from the back tees, which is the ultimate challenge of golf. While the Terrific 28 is a great course for training your short game, it is also an excellent course for a fast golf round or a friendly game of "FootGolf." Santa Fe's average of 300 days of sunlight per year allows golf aficionados to enjoy a game of golf whether it's in the summer heat of June or the winter cold of January in this beautiful city. It's ideal for charity tournaments and for corporations looking to host workplace excursions, as well as for non-profit and charitable organization functions.
Features
360-degree panoramic views
Fantastic golf experience
Natural southwestern settings
Red Hawk Golf Club, Las Cruces, NM
Golf Digest has ranked this course as one of the best 10 in the state for 3 consecutive years, and readers of the Las Cruces Sun News have voted it the finest course in the city. Five sets of tees can be found on this 200-acre course. Turf covers 100 acres, with 50 acres each of natural desert and native grasses thrown in for good measure. Five lakes, which players must traverse across on 8 holes & 75 bunkers are among the hazards. The links-style course stretches out over a distance of more than 7,500 yards.
Red Hawk Golf Club provides golf lovers of all skill levels with the chance to play on a course that has been built to honor the real essence of the game. Red Hawk Golf Course, located in Las Cruces, New Mexico, amid the foothills of the spectacular Organ Mountains, is an 18-hole public course designed to challenge and delight golfers of all skill levels and abilities. Visitors to the Southwest will enjoy an unrivaled golfing experience because of the blend of links-style and prairie dune elements. Make a tee time reservation online. Seniors, current military personnel, students, and first responders are eligible for discounted pricing.
Features
Suitable for all golfers
Discounted pricing
Conclusion for New Mexico Public Golf Course Finders
If you are looking for a great golfing experience, be sure to check out one of the best public golf courses in New Mexico. With beautiful scenery and challenging holes, these courses will provide you with a memorable round of golf.