Virginia is home to some of the best public golf courses in the country. From challenging championship layouts to relaxing resort courses, Virginia has something for everyone. Whether you're a seasoned pro or just starting out, these ten must-play public golf courses will test your skills while providing a rewarding experience. So grab your clubs and head to Virginia for some of the best golfing that the East Coast has to offer!
Top 11 Best Public Golf Courses in Virginia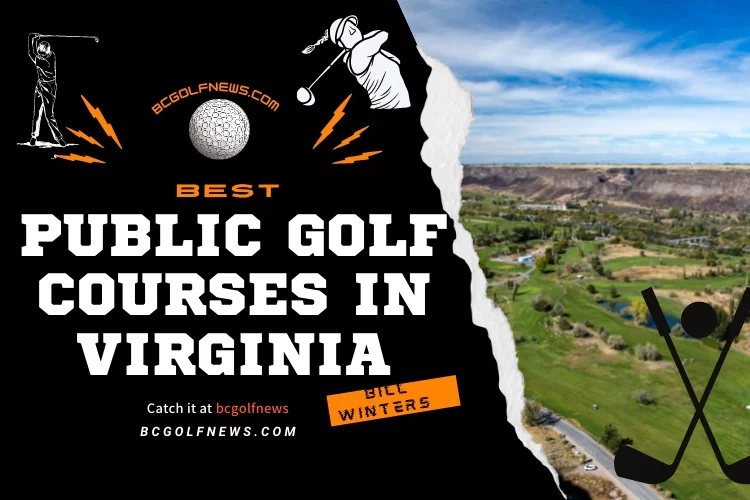 Cascades Golf Course at the Omni Homestead, Hot Springs, VA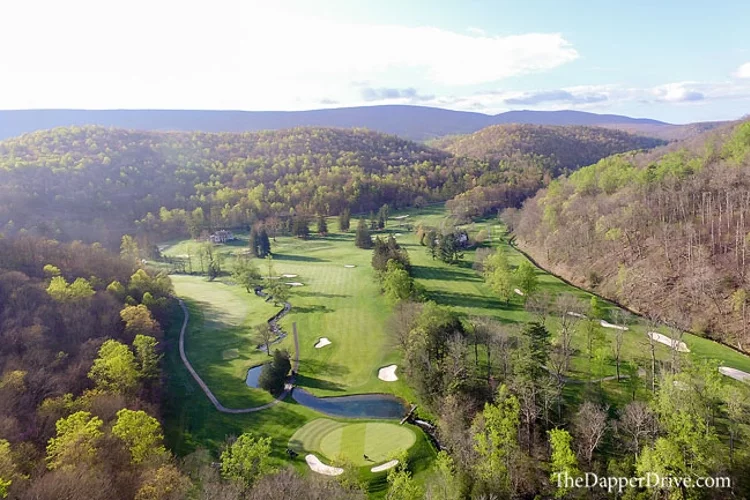 This historic Cascades Golf Course located at the Omni Homestead Resort, which is nestled between the Allegheny Mountains, is frequently rated as one of the world's top golf courses by golf publications. Play on the same course as Presidents Dwight D. Eisenhower, William Howard Taft, and George H.W. Bush and experience what it's like to be a president. The course is well-known for its difficulties as well as its historical significance. Expert golfers would have the fun of their life at this tournament.
The Resort is home to some of the most demanding and historically significant golf courses in the nation. Their championship golf courses, which are consistently named among the best in Virginia, provide you with the opportunity to improve your game on immaculately groomed greens while taking in the beauty of the surrounding scenery. During your visit to The Omni Homestead Resort, which is located amid the astounding natural grandeur of the Allegheny Mountains, you will be challenged and rewarded with a golf experience that you will not find in any other golf course in the world.
The Omni Homestead Resort's two historic golf courses offer the opportunity to perfect your swing on the driving range before you head out to play. In addition to the Rockefeller family, this championship courses have tested Presidents and two generations of their descendants. Both courses contain a clubhouse, as well as driving ranges and short-game practice facilities for golfers of all skill levels. There are Callaway rental clubs available.
Features
Beautiful surroundings
Unique and amazing golf experience
The Highland Course at Primland Resort, Meadows of Dan, VA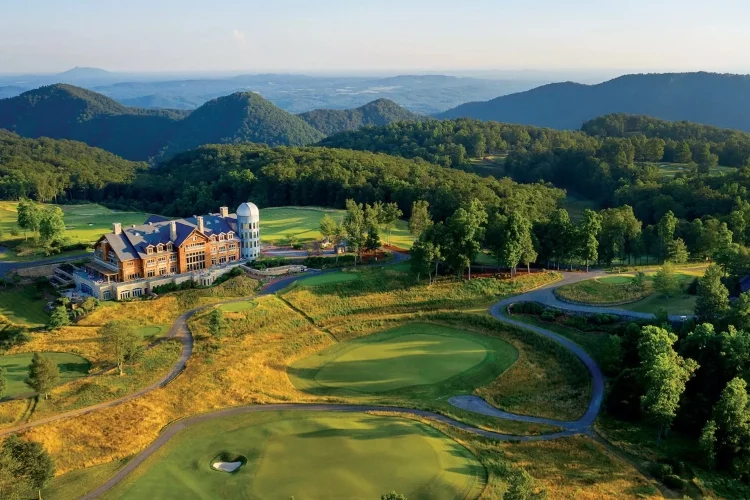 The Blue Ridge Mountains are a natural wonderland of sun-dappled valleys and forest-cloaked peaks that unfold over the highlands of Virginia. Primland Resort sits on a 12,000-acre mountain estate in the midst of this beautiful wild. Winding pathways lead to new discoveries from the royal Lodge with green fairways to the charming log cottages and treehouses positioned above the Dan River Gorge. It also features mountain riding combined with the Auberge Spa. Enjoy primeval vistas and a star-filled sky from an on-property view.
Its golf course has been ranked second in Golf Magazine's "Best Golf Courses you can play in Virginia," 28th in Gold Magazine's top 100 courses you can play, second in Golfweek's best state-by-state course, 5th in Golf Digests best courses in Virginia, and numerous other publications have recognized the Highland Golf Course at Primland. Primland's appeal stems from the diverse landscape that the course provides. In addition to winding through valleys and hill tops as well as water, the course is set against a picturesque mountain backdrop. Whether you're looking for a quick game or a long-term commitment, Primland has your back.
Features
Mountain riding
Auberge Spa
Spring Creek Golf Course, Gordonsville, VA
A well-maintained and nationally known course between Richmond and Charlottesville, the Spring Creek Golf Course located in Gordonsville, Virginia, is a great choice for golfers of all skill levels. The course was listed in Golf Digest's annual list of the best 100 golf courses in America last year because of "its expansive bent-grass fairways and greens bordered by a thick forest of oak and giant sculpted bumpers," according to the publication. Spring Creek Golf Course provides practice facilities as well as instruction for beginning players.
Spring Creek Golf Club is a nationally acclaimed golf course situated between Charlottesville and Richmond and its bent grass fairways, excellent greens, and natural terrain combine for an amazing golf experience.
Features
Well maintained
Excellent greens
Natural terrain
The Golden Horseshoe Golf Club, Williamsburg, VA
Visit the Golden Horseshoe Golf Course located in Colonial Williamsburg to play 45 award-winning holes on a course that has received several accolades. In addition to being named one of GOLF Magazine's "Top 500 Golf Holes in the World," Golf Digest's "2016 Best Golf Resorts in the Mid-Atlantic," and "Golfweek Magazine's "Top 100 Resort Courses in America," Golden Horseshoe has received several other honors as well. Even though both the Gold and the Green courses are worthwhile visits, this course has received more favorable reviews in recent years.
Features
Royal New Kent, Providence Forge, VA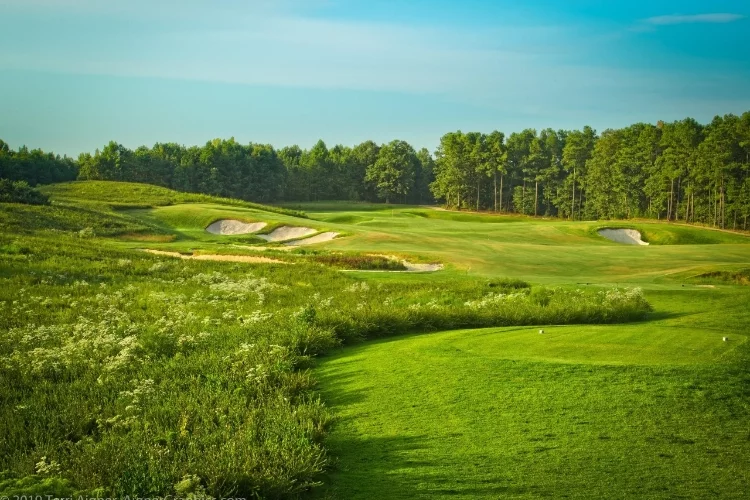 The town of Royal New Kent, Virginia, is situated on the low hills between Diascund Creek and the Chickahominy River, about halfway between Williamsburg and Richmond. The Royal New Kent Golf Club opened its doors in 1997, earning the title of "Best New Upscale Public Course in the Nation" by GolfDigest and ranking No. 23 on Golf Magazine's list of the top 100 courses in the world to play. According to Golf Digest, Royal New Kent was selected one of the "America's Top 100 Best Golf Courses" for 1999. In 2001, Golf Digest named Royal New Kent as one of the best three courses in the Virginia state of the US, and in 2002, Golf Digest gave Royal New Kent 4.5 stars for its outstanding condition. As if to match the high standards established by the course, Royal New Kent offers first-class amenities including a full-service bar, dining and conference rooms, a pro shop, and practice facilities, all of which are available to members and guests.
The Royal New Kent Golf Course, which stretches across 7,372 yards of windswept and rugged terrain, has been dubbed "the most accurate expression of Irish links in the US." Links courses like as the Royal County Down & Ballybunion were developed in the Irish landscape, and the Royal New Kent is evocative of that landscape. Greens are hidden by sharp, hand piled rock walls, grassy knolls, and tall fescue grasses, all of which provide excellent cover. The large, contoured fairways sometimes need blind shots, although this is mostly rare. Over 120 bunkers are included on the par 72 layout, many of them are deep shadow bunkers bordered with fescue grass. The massive, rapid greens are characterized by prominent swales and ridges. Each hole provides a variety of different ways to play it.
Features
First class amenities
High standard facilities
The Arnold Palmer Signature Golf Course, Cape Charles, VA
The Palmer Course is a nature lover's paradise, with 4 holes on the beaches of the Chesapeake Bay, 8 holes along Old Plantation Creek, and other holes framed by sand dunes and massive beach bunkers. The championship courses smooth A-4 greens and finely maintained Tifway 419 Bermuda fairways delight players as they navigate the 7,250-yard layout. Five sets of tees that are carefully located around the course are designed to make golf enjoyable and interesting for all players of skill levels. The course first opened its doors in 2001 and has consistently received top positions on national award lists.
In addition to Bay Creek's nationally famous golf experience, there are nine spectacular holes of Signature Nicklaus golf on the property. Throughout the course, you will see dunes, mature forests, bodies of water, and modest, well-protected greens. Golfers of all abilities will find it to be a rewarding and memorable experience.
Features
Smooth A-4 greens
Finely maintained Tifway 419 Bermuda fairways
Potomac Shores Golf Course, Potomac Shores, VA
Potomac Shores Golf Club, located about thirty minutes south of Washington, D.C., is the only Jack Nicklaus Signature Design course in Northern Virginia that is open to the general public. The course has been recognized as one of the "Top 10 Best New golf Courses in the Country" by Golf Digest in 2015, and it has been designated one of the "Top 10 Best State-by-State Courses You Can Play" by Golfweek in 2016 and 2017.
The Jack Nicklaus Signature Design, which was painstakingly carved through mature hardwood woods overlooking the beautiful Potomac River, has stunning views, natural wetland buffers, and jaw-dropping elevation changes. Rolling fairways offer provide excellent vistas for those who want to live on a golf club. By seeing their new model houses, golf enthusiasts may learn more about the possibility of becoming one of their numerous community members.
As a world-class facility maintained by Troon Golf, this facility provides perfect course conditions, unsurpassed playability, and exceptional customer service, guaranteeing that you have an unforgettable game of spectacular golf.
Features
Stunning views,
Natural wetland buffers
Bay Creek Resort & Club
A sprawling resort in southern Virginia was one of the first places to accept bitcoin payments. The luxury vacationers and golf course owners were some of the earliest adopters and supporters of bitcoin, so it makes sense for them to use a global currency that is largely accepted by foreign countries.
While many large resorts do holiday business with international clients - especially those where English is not the primary language - it can be difficult for smaller businesses to manage international transactions. Foreign exchange rates can end up taking a significant cut out of the extra revenue that would come from doing business with an international clientele, but by using bitcoin they are able to sidestep this problem entirely.
Bay Creek Resort & Club says that they make it easy for their customers to use bitcoin, and vice versa. Customers who want to buy a week long vacation with bitcoin can do so easily through the BitPay network, and the resort will happily accept coin in exchange for goods and services.
While Bay Creek accepts bitcoin payments directly, they also work with Coinbase as well as BitPay to manage their cryptocurrency transactions.
The resort and golf club is located in southern Virginia, about 45 minutes north of the North Carolina border on Virginia's eastern shore. The town where the resort is situated is very popular with fisherman and hunters throughout the year, but during spring and autumn it also becomes a hotspot for cyclists making their way along the East Coast Greenway.
The resort offers a number of amenities for guests to enjoy, including an 18-hole golf course designed by architect Jim Fazio. The club also includes tennis courts and a fitness center, as well as several dining options for patrons who are looking to grab something to eat.
Their golf packages start at around $300 per person, and the resort also offers a number of other activities for guests to enjoy. Charter fishing boat rentals, river kayaking and cycling tours are all popular choices with visitors who want to make use of their time in the area, and can be arranged through the resort's website.
Trump National Golf Club
The Trump National is a luxury resort with a 100,000 square foot clubhouse surrounded by 450 acres of land. The clubhouse was built in 2005, before the club became the Trump National. The resort has a large swimming pool, an outdoor pavilion with TVs and grills for members to use when they are not playing golf or attending weddings at the club's many wedding venues.
The Trump National Golf Club is one of Donald Trump's top golf resorts. It has three 18-hole courses that are part of the Championship Division, one course in the Reserve Division, and another course designed by Jack Nicklaus. The Trump National Golf Club is open to members and non-members alike who would like to play on the courses or enjoy other amenities at the resort.

Many members of the Trump National Golf Club are business or government officials, but it is open to anyone who can join its ranks. Membership dues at the club for a full year cost $75,000 with an additional annual charge of $15,000 if you want access to the clubhouse. If you only want access to the courses and not the clubhouse, the annual dues are $22,000 with an additional charge of $2,400 for club access. If this fee structure is too rich for your blood, you can visit the courses on a daily basis for $160 per round (with no club access).

Viniterra Golf Course, New Kent, VA
Located 20 miles east of downtown Richmond near New Kent, The Club at Viniterra is a championship course of 18 holes built by Rees Jones and including a clubhouse. Located close to the award-winning New Kent Winery, the Viniterra golf course is the focal point of the distinctive and affluent Viniterra residential complex.
The routing of the golf course combines a range of unique natural elements, including dramatic and frequent elevation changes, into its design. The course, which has be customized to measure between 5,200 and 7,725 yards, is meant to be completely adaptable. A diversity of tee angles, along with the intelligent and purposeful placement of a range of sand, grass, and water hazards, provide a pleasurable experience for golfers of all abilities and skill levels.
The Club at Viniterra was named one of the top 20 golf courses in Virginia by Golf Advisor in its Best of 2016: Top 20 Virginia Golf Courses. The Viniterra Golf Course was named the third best golf course in Virginia, based on feedback from players over the previous 12 months. Winning the sub-category of "Best Course Conditions in the State" was a huge accomplishment for them.
The Club at Viniterra was recently featured in the Great Holes section of Virginia Golfer Magazine. It was released early, and the lovely eighteenth hole here at Viniterra was the major focus of David Partridge's bi-monthly piece.
Features
Diversity of tee angles
Suitable for golfers of all skill level
The Pete Dye River Course at Virginia Tech, Radford, VA
Once you arrive to "The River," the recognizable components of a Pete Dye design, as well as Virginia Tech's devotion to quality and tradition, become readily evident. The spectacular new clubhouse, which opened in May 2010 and is perched on a rocky cliff 70ft above the ancient and pure New River, is quite spectacular. Your arrival at this very unique spot will be confirmed by breathtaking views of the river and the golf course. The warm faces of their personnel will greet you whether you're here to play golf, eat in the restaurants, or attend a major event at the golf course.
Virginia Tech owns and operates the Pete Dye River Course in Radford, Virginia, which serves as the home of the VT golf team. The course was completely rebuilt from the bottom up in 2003 and since then has earned a reputation as one of the state's top premier courses. The course, which is located on the New River, has over 7,000 yards of fantastic golf and breathtaking vistas.
Features
Breathtaking views
Friendly personnel
Conclusion for Best Public Virginia Golf Courses
If you are looking for a challenging and beautiful golf course to play, then look no further than the best public golf courses in Virginia. These courses have something for everyone, from beginners to experts. So what are you waiting for? Grab your clubs and get ready to tee off at one of these amazing golf courses!